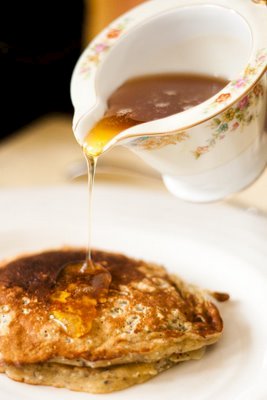 Grand Marnier syrup is an extra special treat! I love maple, but some days you just have to switch it up.
You could pour straight-up Grand Marnier directly over anything and I would be happy, but this syrup recipe gave the orangey booze the perfect consistency to slather on my blue cornmeal and orange pancakes.
I also had just enough Grand Marnier syrup left over to make a Grand Marnier whipped cream for my upcoming cupcakes. You'll see both the Grand Marnier whipped cream and the cupcakes soon!
Grand Marnier Syrup Recipe
The Grand Marnier syrup recipe came from a recipe for Grand Marnier cake found in The Cake Bible by Rose Levy Beranbaum. You can find the complete cake recipe online.