Tahini, like baker's coconut and dulce de leche, is one of those items that people often buy pre-made without even thinking about the option of making it at home. It turns out that the homemade tahini recipe is really easy to make and tastes just as good as the store-bought kind – if not better. However, as I'll explain later, the texture of a homemade tahini is not quite the same. This didn't bother me (as tahini is typically mixed into something), but it may bother you.
Before I get to the tahini recipe, though, let's start with what tahini is and what it is used for.
What is Tahini?
Tahini is a paste of sesame seeds and olive oil used in all kinds of Mediterranean cooking. It's often found in the ever-popular hummus and the incredibly fun to say baba ghanoush.
In my case, the tahini was used for some sesame honey cupcakes.

What's the Difference Between Store-Bought and Homemade Tahini?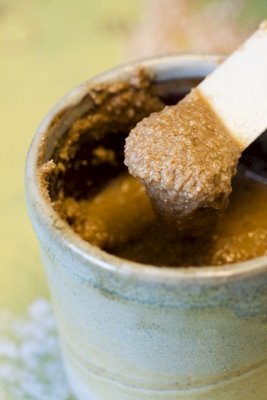 My homemade tahini looks like peanut butter.
Store-bought tahini is much smoother.
Faith from The Kitchn describes the difference between homemade tahini and store-bought tahini:
Commercially made tahini separates the bran from the kernel and only grinds the kernel, which is why it is so smooth and thin. At home you're grinding both the bran and the kernel in a home food processor that isn't as powerful, so the resulting tahini looks gritty and sticky… It's more like thick peanut butter with small flecks of the bran.
You can see in the photo above how thick my tahini turned out. Jonathan (who on an unrelated note just bought a new macro lens – I'm lovin' the closeup sesame seed shot he was able to take) felt that the bran added a complexity of flavor that he hadn't experienced in store-bought tahini. I honestly couldn't recall what jarred tahini tasted like and didn't have a can on hand to compare. You'll have to do your own side-by-side if you care that much about this issue.
Tahini
Recipe
I got the tahini recipe from The Kitchn. It's so easy! The recipe is below along with my notes.
First, you'll need to toast the sesame seeds.
Next, you'll process the toasted seeds with the olive oil.