The Invention of Frosting
Disclosure: As an Amazon Associate, I earn from qualifying purchases.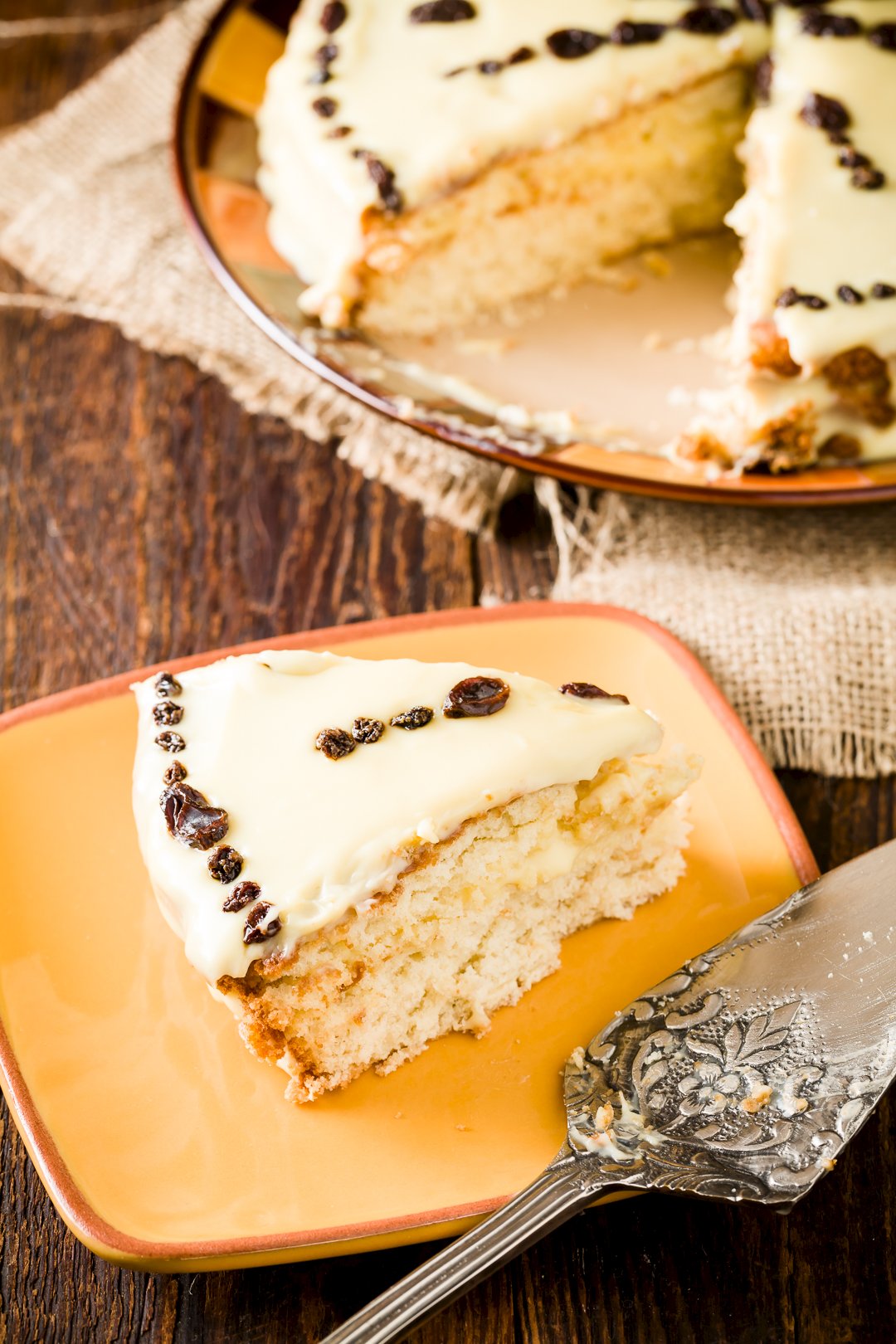 In Jess Touchette's second contributor post, she shares the fascinating history of frosting and layer cakes. Read on…
In a recent post about 17th-century "biscuit bread," I traced the centuries-long evolution of "cake" from sweetened, enriched bread to the light and airy confection that we know and love today. There, I noted that the increased availability (and affordability) of refined flour, refined sugar, and commercial leaveners like baking powder enabled 19th-century bakers to produce true, modern cake for the first time. Yet our story doesn't end there, for two more mile-markers on the road to cake as we now know it remained.
First, there was the introduction of icing. Before the 19th-century, cakes were served fully naked, with not even the hint of artfully scraped icing that typifies today's trendiest wedding cakes. For frosting fiends like myself, these bare cakes represented a major omission. (After all, a cupcake without icing is just a glorified muffin.) Nineteenth-century bakers must have agreed that their cakes were lacking, for they began to clothe them in icings made from egg white, sugar, and flavoring. These simple glazes were poured over cakes that were nearly done baking, then cooked on to create a hard, glossy, all-over layer.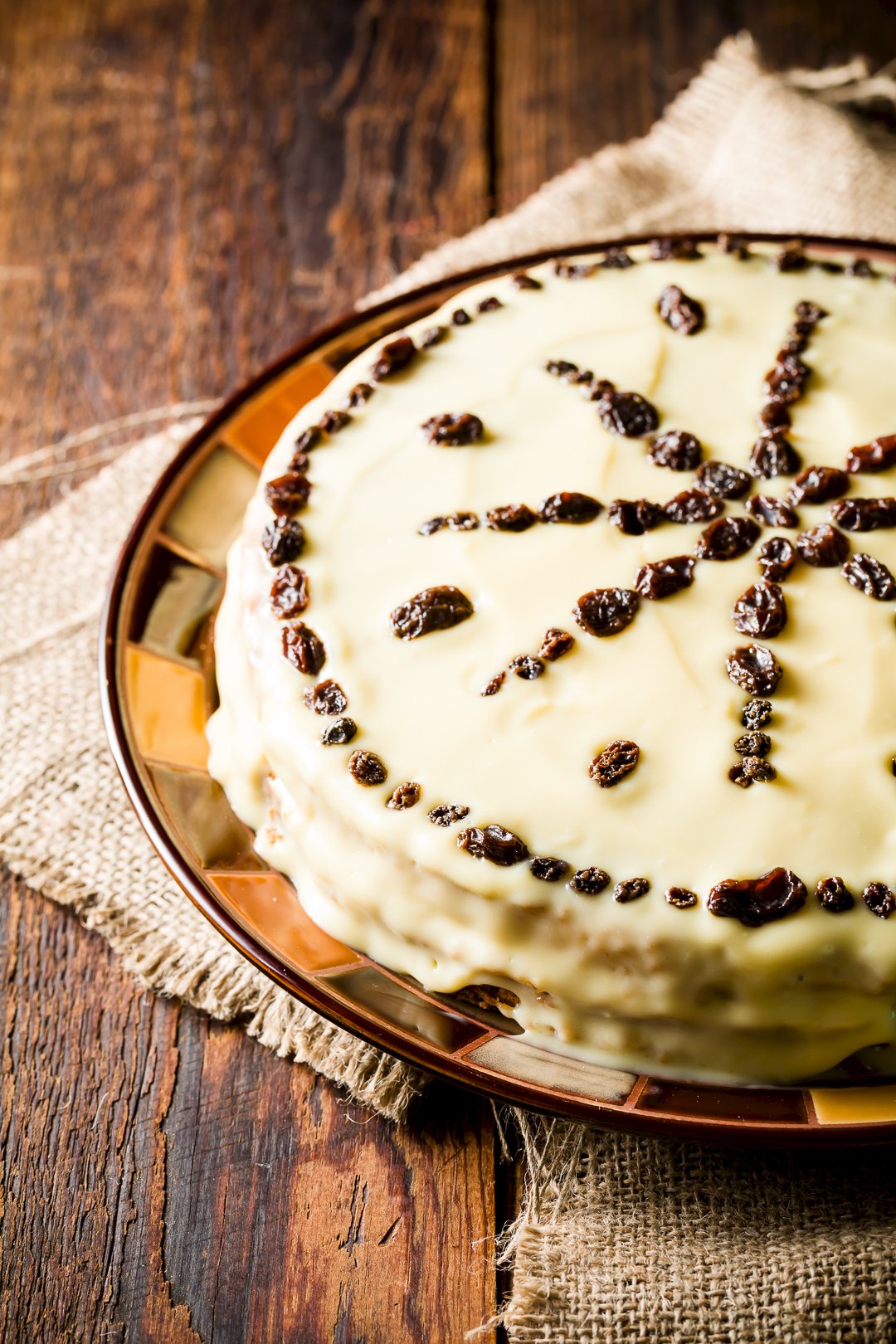 Iced cakes soon paved the way for layered cakes, which allowed bakers to increase the ratio of moist component to dry in each forkful and to introduce more complex flavor combinations into their cakes than ever before. The development of a full range of toppings, from curds and jams to whipped toppings and buttercreams, would (and does) continue, but with the introduction of layers, the form of the modern cake – finally and definitively distinct from bread – was born.
The earliest recipe that I have found for distinctly modern cake – cake that has been chemically leavened, iced, and layered – is that for "Layer Cake, American" in the 1894 Cassell's New Universal Cookery Book. (If you'd like to check it out for yourself and don't care about having a physical book, a digitized version of the 1901 edition is freely available through Internet Archive, where layer cake makes its big debut on page 1031.) (View on Amazon) [paid link]
This recipe is fairly straightforward: it contains only ingredients still common today, and provides bakers with exact measurements and instructions (with the exception of the charmingly vague "teacupful of milk").
The only aspect of this cake that might seem foreign to 21st-century bakers is its icing, for which we are given three choices: a fruit-pulp-based topping, figs drowned in syrup, or a simple custard. In adapting the recipe for use in a modern kitchen, I chose the custard (see the full recipe on page 917 of Cassell's) solely because it was singled out as "a favorite" by the author.
I found this recipe to produce a sweet, moist cake very much akin to a 21st-century recipe. It's a bit too sweet for my taste, but I appreciate the built-in options for flavor and topping customization. Overall, this cake was a big hit with my whole family – especially my four-year-old nephew, who, at odds with his characteristic generosity, didn't want to share.
American Layer Cake (1894)
This is a very moist, dense layer cake that is perfect for all occasions.
Ingredients
Custard Ingredients
2

tablespoons

melted butter

2

tablespoons

corn flour

4

large eggs

room temperature

1

cup

+ 4 tablespoons whole milk

1

cup

heavy cream

1/3

cup

granulated sugar

1

teaspoon

vanilla extract

or flavoring of your choice
Cake Ingredients
1/2

cup

butter

3/4

cup

granulated sugar

1

large egg

1/2

teaspoon

vanilla extract

or flavoring of your choice

1 1/2

cups

all-purpose flour

1

teaspoon

cream of tartar

1/2

teaspoon

baking soda

1/2

cup

warm milk

dried or candied fruit

raisins, currants, lemon or orange peel, etc., optional, for decoration
Instructions
Custard Instructions
In a small bowl, combine the melted butter, corn flour, and 4 tablespoons of milk. Stir until thoroughly combined, then set aside.

Whisk eggs together in another small bowl. Set aside.

In a saucepan over medium heat, whisk together milk, cream, sugar, and vanilla extract (or flavoring of your choice).

Whisk continually until the mixture scalds (indicated by the formation of bubbles around the edge of the pan), but before it boils.

Remove pan from heat and slowly add 2 tablespoons of the heated mixture to the eggs, whisking quickly and constantly until thoroughly combined.

Pour the egg mixture into the pan in a slow stream, whisking constantly.

Return pan to medium heat and pour in the previously prepared butter mixture.

Continue to whisk the custard until it thickens.

Once the custard has reached the desired consistency, remove pan from the heat and place it in the fridge to continue thickening. Custard is ready for use once it is completely cool.
Cake Instructions
Preheat oven to 350 F and grease one 8" round cake pan. (If you prefer not to split the cake later on, you can use two shallow, 8" round pans.)

Cream the butter and sugar in a medium-sized bowl.

Add the egg and beat until thoroughly combined.

Mix in vanilla extract (or your flavoring of choice).

In another bowl, sift together the flour and the cream of tartar.

Gradually add the flour mixture to the batter, beating until incorporated.

Dissolve baking soda in warm milk.

Stir the milk mixture into the batter to form a thick, spreadable paste.

Pour the batter into your prepared cake tin(s), spreading and smoothing it with a spatula until its surface is roughly level.

Bake for 25 to 30 minutes (15 minutes if using two cake pans), or until a toothpick inserted into the center of the cake comes out clean.

Remove cake from oven and let stand until the bottom of the pan has cooled to room temperature. Turn cake out onto a wire rack.

If you baked a single cake, split the cake using a cake leveler (or a kitchen knife).

Spread bottom half of cake with a generous amount of prepared custard (see recipe below).

Place second layer of cake atop bottom layer. Spread the top of the cake with custard. (I spread custard along the sides for a more modern look, but the recipe only calls for icing between layers and atop the cake.)

Decorate cake with dried or candied fruits as desired.
Nutrition
Calories:
331
kcal
|
Carbohydrates:
33
g
|
Protein:
5
g
|
Fat:
19
g
|
Saturated Fat:
11
g
|
Cholesterol:
123
mg
|
Sodium:
177
mg
|
Potassium:
138
mg
|
Sugar:
19
g
|
Vitamin A:
735
IU
|
Vitamin C:
0.1
mg
|
Calcium:
62
mg
|
Iron:
1
mg