Must-Try Vegan Buttercream Frosting – Dairy-Free Frosting
Disclosure: As an Amazon Associate, I earn from qualifying purchases.
This vegan buttercream frosting tastes just as good as any vanilla frosting, but it's completely dairy-free! This vegan frosting is made from just three ingredients and it comes together super easily!
The taste of this vegan frosting is spot-on and, unlike other options for vegan frosting like aquafaba meringue, it holds its shape perfectly. It lasts on my countertop for two days and still looks perfect!
What Are the Ingredients in Vegan Frosting?
The biggest choice to make when making vegan frosting is picking a dairy-free butter substitute.
Other than the vegan butter, vegan frosting just needs powdered sugar and vanilla extract.
One thing to keep in mind is that not all sugar is vegan. There are a variety of processes sugar goes through to make it pure white. For some companies, one of those processes involves running the sugar through bone char (made from burning animal bones). While there is no bone char in the end product, animals were used in producing it. Most modern sugar companies have moved away from this practice, but to be certain, refer to My Darling Vegan's great guide to vegan sugars to seek out a vegan sugar brand.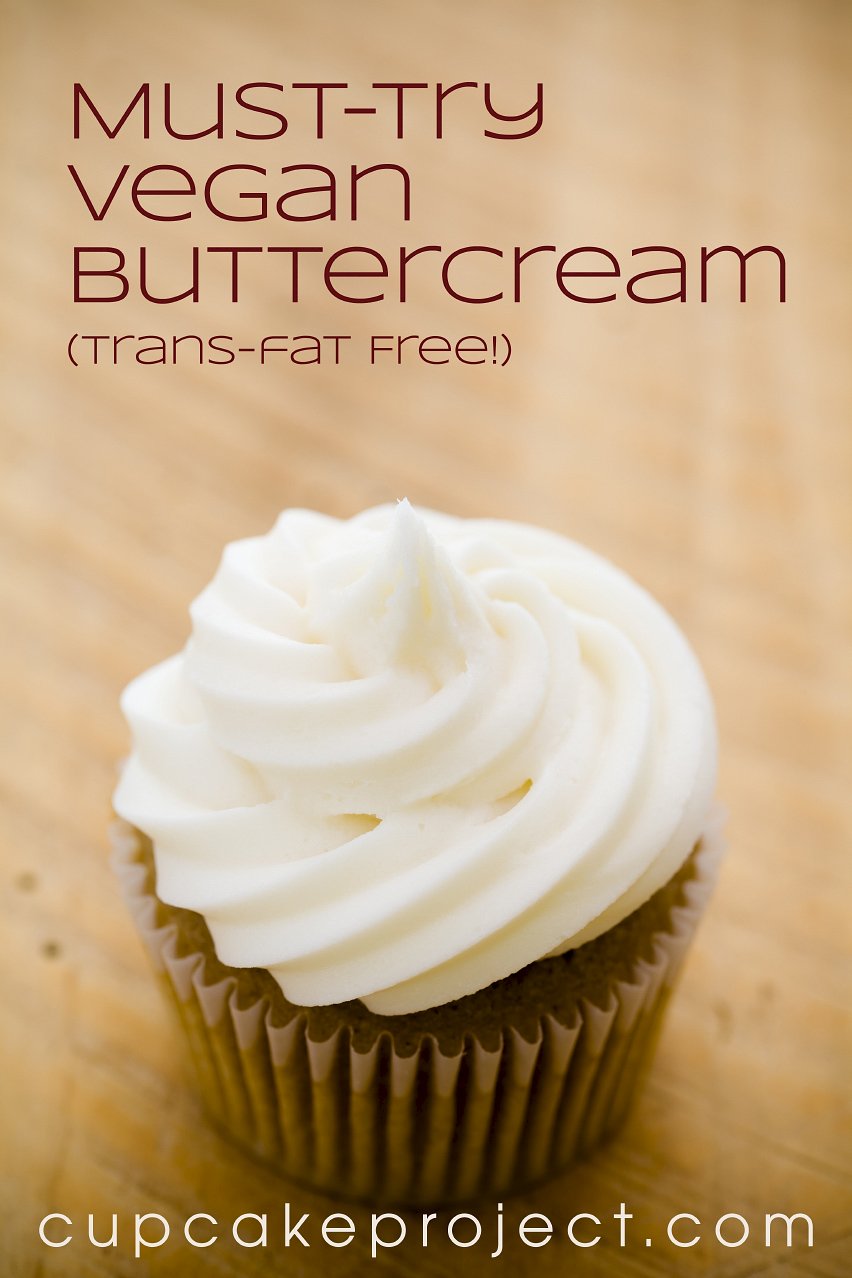 How to Make Vegan Buttercream Frosting
Use the same steps to make vegan buttercream that you use to make the non-vegan version.
For normal buttercream frosting, I recommend that you let the butter come to room temperature before use. Because most vegan butter is oil-based, it doesn't take as long to come to room temperature as regular butter. In fact, vegan butter will be too soft to make buttercream if you leave it sitting out on the counter. For most brands, I use the vegan butter directly from the refrigerator.
Start by beating the vegan butter until light and fluffy. Then, mix in the powdered sugar and vanilla.
Once the buttercream is completely mixed, it is stable at room temperature for at least a few days because of its sugar content.
Must-Try Vegan Frosting (Trans-Fat Free)
This vegan frosting tastes just as good as any non-vegan vanilla frosting, but it's completely dairy-free! The taste of this frosting is spot-on and this frosting holds its shape perfectly.
Ingredients
1/2

cup

vegan butter

cold

1 1/2

cups

powdered sugar

2

teaspoons

vanilla extract
Instructions
Using a stand mixer or handheld electric mixer, beat butter until it softens and becomes light and fluffy (about three minutes on high speed).

Mix in powdered sugar a little at a time until it all comes together and looks like frosting.
Nutrition
Calories:
115
kcal
|
Carbohydrates:
15
g
|
Protein:
1
g
|
Fat:
6
g
|
Saturated Fat:
2
g
|
Sodium:
61
mg
|
Sugar:
15
g
|
Vitamin A:
360
IU