Microwave Cupcakes: About What You Would Expect
Disclosure: As an Amazon Associate, I earn from qualifying purchases.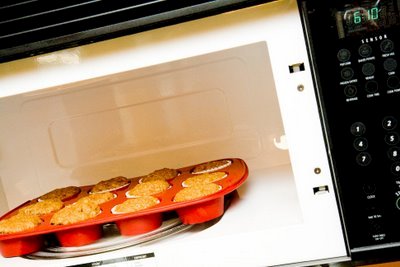 Microwave cupcakes were the obvious choice when browsing the site of my June Taste & Create partner, Tangerine's Kitchen. Why not try microwave cupcakes?
Why Not Try Microwave Cupcakes?
After making microwave cupcakes, I now have a good answer to the question, "Why not try microwave cupcakes?"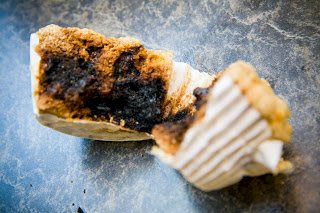 Did you ever microwave a bagel? Did you notice how it got all oddly rubbery? The same thing happened to my microwave cupcakes. The texture was not right!
Strange things can happen in the microwave. I put my test cupcake in the microwave for two minutes and it came out as you see on the right. That's not chocolate – it's burnt. It was also hard as a rock! I couldn't cut it with a sharp knife. Obviously, I adjusted the microwaving times for the other cupcakes and that didn't happen again.
Big Disclaimer: My issues with microwave cupcakes could be due to the specific recipe I was using. The recipe didn't have any butter or vegetable oil (which I thought was a bit unusual) and that could have contributed to its dryness. Maybe some of you have had success with cupcakes in the microwave – do tell!
Bigger Disclaimer: In trash-talking these microwave cupcakes, I mean no harm to my wonderful Taste & Create partner. She's got a slew of recipes on her blog that look great and maybe even this one would have been great if I had made it as a cake as she did rather than as cupcakes. From her picture, her cake did have a very different consistency than mine. It actually looks fluffy and has brown on the edges.
Huge Disclaimer: As I was writing this post, I realized that I didn't completely follow the microwaving directions. I was supposed to use medium power for part of the time and full power for the rest of the time. Grrrrr. How did I miss this? I am now beginning to question whether these were awesome cupcakes that I just screwed up. I'm not questioning this enough, however, to make them again. Also, I stopped and started the microwave (to check on and rotate the cupcakes) every minute which some say is the same thing as half power.
I should also point out that not everyone disliked them. One of Jonathan's cohorts went out of his way to tell Jonathan that they were "quite yummy." To each his own.
The Microwave Cupcake Recipe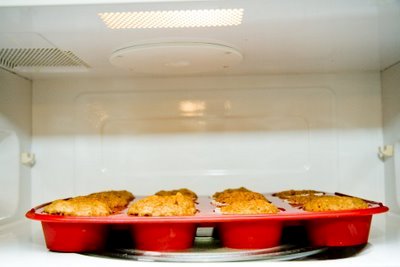 I present this recipe so that maybe you can learn from my mistakes or give me a hint about how you make microwave cupcakes work for you.
As noted above, the recipe was from the now-defunct Tangerine's Kitchen. I have reprinted it below with my adaptations.
Microwave Cupcakes
I've made crockpot and steamed cupcakes, so guess I better try the microwave!
Ingredients
1/2

C

sugar

1

t

ground cinnamon

1

C

whole wheat flour

I used graham flour

3/4

C

all-purpose flour

1

t

baking soda

1/2

t

salt

2

large eggs

1

t

vanilla extract

I used vanilla bean paste

1

C

ripe mashed banana

1/4

C

milk
Instructions
Line a silicone cupcake tray with paper liners. Obviously, you can't use your regular metal cupcake tins in the microwave.

Combine sugar and cinnamon in a bowl. Mix well and set aside.

Stir whole wheat flour, all-purpose flour, baking soda and salt and set this aside as well.

Beat eggs, vanilla and banana.

Gradually add the flour mixture alternately with milk, beating lightly.

Fill cupcake liners 3/4 full.

The amount you need to microwave will depend on the strength of your microwave. After my burnt tester (shown above), I was overly cautious. I microwaved at 1 minute intervals and rotated after each minute. It took a total of 7 minutes to cook completely.
Notes
Top these cupcakes with my honey meringue frosting, add a banana slice and torch both the frosting and banana. (See disclaimers and frosting pictures and recipe link in this post)
Nutrition
Calories:
126
kcal
|
Carbohydrates:
26
g
|
Protein:
3
g
|
Fat:
1
g
|
Cholesterol:
27
mg
|
Sodium:
215
mg
|
Potassium:
128
mg
|
Fiber:
1
g
|
Sugar:
11
g
|
Vitamin A:
60
IU
|
Vitamin C:
1.7
mg
|
Calcium:
18
mg
|
Iron:
0.9
mg
The Frosting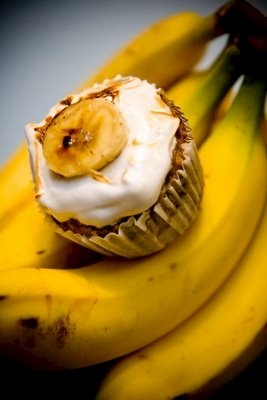 I topped these cupcakes with my marshmallow frosting. I then added a banana slice and torched both the frosting and banana. Not all was lost – the cupcakes looked really pretty!
My Favorite Banana Cupcakes
If you are looking for a yummy banana cupcake recipe (not in the microwave), check out my banana cupcakes with vanilla cinnamon granola cream cheese frosting