Magic Bullet vs Ordinary Blender: How to Make Nut Butter
Published , Last updated by
Stef
Disclosure: As an Amazon Associate, I earn from qualifying purchases.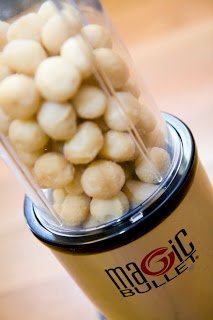 Do You Need a Magic Bullet To Make Nut Butters?
Several people told me that the best way to do it was to use a Magic Bullet. Luckily, Groom 2.0 owned a Magic Bullet, so I borrowed it and gave it a go.
What Are You Talking About? What is a Magic Bullet?
Contrary to what the name sounds like, the Magic Bullet is not a vibrator. It is a super intense mini blender/chopper that is featured on late night infomercials. They tell you that it is great for grinding coffee or even making nut butters.
The Magic Bullet Put to the Test
I loaded up 8oz of macadamia nuts into the larger cup of the Magic Bullet. I'd been warned by Groom 2.0 that he had already broken one by blending for too long. "Use short pulses," he said. Clearly, he understands the importance of foreplay. Don't go too strong too fast.
Groom 2.0 also had suggested that I might end up having to use the smaller cup because nuts would get stuck on the side of the big cup and not blend.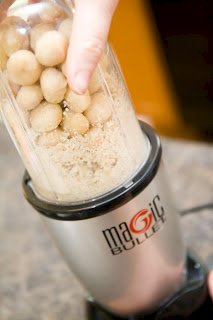 I pulsed maybe 10 times or so. Each time, I felt like I was playing a game of Trouble (the one where the dice are in the plastic sphere that you press to make them roll). The Magic Bullet has no on/off switch – you just press the bullet to make it go. Awww, yeah.
The nuts did, in fact, get stuck to the sides. There are no problems with nuts when using a vibrator.
I moved some of the nuts to the smaller cup and pulsed some more. I had to keep pulsing and then shaking the nuts off the sides.
And then…
After 10 minutes or so, I did have a smooth nut butter! This was quite the exciting climax!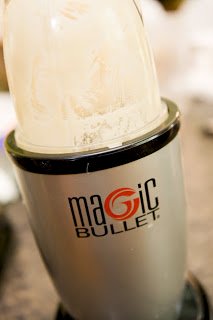 Enter the Ordinary Blender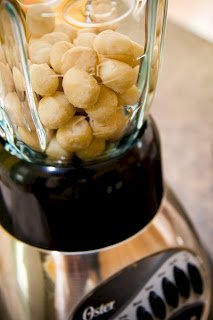 Jonathan came into the kitchen to watch the Magic Bullet fun. What guy wouldn't want to watch? He asked an important question, "Why not make the nut butter in an ordinary blender?"
We loaded the blender up with 8oz of macadamia nuts and used the same pulsing technique. It had the same problems of nut butter getting stuck to the sides and we had to keep sticking a spatula down in the blender to push the nuts to the middle. After 10 minutes, we had smooth, creamy macadamia nut butter.
If your blender is wimpy and can't even crush ice, I wouldn't recommend using it for nut butters. I would, however, recommend getting a new blender over getting a Magic Bullet. Due to its size, your blender will likely be much more useful to you than the Magic Bullet. Size does matter.
Nut Butter Lessons Learned
If the nut butter you're looking for is available fresh at the store, I'd recommend buying it rather than making it. All of that poking and prodding in the blender was a bit of a pain.

Making your own nut butter is definitely doable and there is no need for any special product like the Magic Bullet.

If you like smooth nut butters, keep going even when you think that you're done blending. When I made my macadamia nut butter frosting, I discovered some small nut bits that hadn't gotten blended. These clogged up my piping tip and were an overall nuisance.
Got your own tips for making good nut butter or disagree with my stance on the Magic Bullet? Let me know in the comments.
Do forgive the dirty talk – I couldn't write about nut butter and the Magic Bullet without going there.
Stay Connected!
Join my mailing list - and receive a free eBook!