Homemade Margarita Chex Mix – An Easy and Wildly Addictive Last-Minute Party Snack
Disclosure: As an Amazon Associate, I earn from qualifying purchases.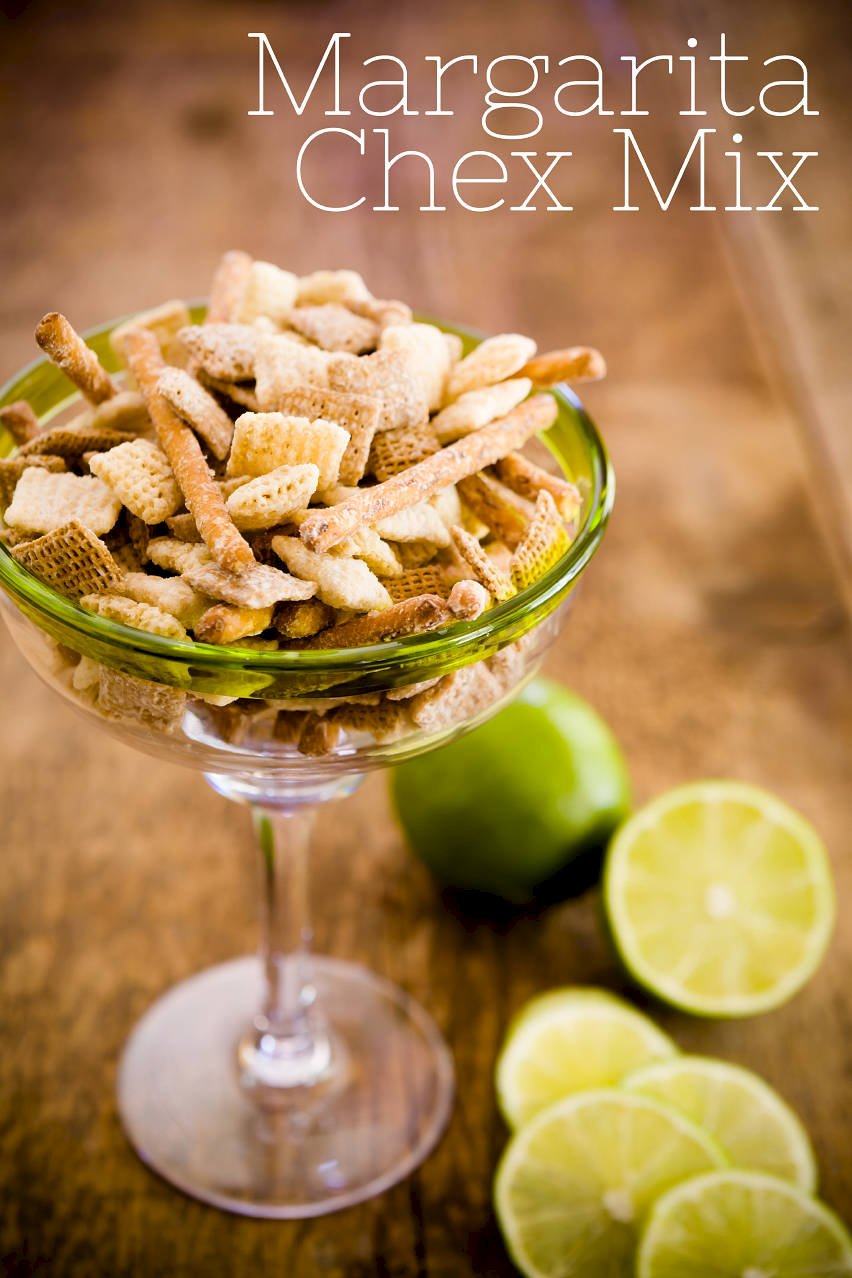 Five minutes is all it takes to make this homemade margarita Chex Mix – and that's being generous; you could probably do it in three.  When you're done, you'll have a simple party snack with all of the elements of snacking success: sweet, salty, tangy, and crunchy.  Since I am always baking cupcakes, I sometimes forget that a snack doesn't have to take ten minutes of prep time and twenty minutes in the oven to be a party favorite.  This homemade margarita Chex Mix is right up there with my sweet and salty roasted chickpeas in my quick, easy, amazing, please-don't-let-me-forget-this recipe repertoire.
Homemade Margarita Chex Mix Recipe
You can find a few other recipes for margarita Chex Mix online.  Where mine differs is that I did not use margarita mix as a key ingredient – I just didn't find the need for it.  As you'll see below, I flavored mine with tequila, lime juice, and powdered sugar (you can add salt if you are a salted-rim kind of person).
Homemade Margarita Chex Mix
I flavored my chex mix with tequila, lime juice, and powdered sugar (you can add salt if you are a salted-rim kind of person).
Ingredients
3

cups

Rice Chex

3

cups

Wheat Chex

2

cups

small pretzel sticks

1/4

cup

unsalted butter

melted

3

tablespoons

lime juice

1

tablespoon

tequila

1 1/2

cups

powdered sugar
Instructions
Place both kinds of Chex and pretzel rods in a large bowl.

In a small bowl, mix together melted butter, lime juice, tequila, and powdered sugar until smooth.

Pour butter mixture over Chex and pretzels and toss until all of the Chex and pretzels are coated.

Serve immediately.
Notes
If the Chex Mix sits too long, it may get a little soggy. You can revitalize it by spreading the Chex Mix in a single layer on a cookie sheet and lightly toasting it.
I found that the Chex and pretzels had enough salt to make the recipe balance nicely. However, if you are a salted-rim margarita fan, you may want to add salt to the recipe.
If you will be serving this at a party with children, it's OK to leave the tequila out. It will still taste good.
If you live in a country where Chex is not available, you can use another cereal for the recipe, like shredded wheat or flakes.
Nutrition
Calories:
126
kcal
|
Carbohydrates:
24
g
|
Protein:
1
g
|
Fat:
2
g
|
Saturated Fat:
1
g
|
Cholesterol:
6
mg
|
Sodium:
160
mg
|
Potassium:
51
mg
|
Fiber:
1
g
|
Sugar:
10
g
|
Vitamin A:
245
IU
|
Vitamin C:
2.8
mg
|
Calcium:
36
mg
|
Iron:
4.5
mg
Another Chex Mix Idea
I periodically run a Facebook event called Cupcake Roulette.  The winner gets paired with me and I develop a recipe or two inspired by something on their site.  The winner of the most recent Cupcake Roulette was Jasey's Crazy Daisy!  Although she has a ton of fun recipes on her site, I was most excited by her Cinnamon Bun Chex Mix.  It sounds phenomenal!  She inspired me to try my own hand at a homemade Chex Mix recipe (and an upcoming Chex Mix cupcake).  Thanks for playing, Jasey!