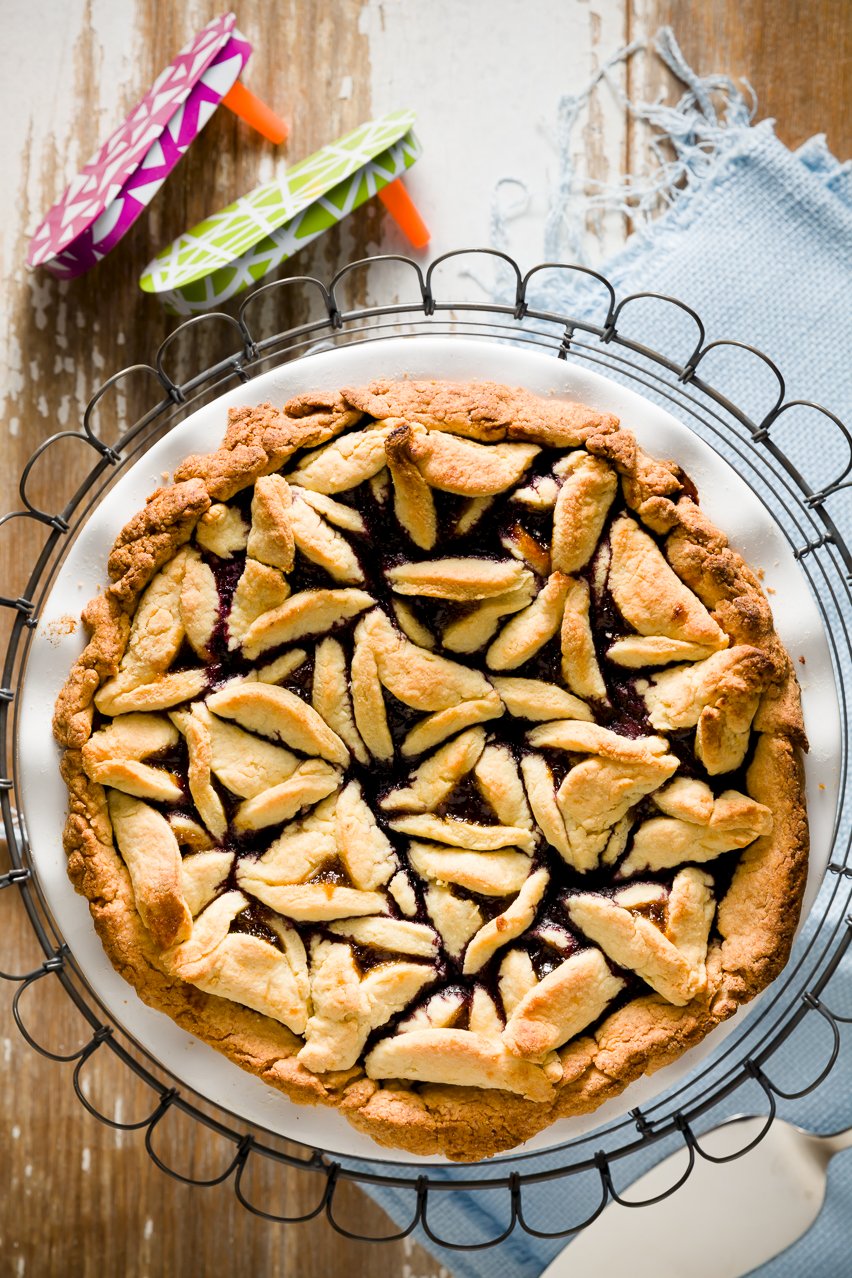 Purim is almost here and it's time to start thinking about hamantashen (the triangular cookies that are supposed to remind us of evil Haman's hat). Hamantashen, like all Jewish foods, can be made with a variety of different doughs and fillings. Family traditions are influenced by great-grandmothers who toted recipes from the old country.
It's "pie" time for a change, so I'm twisting tradition by creating this hamantashen pie. The pie's top crust is a veritable hat shop with its selection of triangular hamantashen. However, the whole hamantashen pie, not just the crust, tastes like the famous cookie.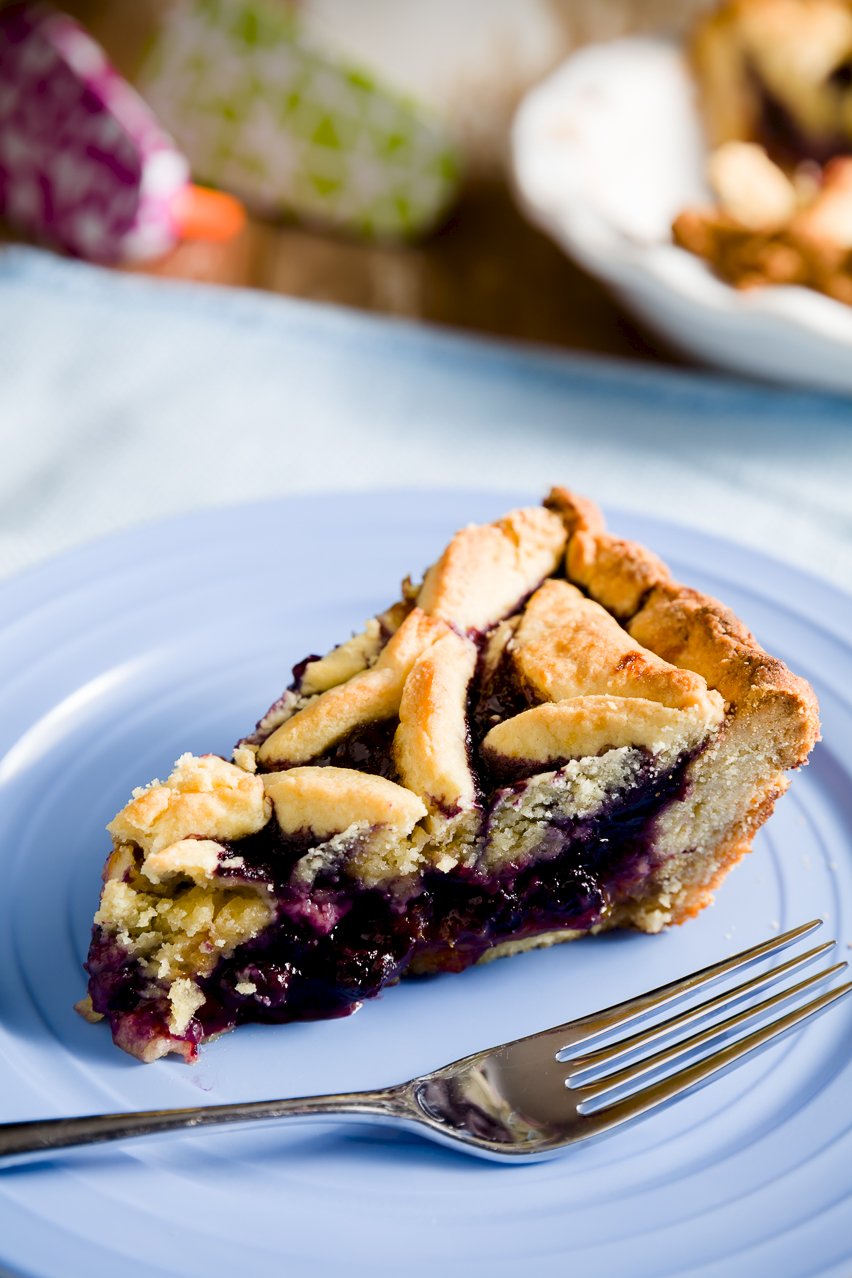 The pie's crust is hamantashen dough. It's topped with layer of jam (lots of jam gives the pie a hamantashen feel). Next comes the berries. Using jam alone as a pie filling would yield an overly sweet pie. The berries meld with the jam during the bake to create a generally jammy flavor without extreme sweetness. Of course, the top crust is actual hamantashen cookies!
Like the cookies, you can experiment with all kinds of flavors. Check out this list of Hamantashan flavors on Kosher.com for some inspiration.
Hamantashen Pie Recipe
The cookie crust on this pie can burn really easily. You will need to cover it in foil or use a pie guard. I highly recommend the guard as it is so much easier than messing with the foil and you can use it again and again.
Since blueberries aren't in season, frozen blueberries are a great choice. Just defrost them first and you are ready to go. I like these smaller wild blueberries, but any will do.
Hamantashen Pie
It's "pie" time for a change, so I'm twisting tradition by creating this hamantashen pie. The pie's top crust is a veritable hat shop with its selection of triangular hamantashen.
Ingredients
1 to 1 1/2

recipes of hamantashen dough

You should be able to make this pie with a single recipe, but you might want to make some extra dough just in case. You can also make some extra cookies with it.

1 1/3

cups

jam for pie filling

You can choose any flavor or even multiple flavors. All of the fruit flavors go well with each other.

10

ounces

blueberries

1

tablespoon

cornstarch

1/4

cup

jam for hamantashen filling

Again, any flavor will work. It would be pretty to use a variety of differently-colored jams.
Instructions
Preheat oven to 400 F.

Spray a 9" pie pan with non-stick cooking spray.

Roll out half of the hamantashen dough to a 1/8" thick circle to fit in a 9" pie pan and transfer to the pan. If the dough breaks at all during transfer, just press it back together.

Top the pie dough with the jam filling.

Coat blueberries in cornstarch and pour over jam.

Cover edge of the crust with foil or a pie guard.

Bake for 40 minutes. The blueberries should be nice and bubbly and not super liquidy.

While the pie is baking, make hamantashen with the second half of the dough and the hamantashen jam filling. There are detailed instructions for shaping hamantashen in my

hamantashen recipe post

. I used a 2" circle cookie cutter.

Remove the pie from the oven and cover the whole top with unbaked hamantashen - a little overlap is OK, but aim for a single layer.

Bake for another 15-20 minutes with the pie guard still on. Check on the pie frequently to ensure that the hamantashen don't burn. They should be a nice golden brown.

Cool to room temperature.

Slice and enjoy!
Nutrition
Nutrition Facts
Hamantashen Pie
Amount Per Serving
Calories 211
% Daily Value*
Sodium 21mg1%
Potassium 79mg2%
Carbohydrates 52g17%
Vitamin A 20IU0%
Vitamin C 9.3mg11%
Calcium 16mg2%
Iron 0.4mg2%
* Percent Daily Values are based on a 2000 calorie diet.
If You Love This Pie…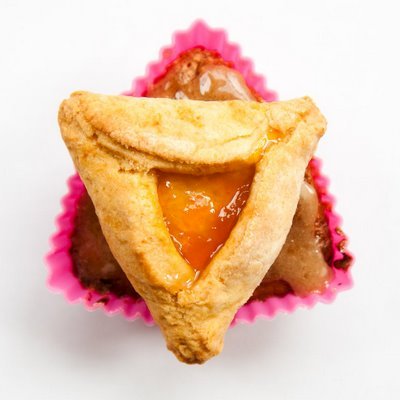 If you love the pie, don't miss my hamantashen cupcakes!