Halloween Snack Idea – Chocolate Covered Garlic
Disclosure: As an Amazon Associate, I earn from qualifying purchases.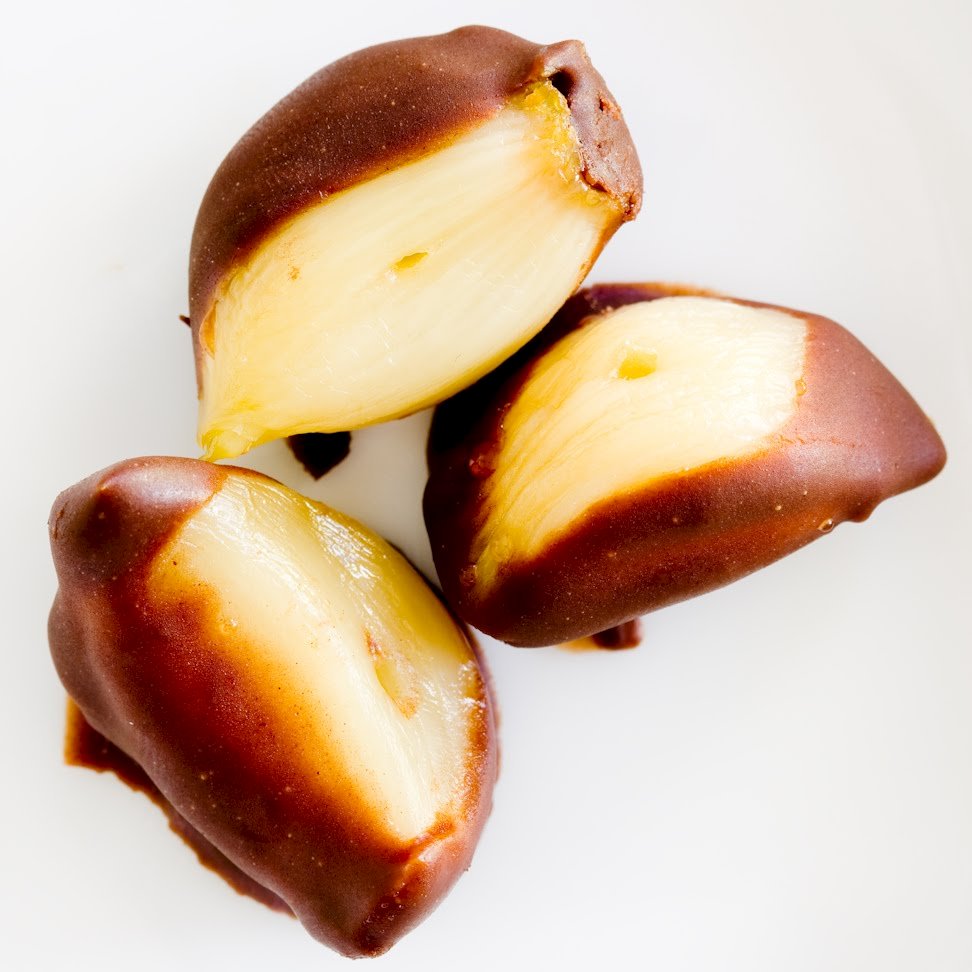 Why?
Last year, Jonathan and I went to Gilroy, California. Gilroy is all about garlic. Each year, they host the Gilroy Garlic Festival – which features, as you might imagine, everything garlic! While we weren't able to make it to the festival, we were able to try some garlic ice cream. It was shockingly tasty and the only ice cream that I've ever eaten that left me with bad breath.
When I was talking about the trip to Groom 1.0, he suggested that I make garlic cupcakes for Halloween to scare off the vampires. I loved the idea! I sent myself a futureme email as a reminder. It's a good thing that I did. I completely forgot about the idea until I received the email a few weeks ago.
I wasn't quite sure how I would make a garlic cupcake, but one thing that I did know was that I would need to use roasted garlic (roasting makes the garlic much sweeter); and, if I were going to roast the garlic, I might as well cover some in chocolate to put on top of the cupcakes.
If you are a garlic lover, then I probably don't need to convince you that eating roasted garlic is a special treat. But, you'll just have to trust me (until you try it yourself) that adding chocolate makes it even better!
How?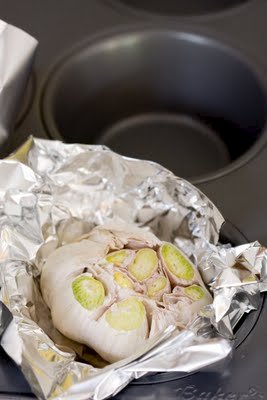 I was really excited to find instructions for roasted garlic on Simply Recipes that used a cupcake tin – if it involves my cupcake tin, I can do it! I followed Elise's instructions to a tee, only instead of using olive oil, I used hazelnut oil and a little honey to make the garlic extra sweet. Oh, and I covered mine in chocolate!
Chocolate Covered Garlic
If I was going to roast garlic, I might as well cover some in chocolate to put on top of garlic cupcakes.

Ingredients
6

heads of garlic

I only covered some of them in chocolate.

a few tablespoons of oil

I used hazelnut oil.

1/4

C

semi-sweet chocolate chips

1

T

unsalted butter
Instructions
Peel away the outer layers of the garlic bulb skin, leaving the skins of the individual cloves intact. Using a knife, cut off 1/4 to a 1/2 inch of the top of cloves, exposing the individual cloves of garlic.

Put each garlic head in foil and place them in a cupcake tin, as shown above.

Drizzle a couple teaspoons of oil over each head, using your fingers to make sure the garlic head is well coated.

Drizzle each head with honey.

Close the foil over each head.

Bake at 400 F for 30-35 minutes, or until the cloves feel soft when pressed.

Allow the garlic to cool enough so you can touch it without burning yourself. Use a small knife to cut the skin slightly around each clove. Use a cocktail fork or your fingers to pull or squeeze the roasted garlic cloves out of their skins.

Melt the chocolate chips with the butter in a double boiler or the microwave.

Dip each clove of garlic in chocolate. I thought it looked best to only cover half of the clove.

Place chocolate covered garlic on parchment paper and place in the refrigerator to cool.
Nutrition
Calories:
21
kcal
|
Carbohydrates:
1
g
|
Fat:
1
g
|
Cholesterol:
1
mg
|
Potassium:
18
mg
|
Vitamin A:
20
IU
|
Vitamin C:
0.3
mg
|
Calcium:
3
mg
|
Iron:
0.2
mg