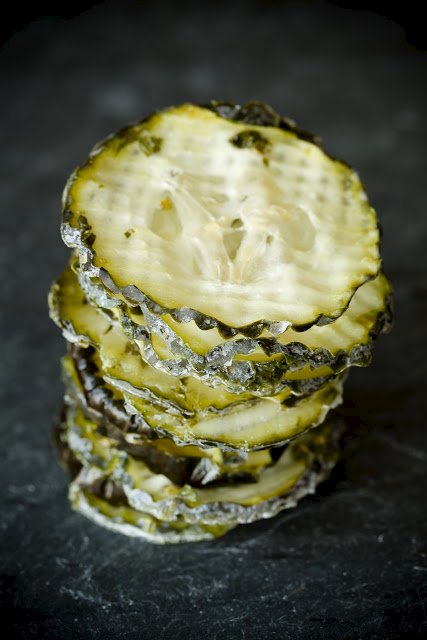 Cucumbers are clean, crisp, and refreshing.  Why do we often sour them, turning them into pickles?  Although candied cucumbers resemble bread and butter pickles, I assure you that they taste nothing alike.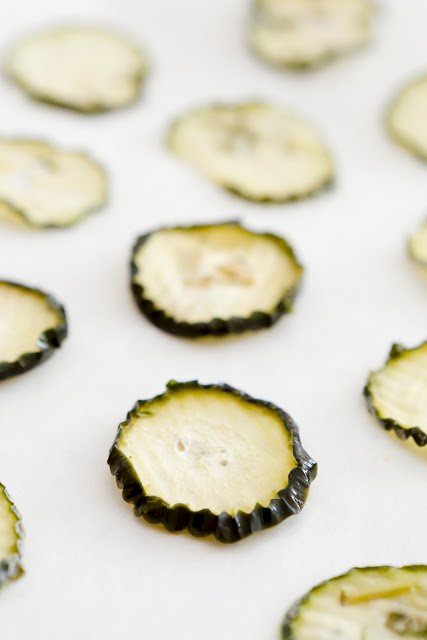 Candied cucumbers taste like candy!  They are sticky, sweet, and – since I added some fresh mint when I candied them – minty fresh!  These candied cucumbers made a gorgeous topper for my cucumber martini cupcakes (coming soon).  But, they would also steal the show on an after-dinner cheese plate or perched on the side of a glass of an actual cucumber martini.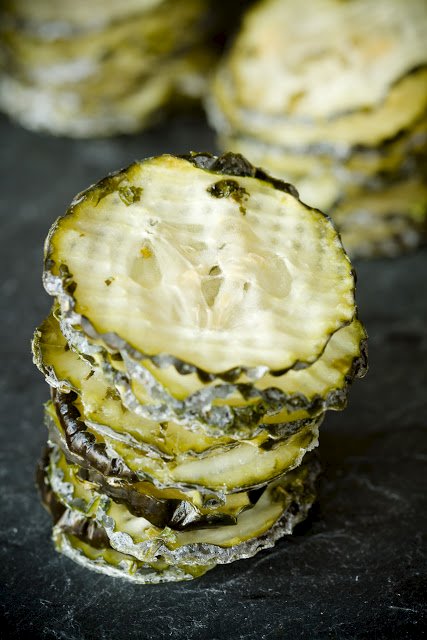 How to Make Candied Cucumber
I found the instructions for making candied cucumber from Cluracon on Instructables.  Here's her recipe in my own words:
If you've tried this recipe, please RATE THE RECIPE and leave a comment below!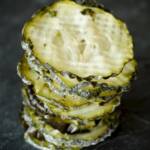 Candied Cucumber – This is No Pickle
Ingredients
1

cucumber

2

cups

sugar

2

cups

water

1/4

cup

finely chopped mint
Instructions
Thinly slice the cucumber. I found that 1/4" slices worked the best. I tried using 1/8" slices and many of them broke when I lifted them off of the baking sheet. I used the crinkle cut blade on my

mandoline

to cut them, but you could certainly cut them by hand (and not obsess about making them all equal thickness).

Fill a large pan with sugar and water. Try to use a pan with a large diameter (don't worry about it being tall) that can fit many cucumber slices without them overlapping. Don't worry if they won't all fit. I did mine in two batches.

Heat the sugar and water on medium-high and mix periodically until the sugar completely dissolves.

Turn heat down to medium-low and toss in the mint and as many cucumber slices as you can fit without them overlapping.

Cook the cucumbers for 20 minutes.

Line a baking sheet with a Silpat or with parchment paper.

Scoop the cucumbers out of the syrup and place them in a single layer on the prepared baking sheet.

Return any large chunks of mint to the pot (because the candied cucumber slices look better without big green chunks stuck to them).

Repeat steps 4-8 for the second half of your cucumber slices.

Bake cucumbers at 180 F for two hours.

Carefully remove cucumbers from the trays and enjoy.
Mystery Photo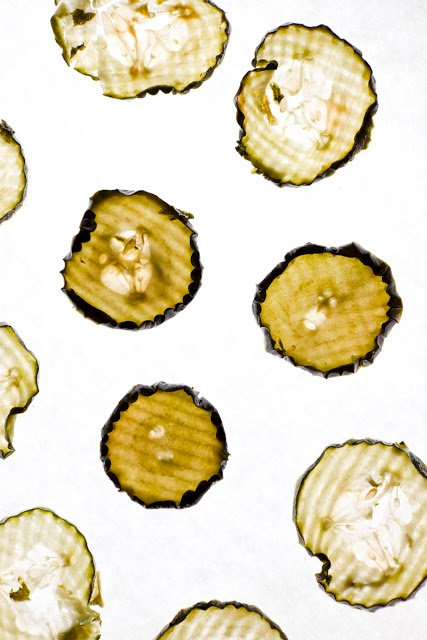 I posted the above photo on Facebook and asked people to guess what it was.  I had over 100 guesses.  Many of you were close – you could tell it was a cucumber or a pickle and you knew it was dehydrated.  But, no one guessed it was candied.
It's time to start thinking of cucumbers as sweets.  Give candied cucumbers a try and let me know what you think!