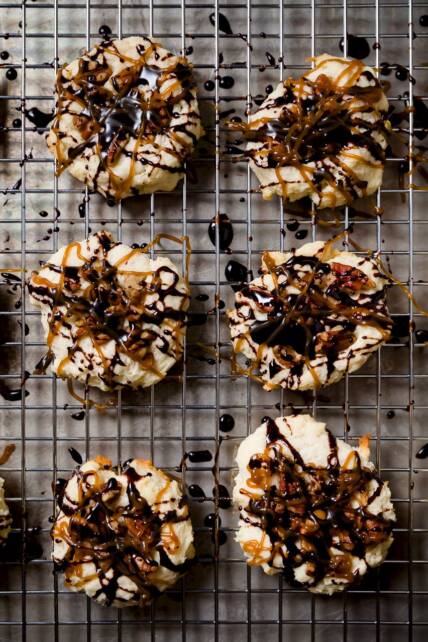 These turtle cheesecake cookies are as close to cheesecake as a cookie can get and they are drizzled with a heavy dose of awesomeness (chocolate and caramel sauce)!  These turtle cheesecake cookies will surely liven up a platter full of the same old cookies you've been making every year.
Before creating my turtle cheesecake cookie recipe, I researched existing cheesecake cookie recipes.  They all contained a mix of cream cheese and butter to create a cheesecake-like experience in cookie format.  My original recipe – heavily adapted from Brown Eyed Baker's Oreo Cheesecake Cookies which were adapted from Tasty Kitchen – is the only cheesecake cookie recipe that I've seen that contains more cream cheese than butter; I didn't want a butter cookie with some cream cheese, I wanted to create a cookie that truly tasted like turtle cheesecake.  I succeeded!  These turtle cheesecake cookies have the texture of soft batch chocolate chip cookies with a strong cheesecakey flavor!
How to Store and Transport Turtle Cheesecake Cookies
Since the turtle cheesecake cookies are topped with wet syrup, storing and transporting them can be a bit tricky – you can't just throw them in a bag.  If you don't care about your drizzle pattern getting a little messed up, you can store and transport the turtle cheesecake cookies in an air-tight container with parchment between each layer.  Otherwise, you'll need to store and transport the cookies in a single layer.
Another option is to store the chocolate and caramel syrups separately and drizzle them on the cookies just before serving.
Turtle Cheesecake Cookie Supplies
To make my homemade caramel sauce, I simply melt three tablespoons of butter over medium heat, stir in a half cup of brown sugar and heat until it just begins to boil.  Then, I remove the pot from the heat and quickly stir in a quarter cup of heavy whipping cream.
Turtle Cheesecake Cookie Recipe