The First Chocolate Brownies (1899)
Disclosure: As an Amazon Associate, I earn from qualifying purchases.
Learn the fascinating history of brownies and try the the recipe for the first ever chocolate brownies! Sure, it looks more like a cake. But, it tastes 100% brownie – far more dense than what you would expect for a piece of cake. It even has the classic brownie crackle at the top.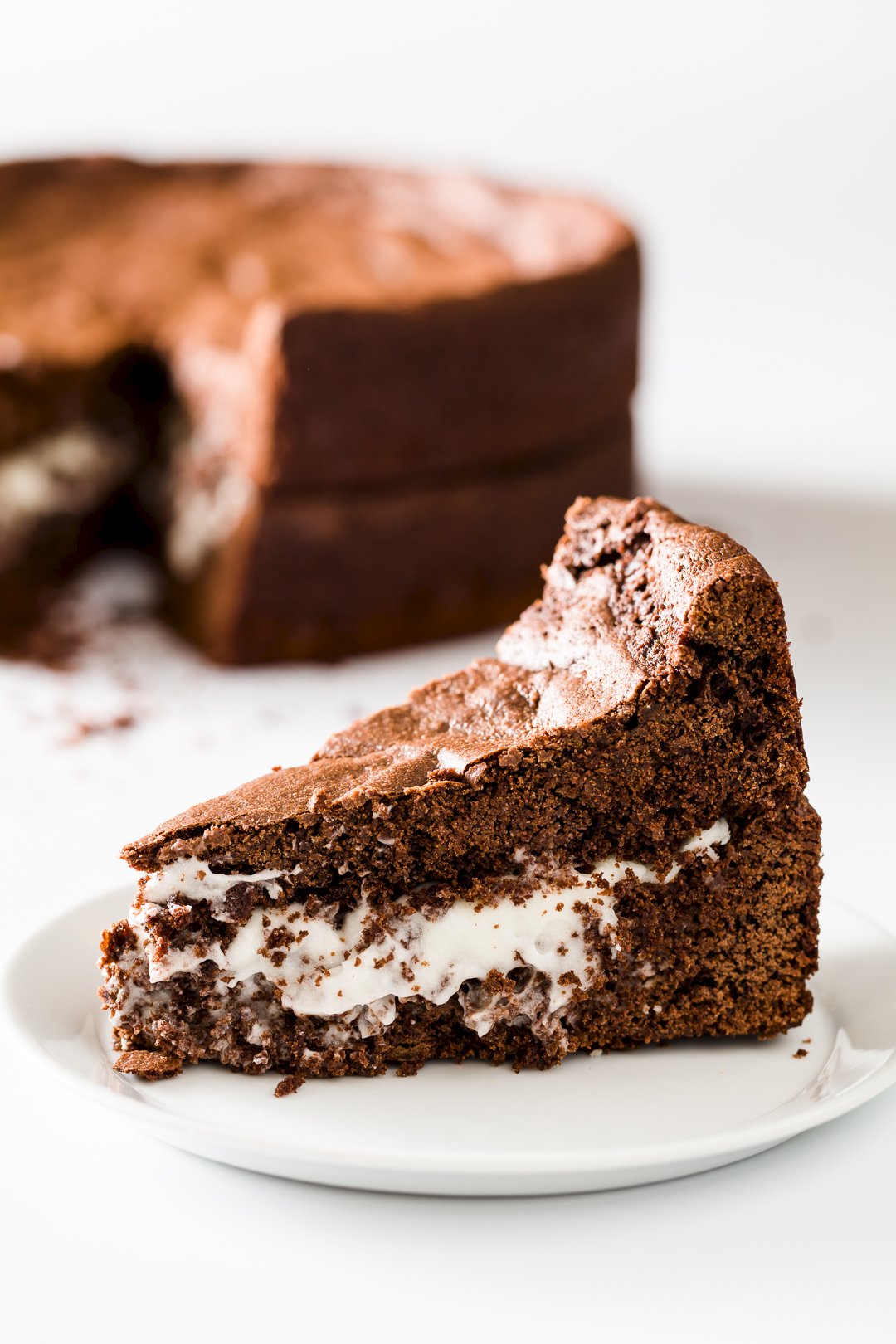 ---
History of Brownies
Fannie Farmer's 1896 dessert (considered the first brownies) shared little more than a name with the bars of gooey, chocolatey heaven that we know and love today. Farmer's "brownies" contained no chocolate (a fairly egregious omission), and were primarily flavored with molasses. They were also baked in individual "shallow fancy cake tins" rather than in a rectangular pan, and each brownie was garnished with half a pecan. The resulting dessert had the dainty look of a tea cake, the taste of a hermit bar, and the dense, slightly chewy texture of a blondie.
So how did the brownie evolve from there? And, more importantly, when did chocolate find its way into the mix?
Brownies appear to have caught on pretty quickly after their debut in Farmer's 1896 The Boston Cooking-School Cook Book. While her recipe was probably adapted from a dessert concept already in circulation among home cooks, the success of her book (now in its thirteenth edition and still available in print today) certainly gave brownies a boost and assisted their spread. (View on Amazon) [paid link]
By 1897, "Brownies in 1-lb. papers" were advertised among the crackers and biscuits of the Sears-Roebuck Catalogue. This ad (most likely for a cookie-like dessert) marked the beginning of a brief period of adolescent soul-searching in the development of the brownie, and for the next ten years, "brownie" might refer to little cakes, cookies, or candies.
Chocolate appears to have been wedded to the dessert during its candy phase, beginning with an advertisement for "Chocolate Brownies, regular" under "Confections" in the April 1, 1898 issue of The Kansas City Journal. From there, "chocolate brownies" popped up in numerous confectionary advertisements printed in Minneapolis and Washington, D.C. periodicals between 1901 and 1907. (If you're interested, New England Recipes has compiled images of all known brownie advertisements from the period in their "History of the Brownie.")
While commercial confectioners were adding chocolate to their "brownies" left and right, a similar revolution in brownie baking was going down in America's private kitchens. A new baked good, nearly always containing chocolate and cut into squares or strips after baking (sound familiar?), was taking shape. For many years, it was believed that the first recipe for these chocolate brownies was printed in the second (1905) edition of Fannie Farmer's famed cookbook. While this edition does include a recipe for chocolate brownies baked in a 7-inch square tin, a handful of earlier, regional cookbooks containing chocolate brownie recipes have now come to light.
The earliest of these appears in Machias Cook Book, a compilation cookbook produced for the Ladies' Social Circle of Machias, Maine in 1899. (You can view a freely available version of the cookbook through Internet Archive here.) (View on Amazon) [paid link]
On page 23 of the volume, buried in the "Cake" section, is a recipe for "Brownie's Food" contributed by Marie Kelly of Whitewater, Wisconsin. Kelly's recipe, unlike Fannie Farmer's 1896 formula, contains brown sugar (rather than confectioner's sugar), a leavening agent (baking soda), milk, vanilla, and – most importantly – grated chocolate. While still a step removed from today's brownies (the recipe lacks eggs, is baked in layers, and is served with frosting made from cream and confectioner's sugar), "Brownie's Food" is comfortingly familiar (and reassuring to modern-day chocoholics).
Bake it up, and the result is satisfyingly brownie-like, decadent, and delicious. If you don't have much of a sweet tooth, you might want to halve the frosting recipe, but for me, the generous slathering of icing between the layers was a perfect accompaniment to brownies of a slightly harder, denser texture than that to which we're accustomed.
My final verdict? If the Kelly household's resident brownie had a hand in refining his "food," I think it's safe to say that benevolent sprites know best.
The First Chocolate Brownies (1899)
Bake it up, and the result is satisfyingly brownie-like, decadent, and delicious.
Ingredients
Brownie Ingredients
2 1/2

cups

brown sugar

divided

1

cup

milk

divided

6

ounces

unsweetened baker's chocolate

broken into small pieces

1/2

cup

unsalted butter

room temperature

1

teaspoon

vanilla

2

cups

flour

1

teaspoon

baking soda
Frosting Ingredients
1

pound

confectioner's sugar

1/2

cup

heavy whipping cream
Instructions
Brownie Instructions
Preheat oven to 350 F.

Generously grease two 8-inch round cake tins. Cut circles of parchment paper to fit the bottoms of the tins. Grease tops of paper.

Melt 1 1/2 cups brown sugar, 1/2 cup milk, and chocolate in a pan over low heat, stirring constantly, until smooth. Take pan off heat and set aside to cool.

In a large bowl, cream the butter and remaining one cup of brown sugar until light and fluffy. Add remaining 1/2 cup of milk and the vanilla, whisking until batter is smooth.

In a smaller bowl, sift together the flour and baking soda.

Gradually add the dry ingredients to the butter mixture, stirring until fully incorporated.

Add the cooled chocolate mixture to the batter and stir. The batter will be fairly stiff.

Divide the batter evenly between the two prepared cake tins, using a spatula to smooth down the surface of the batter as well as you can.

Bake for about 30 minutes, or until a toothpick inserted into the center of one of the brownies comes out clean.

Cool in tins on wire racks until pans are cool to the touch. Turn the brownies out into your hand, one at a time, placing each bottom-side down on the wire rack to cool completely.
Frosting Instructions
Whisk the confectioner's sugar into the cream a little at a time. Chill for about 10 minutes.

When brownies are completely cool, spread frosting evenly across the top of one. Place the second brownie on top of the icing. Serve in slices.
Notes
This recipe was written by Marie Kelly in 1899. It's been reworded for the modern audience.
Nutrition
Calories:
388
kcal
|
Carbohydrates:
69
g
|
Protein:
3
g
|
Fat:
13
g
|
Saturated Fat:
8
g
|
Cholesterol:
23
mg
|
Sodium:
81
mg
|
Potassium:
156
mg
|
Fiber:
1
g
|
Sugar:
55
g
|
Vitamin A:
275
IU
|
Calcium:
58
mg
|
Iron:
2.5
mg