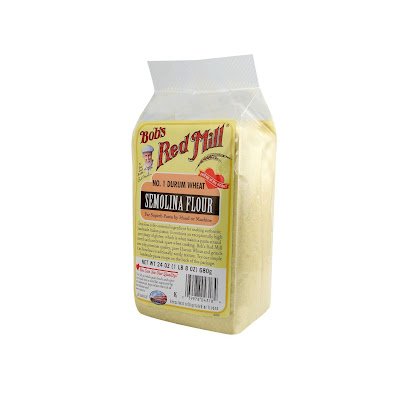 What is Semolina?
According to my favorite source on everything, Wikipedia, semolina is "the gritty, coarse particles of wheat left after the finer flour has been extracted."  As you might imagine, semolina can be very different depending on what type of flour you're getting those particles from.
Semolina from Soft Wheat
Semolina from softer types of wheat (usually steel-cut) is almost white in color. This type of semolina may already be in your house. It's Cream of Wheat!
Important: Even though Cream of Wheat is a type of semolina, it is not a good substitute for semolina flour.
Paved with Good Intentions tried making a homemade pasta that called for semolina flour by substituting Cream of Wheat. She ended up with a bizarre Cream of Wheat carbonara.
The Epicurean Table explains why it is so easy for people to be confused and choose the wrong product. "In Europe, this breakfast cereal is sold in small packages and called semolina (UK), semolino (Spain and Italy), Griessmehl (Germany) and semoule (France)." I could easily see myself picking up a package of semolina and assuming that it would work as semolina flour.
Semolina from Durum Wheat
Semolina from durum wheat or similar hard wheat is called semolina flour and is usually yellow in color. This is what you should use to make desserts containing semolina flour. It is a finer grain than Cream of Wheat, but it still produces a gritty dessert with almost a cornbread-like texture.
Semolina and Couscous
FYI – Couscous is also made from durum wheat semolina, but that's a story for another day.
Cupcake Project Recipes with Semolina Flour