Redbud Syrup
Disclosure: As an Amazon Associate, I earn from qualifying purchases.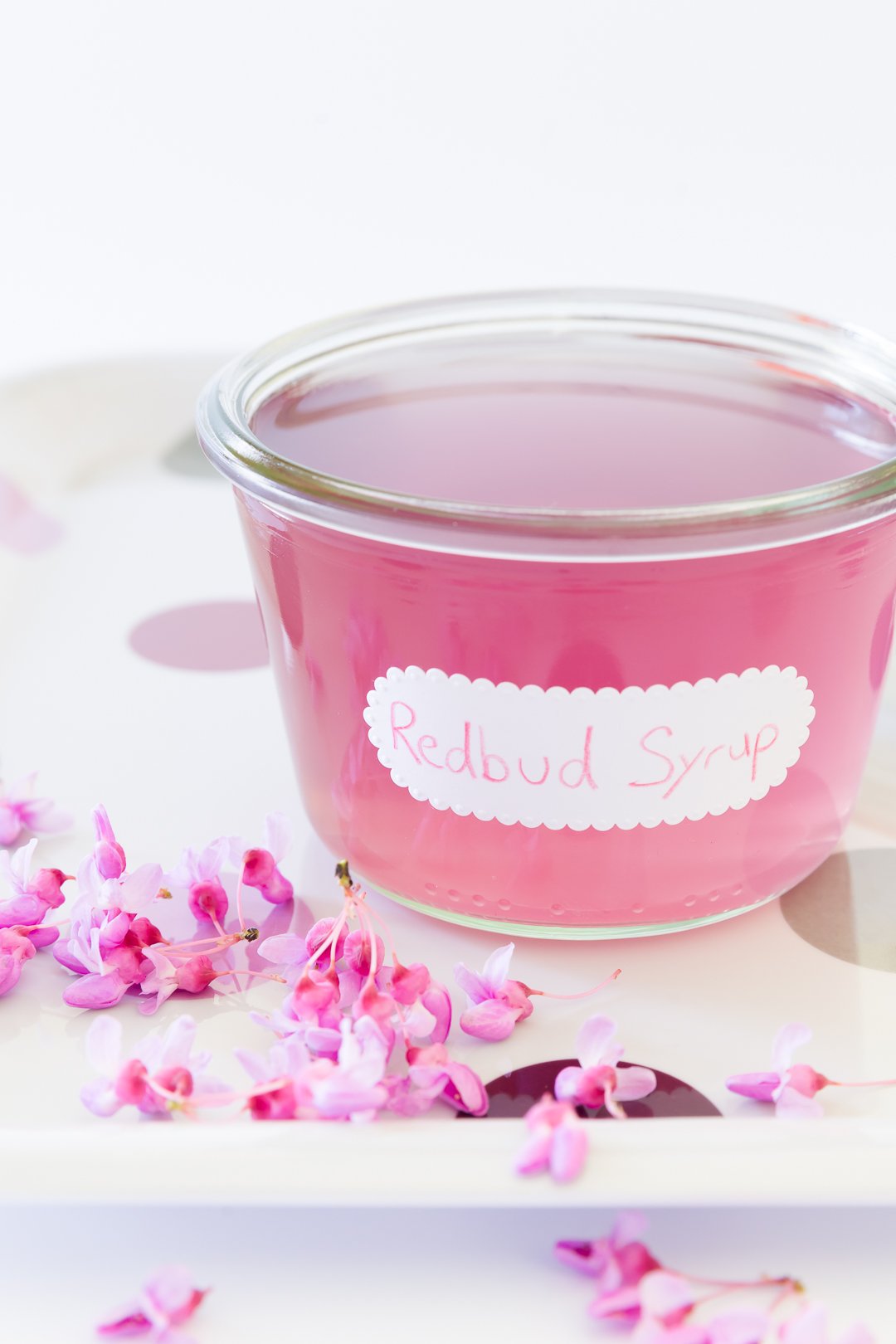 When we house hunted, we dreamed of living in an old house with lots of character – nooks and crannies, pocket doors, and maybe a turret. We ended up in brand new construction with no character, but also no maintenance or rehab required; practicality won over sentiment. Not only was the charm missing, but we also had no trees. We learned that there used to be an apple orchard on our lot, but those trees and any other trees that might have been on the property were long gone.
We began the process of bringing back trees to our lot last year. We planted three apple trees (which are blooming for the first time right now – fingers crossed for apples in the fall) and a redbud tree.
I learned the other day that both the redbud flowers and the redbud leaves are edible! We got lucky because that is not at all why we picked the tree.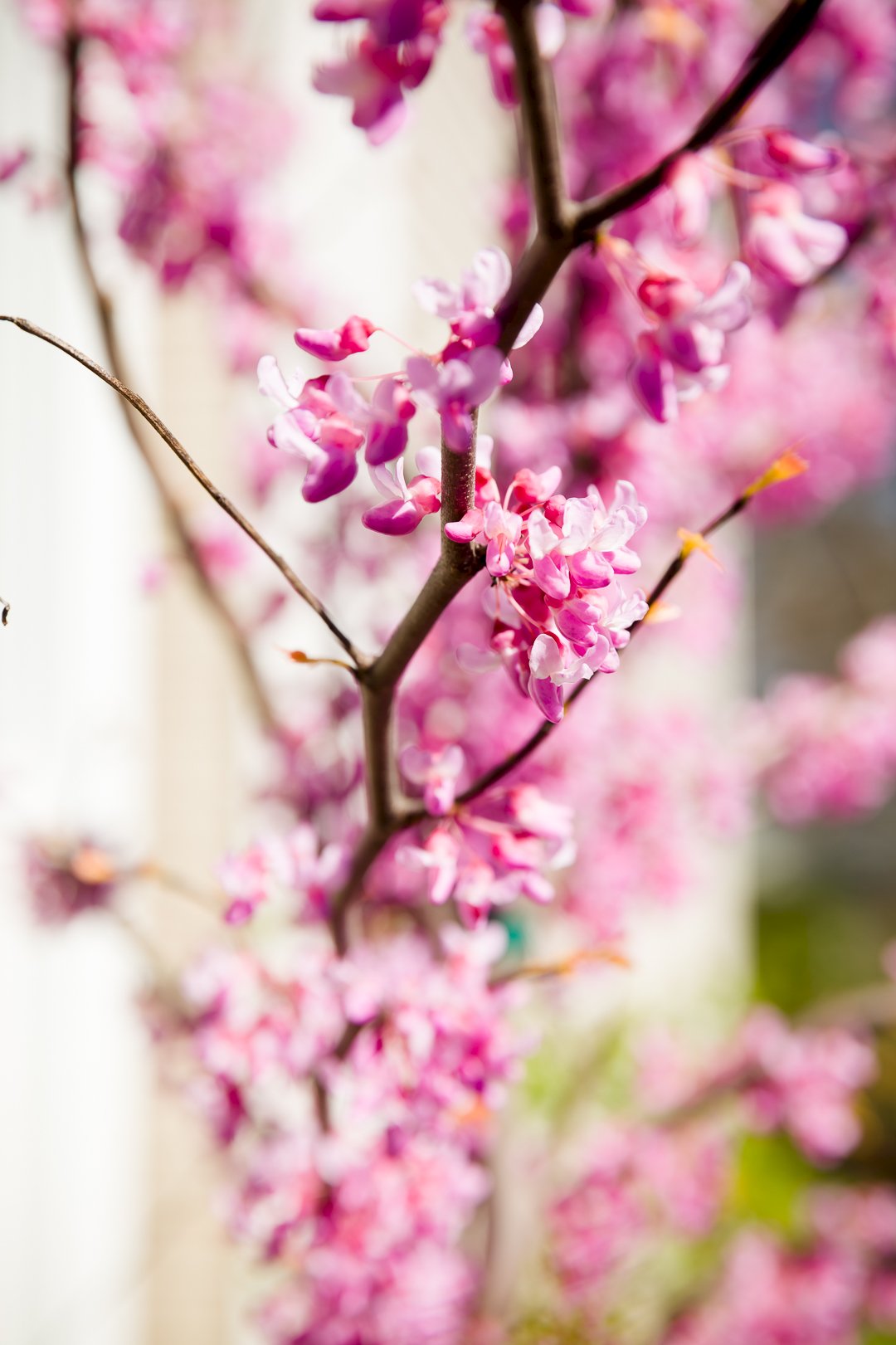 I tested the waters by gingerly picking off a redbud flower and eating it. I'll admit that I looked around to see if any of my neighbors were staring at me. The coast was clear. It had a sort of generic spring-like taste, a little tart, a touch of floral, and a bit like young greens (think pea shoots). Not bad. I am definitely going to use the flowers on salads as long as there are still flowers on my tree.
Next, I set about making a redbud syrup.
I love elderflower syrup, so I wanted to see what redbud syrup would taste like. (View on Amazon) [paid link]
I always struggle with bringing flowers into my house from the yard because they look so pretty outside. So, with a little bit of sadness, I picked a bunch of the flowers off of my redbud and began the syrup-making process.
The instructions for redbud syrup are below and you'll find that the process is pretty straightforward. Depending on how long you boil the syrup for, you can end up with thin pink syrup (shown in this post) or a deeper pink-red syrup that's pancake-ready (also good for soaking sponge cakes). In either case, the syrup will have a very mild flavor. If you mix it with anything that has a strong flavor, you'll lose the subtle redbud taste. Other syrups made with flowers often include lemon in the recipe, but I specifically left it out because I didn't want to overpower the redbud.
I Want to Hear From You
I'm clearly new to the world of eating redbud so I'd love to hear from you. Do you have a redbud at your house or in a nearby park? Did you know that you can eat the flowers? Go try them and let me know what you think they taste like. If you make the syrup, let me know if you like it thin or thick and how you end up using it. I'll update this post with more information as I hear from you.
Redbud Syrup
I learned the other day that both the redbud flowers and the redbud leaves are edible!
Ingredients
2

ounces

freshly picked redbud flowers

Be sure to remove any debris or bugs. You can give them a little rinse, too.

4

cups

water

about 1/3 cup sugar
Instructions
Bring flowers and water to a boil in a medium-sized pot on high heat.

Remove from the heat and cover. Cool to room temperature, then refrigerate overnight.

Use a fine sieve to remove the flowers.

Weigh the remaining redbud-flavored water and add an equal amount of sugar (by weight).

Bring the mixture to a boil and then reduce to a simmer, stirring periodically. Cook until desired thickness is reached. At about 25 minutes it will still be thin, but great for cocktails. Keep it going another ten minutes or so for a thicker syrup.
Notes
Reader Jacqueline shared this great tip: "My soaking water was a murky green. And the longer it boiled, the greener it got. It occurred to us that it might be a pH issue, so I added a little lemon juice and now my syrup is a lovely bright pink! Kitchen chemistry for the win!"
Nutrition
Calories:
13
kcal
|
Carbohydrates:
3
g
|
Sodium:
2
mg
|
Potassium:
4
mg
|
Sugar:
3
g
|
Vitamin A:
55
IU
|
Vitamin C:
0.8
mg
|
Calcium:
3
mg
Redbud Jelly
If you like making jam (I'm looking at you, Vallery Schofield-Miller, so I hope you are reading this), you'll probably like this recipe for Mr. Johnson's redbud jelly.