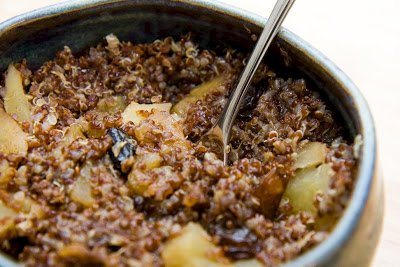 I've loved quinoa since I first encountered the little colorful curly-Q's. It's so much more interesting as a base for a dish than the old standby, white rice. However, until recently, I hadn't considered the merits of quinoa over oatmeal. This post is part one of the story of quinoa for breakfast.
Quin-whaa?
A) Do I really want to eat goosefoot? FYI: The other species of goosefoot include Kañiwa, Fat Hen, Good King Henry, and Epazote. Why don't we see these on the market? I love the idea of vegetarians eating their stir fry over Fat Hen.
B) If people are growing quinoa, there must be leaves. How do I get to try them?
Quinoa Varieties
Why Quinoa for Breakfast?
Cinnamon Apple Quinoa Breakfast Cereal
Here is the recipe from A Southern Grace with the changes I made. Because there are just two of us here, I adjusted the recipe to make two big bowls.
If you've tried this recipe, please RATE THE RECIPE and leave a comment below!