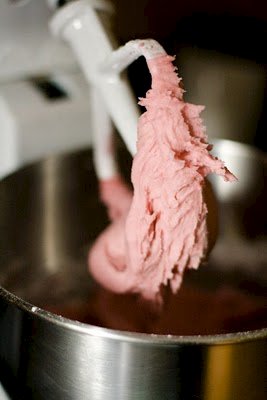 Pink frosting makes me think of a giant (Jack and the Bean Stalk
sized) princess popping bubble gum, smashing it in her face, collecting it in a bowl, and storing it for later.  My pink frosting, however, is not bubble gum-flavored and it does does not have a giant's cooties on it.  Better yet, I didn't use any artificial food coloring to make pink frosting.  I didn't use any berries, either!
So, how did I do it?
How To Make Pink Frosting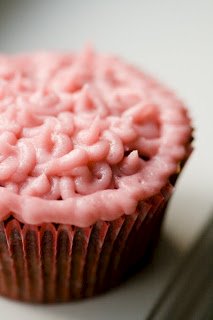 As soon as I saw how red my hibiscus tea was, I was excited to try using hibiscus to make pink frosting.  It worked!  Unlike using berries – which leave the frosting with a very strong berry flavor and oftentimes more moisture than you would like – making pink frosting with hibiscus only slightly affects the taste of the buttercream.  The pink buttercream has just a bit of a pleasant tang to it that most people won't even notice.
The trick to pink frosting is pink butter!
Melt butter with dried hibiscus.  You can do this in a small saucepan on medium-low heat or in a glass bowl in the microwave for one minute.
Stir until you see lots of pink in the butter.  You may see pink oil floating on the butter (like oil and vinegar) rather than integrating with it.  Don't worry – when the butter cools, the pink will mix right in.
Strain out the hibiscus flowers.
Let the butter come to room temperature, then cool in the refrigerator.
When ready to use, stir (to evenly distribute the pink color) and bring back to room temperature to use in your favorite frosting recipe.
How Did I Use My Pink Butter?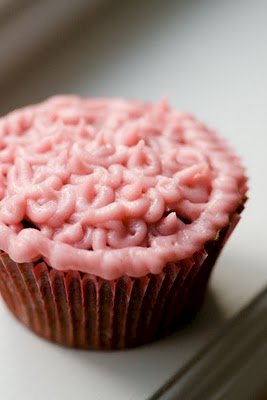 I topped chocolate cupcakes (the recipe from the Better Than Sex Chocolate Cupcakes) with a buttercream frosting made with pink butter.  To make the pink buttercream, I used my vanilla bean buttercream frosting recipe minus the vanilla bean paste (the vanilla bean paste would affect the color of the frosting).
Note: If you want a vanilla flavor and don't want to affect color, you can use clear vanilla
(but, keep in mind that it is an artificial flavor).