Mesquite Flour Tortillas
Published , Last updated by
Stef
Disclosure: As an Amazon Associate, I earn from qualifying purchases.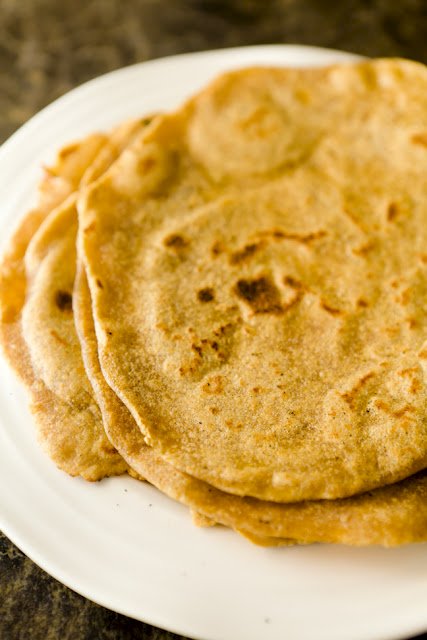 Mesquite flour (or mesquite powder or mesquite meal, as it is sometimes called) is likely a new ingredient to you. I hadn't heard of mesquite flour before I received a free sample of mesquite flour from Navitas [paid link]. Because my only association with mesquite was the wood [paid link] that we use to smoke fish and meat, I kept thinking that mesquite flour was going to taste smokey – it does not.
Mesquite flour is made from the dried and ground pods of the mesquite plant (not the bark) and tastes a bit like walnuts and caramelized sugar. Mesquite is a unique, vibrant flavor worth adding to your arsenal for bread making, pancake making, tortilla making (like I'll show in this post) and general baking.
Mesquite Flour Tortillas
These mesquite flour tortillas use a combination of whole wheat flour and mesquite flour. Although the tortillas contain no sugar, the mesquite flour lends a sweetness to them that offsets the strong, not-pleasing-to-all-palates flavor of the whole wheat. The tortillas have a rich flavor, but they are mild enough that they won't clash with your filling – no matter what you choose.
Regardless of whether you make these mesquite flour tortillas or not, I encourage you to try your hand at homemade tortilla making. Your hot-off-the-grill tortillas will be leagues better than the mostly tasteless bagged tortillas at your local supermarket.
Mesquite Flour Tortillas Recipe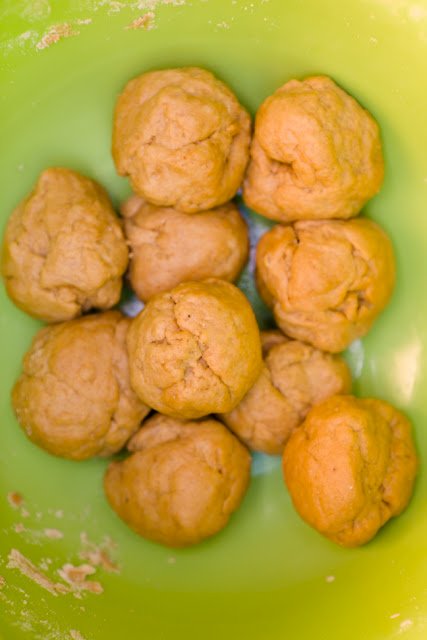 I got the recipe for the mesquite flour tortillas from Tucsonivores. The only major change that I made was to leave out the chiles. Here is the recipe in my own words:
Yield: 10 tortillas
In a medium-sized bowl, mix whole wheat flour, mesquite flour, and salt.
Mix in olive oil.
Gradually mix in water.
Knead the dough for about three minutes. It should come together into a big ball.
Cover the bowl and let it sit for thirty minutes.
Separate the big ball into ten smaller balls, as shown above.
Cover and let sit for thirty minutes.
Heat a skillet on medium-low heat.
Roll out a ball to about an 1/8″ thick circle (don't obsess about this – just make it really thin and roughly circular and you'll be fine).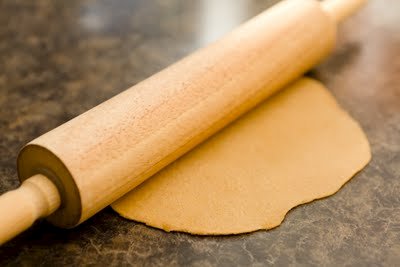 Note my non-perfect circle
Put the thin circle into the skillet (I made this in cast iron and I didn't need to use any butter or oil) and wait for it to bubble. If you've made pancakes before, you should be used to this process; the only difference is that the tortillas take much less time. You should be flipping in about thirty seconds.
After the first flip, continue to flip the tortilla every twenty seconds or so for about two minutes. You'll know that it's done because the tortilla will have a few brown spots on both sides like the ones in my photos. If you leave the tortillas on any one side for too long, that side may burn.
Repeat with the remaining balls.
Serve the tortillas hot, filled with your favorite meats, cheeses, or veggies or with a smidge of honey butter [paid link]. If you aren't eating them immediately, cool them to room temperature and store in an airtight container in the the refrigerator. Prior to serving, reheat in the microwave for ten seconds at a time until warm.
Our Meal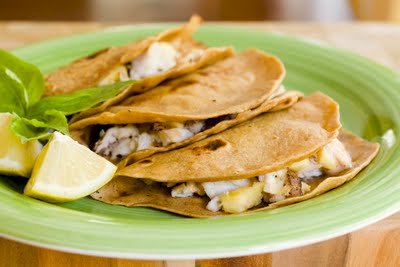 I had to show you the fish tacos Jonathan made with these tortillas. If I get these tacos every time that I make tortillas, I may have to make them more often!
Stay Connected!
Join my mailing list - and receive a free eBook!