The Secret Chocolate Chip Cookie Baking Tip You'll Want to Try Today
Disclosure: I may earn a commission from purchases you make through affiliate links in this post at no additional cost to you.
What I love about this chocolate chip cookie baking tip is that it works with any chocolate chip cookie recipe, magically transforming that chocolate chip cookie into something better.
Here's the secret: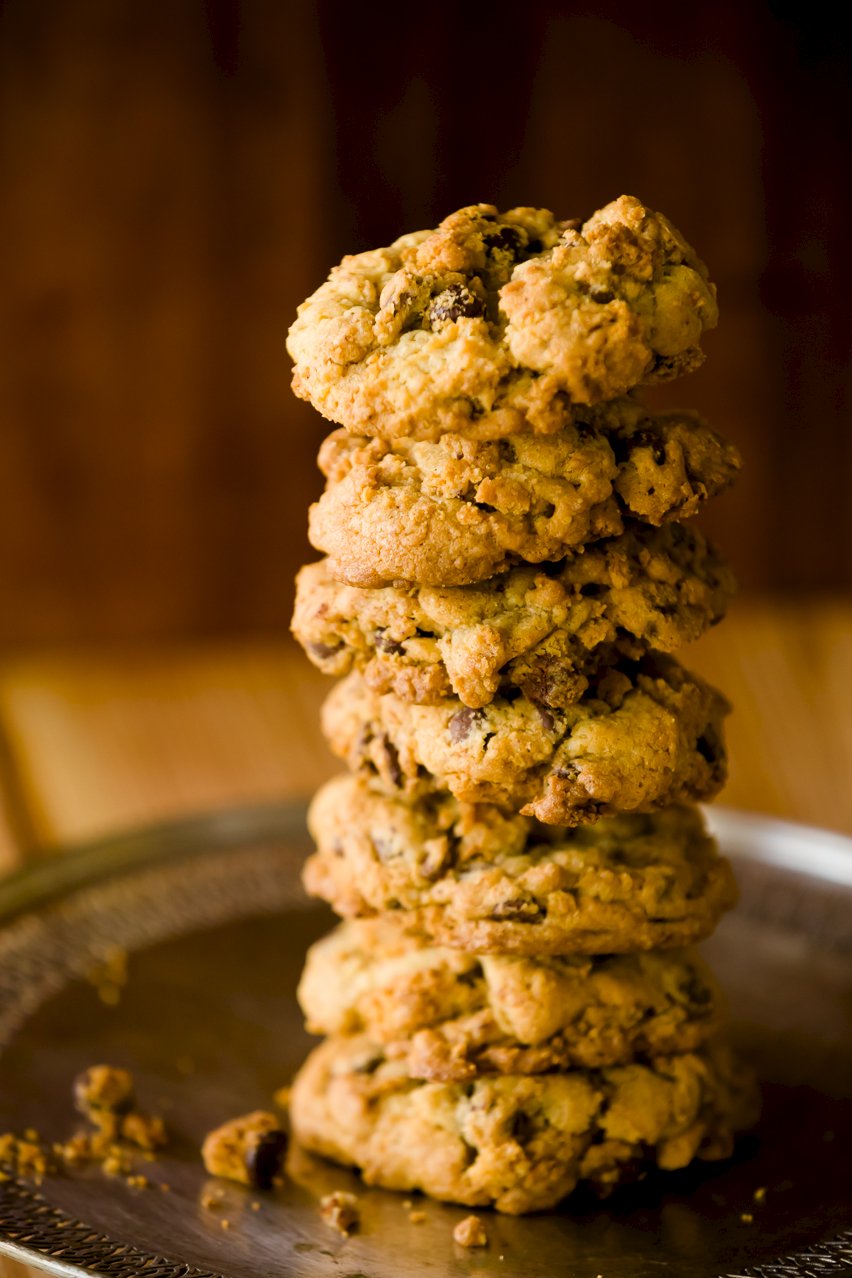 There are chocolate chip cookies baked inside of these chocolate chip cookies. What? Essentially, you take half of your cookie dough and bake it into really small/flat (and therefore crispy) cookies. Then, you break up those crispy chocolate chip cookies and stir them right back into your chocolate chip cookie dough. This time, bake BIG cookies. The new cookies will be softer (because they are big) but will have crispy bits throughout them. The cookie result is mind-blowing!
I learned this super trick from Big Fat Cookies. I'm more of a small cookie fan – so I can have two or three without guilt – but, there is something enticing about being handed a cookie the size of the moon. Everything in this little book is super appealing! (View on Amazon)
Despite my very adventurous palate, I've yet to find a chocolate chip cookie recipe that I like more than the classic Toll House chocolate chip cookie recipe. So, that's the one that I used for the chocolate chip cookie in a cookie trick. While you don't need to use this recipe, I'm sharing it below to make your life easier.
Chocolate Chip Cookie In a Cookie
There are chocolate chip cookies baked inside of these chocolate chip cookies. Take small, crispy cookies, and bake them inside fresh dough.
Servings
12
large cookies
Ingredients
1

cup

+ 2 tablespoons all-purpose flour

1/2

teaspoon

baking soda

1/2

teaspoon

salt

1/2

cup

unsalted butter

room temperature

1/4

cup

+ 2 tablespoons sugar

1/4

cup

+ 2 tablespoons brown sugar

1/2

teaspoon

vanilla

1

large egg

1

cup

semisweet chocolate chips
Instructions
Preheat oven to 375 F.

In a small bowl, mix flour, baking soda, and salt.

In a medium-sized bowl, beat butter, sugar, brown sugar, and vanilla.

Mix the egg into the sugar mixture.

Mix in the flour mixture until just combined.

Stir in chocolate chips.

Place 16 teaspoon-sized scoops of cookie dough on a parchment-lined cookie sheet. This will not use all of the batter. Wet your finger with a little water and press the dough balls down to make them flat - this will make them more crispy.

Bake for 9-11 minutes or until cookies are browned but not burnt.

Cool cookies on cooling rack.

Break cooled cookies into small pieces and mix them into the remaining cookie dough. Resist the urge to eat the cookies. OK, maybe you can have a few crumbs.

Scoop a dozen large scoops (about 3 tablespoons - about the size of most ice cream scoops) of cookie dough onto parchment-lined cookie sheets 2 inches apart.

Bake for about 13 minutes or until cookies are lightly browned.

Eat as soon as they are cool enough to handle. These are particularly good right out of the oven because the difference between the soft and crunchy parts is more prominent when the cookies are hot. They are great cool, too, but I highly suggest popping cooled cookies in the microwave for 10 seconds before eating,
Nutrition
Calories:
231
kcal
|
Carbohydrates:
24
g
|
Protein:
2
g
|
Fat:
13
g
|
Saturated Fat:
8
g
|
Cholesterol:
34
mg
|
Sodium:
151
mg
|
Potassium:
107
mg
|
Fiber:
1
g
|
Sugar:
14
g
|
Vitamin A:
265
IU
|
Calcium:
19
mg
|
Iron:
1.5
mg