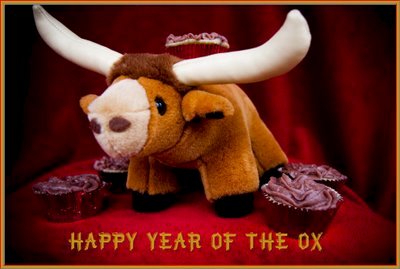 Sure, Chinese New Year Cupcakes are not the traditional dessert to celebrate the Chinese New Year, but the cake that I turned into cupcakes, nian gao, is. It's a sticky, glutinous cake that is filled with red bean paste. To make it more cupcake-like, I frosted the cupcakes with a red bean buttercream frosting.
Chinese New Year Cupcake Tasting Notes
You have to be a fan of Chinese cakes to like these Chinese New Year Cupcakes. Jonathan felt that these cupcakes tasted just like the sticky buns filled with red bean paste that you can get at dim sum. Since he loves those, he loved these cupcakes. If you are expecting anything with any kind of a crumb, this is not the cake for you.
Because the Chinese New Year cupcakes are so sticky, I would make one change if I were to make them again. Although I don't typically bake in silicone cupcake wrappers, I think I would opt for silicone for these cupcakes – way too much of the cupcake stuck to the wrapper. If you don't have silicone wrappers, you might also try spraying the inside of paper wrappers with a non-stick spray before pouring the batter in.
The Chinese New Year Cupcake (Nian Gao) Recipe
I got the recipe for the Nian Gao from Asian Eats. The traditional recipe is steamed, but the recipe on Asian Eats has been modified to a baked version. Below is that recipe from Asian Eats modified to cupcake form. After the recipe text, I have some step-by-step photos.
Nian Gao
Nian Gao is a sticky, glutinous cake that is filled with red bean paste. To make it more cupcake-like, I frosted the cupcakes with a red bean buttercream frosting.
Ingredients
1

lb

500 g glutinous rice flour (I found this at an international supermarket. The flour came in a 1 lb bag, which made it easy.)

2 1/2

C

milk

3

large eggs

1

C

vegetable oil

3/4

C

brown sugar

3/4

C

sugar

1/2

C

15 oz red bean paste (I also found this at an international supermarket. They were out of the can, though, so I bought a bag of it from the refrigerated section. The clerk told me that it was the Japanese version of red bean paste, but that it would work just as well.)
Instructions
Combine all ingredients except red bean paste.

Beat with beater, mixing well.

Fill cupcake liners 1/3 full. (As noted above, I would recommend silicone liners or paper liners sprayed with a non-stick spray.)

Bake at 350 F for 8-10 minutes or until just set.

Remove pan from the oven and put spoonfuls of red bean paste all over the baked batter. This doesn't need to look pretty, as you'll see when you get to my step-by-step photos below.

Pour the remaining batter on top of the red bean paste, filling cupcake liners to the very top.

Bake for another 20-25 minutes or until top bounces back when touched.
Notes
Follow the step-by-step photos and find my original Red Bean Buttercream Frosting recipe in this post.
Nutrition
Nutrition Facts
Nian Gao
Amount Per Serving
Calories 234
Calories from Fat 90
% Daily Value*
Fat 10g15%
Cholesterol 23mg8%
Sodium 20mg1%
Potassium 64mg2%
Carbohydrates 32g11%
Protein 2g4%
Vitamin A 70IU1%
Calcium 40mg4%
Iron 0.3mg2%
* Percent Daily Values are based on a 2000 calorie diet.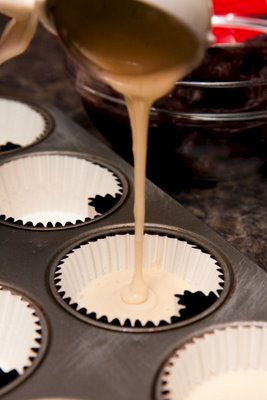 Here I am filling the cupcake liners.
Note that the batter is much runnier than typical American cake batter.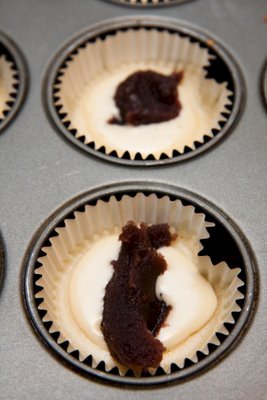 Here, I have globbed on the red bean paste.
You can see that I made no effort to make it look like anything other than a paste turd.
The Red Bean Buttercream Frosting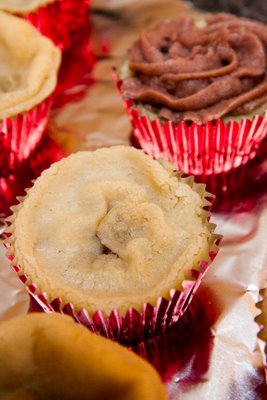 The red bean buttercream frosting is a Cupcake Project original recipe. I wanted something that used the flavor of the red beans, but also had a buttercream feel to it. This did the trick!
1/2 C butter, room temperature
1 C red bean paste, room temperature
1 C powdered sugar, sifted
Beat all ingredients. (That's it!)
About the Ox
Astute readers, such as my Seattle friend who was there when the stuffed animal was purchased, may recognize that the "ox" in the photo at the top of the post is actually a Texas longhorn bull.
As it turns out, oxen are simply castrated bulls so I figured that the stuffed animal would do the trick. I think that my stuffed Longhorn is, in fact, an ox because I could find no male body parts whatsoever on it.
But, for the purists out there, I leave you with some real oxen to bring in the new year.