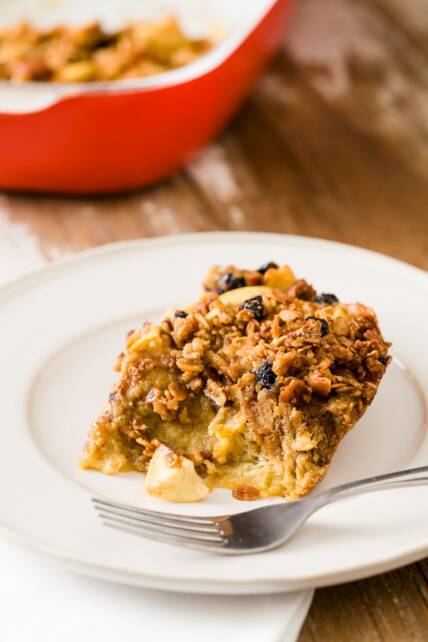 I host a Halloween brunch every year, and every year I take a wild stab at how much food 30 or so people will eat and how many gallons of hot spiced apple cider people will drink. After this year's brunch, I finally wised up and left a note to my future self on next year's calendar:
Stef – Don't buy six gallons of apple cider. Not everyone likes apple cider as much as you do. Just buy 2 gallons. And, I know you like to try new recipes, but please make the apple granola brioche French toast again. The recipe is on your blog. You won't regret it!
The apple granola brioche French toast that I made this year was truly exceptional. It's a baked French toast that you prepare the night before and just stick in the oven the morning of the brunch. Easy! Plus, it could double for bread pudding and I'm OK with eating bread pudding for breakfast.
Many baked French toast recipes suffer from being either a little dried out or too gooey; this one exhibits neither of those problems. While you could make the recipe using any bread, it's the soft, buttery brioche that makes it exceptional. I thought challah was the best bread for French toast, but I think I was wrong.
The chopped apples baked into the French toast make some bites taste like apple pie filling, and the granola gives the French toast some variety in texture. You can use any granola that you like. The one I used had dried blueberries, as you can see in the photo.
My guests were just as obsessed with the brioche French toast recipe as I was. But, even with that, I ended up with a whole pan left over. I probably should have made a note to my future self to just make one pan, but then I would be depriving future me of leftovers and that wouldn't be very nice.
Huge thanks to Lindsay from Life, Love and Sugar for developing the
overnight cinnamon apple baked French toast casserole recipe
that I slightly adapted for my recipe. If you like a sweeter French toast, be sure to try hers. She uses a struesel topping instead of granola – you know that can't be bad!
If you've tried this recipe, please RATE THE RECIPE and leave a comment below!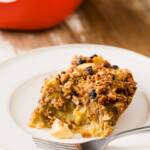 Apple Granola Brioche French Toast
An overnight baked French toast made with brioche, apples, and granola.
Ingredients
1

pound

brioche

ripped into chunks

3

medium

apples

roughly chopped

8

large

eggs

2

cups

whole milk

1/2

cup

heavy whipping cream

1/2

cup

sugar

1/4

cup

light brown sugar

2

teaspoons

vanilla extract

1 1/2

teaspoons

ground cinnamon

1 1/2

cups

granola

any kind that you like
Instructions
Grease a 9×13 inch casserole dish.

Evenly distribute the brioche in the dish and top with the chopped apples. 

In a large bowl, whisk together the remaining ingredients except the granola and pour evenly over bread and apples. 

 Cover the casserole dish and store in the fridge overnight.

When ready to bake, preheat the oven to 350 F.

Bake for 40 minutes or until there is no liquid remaining.