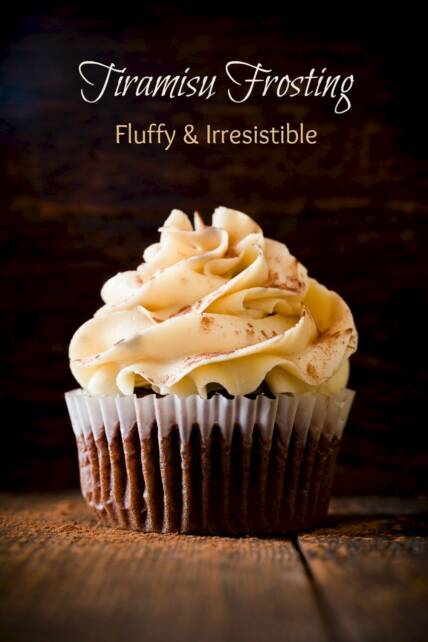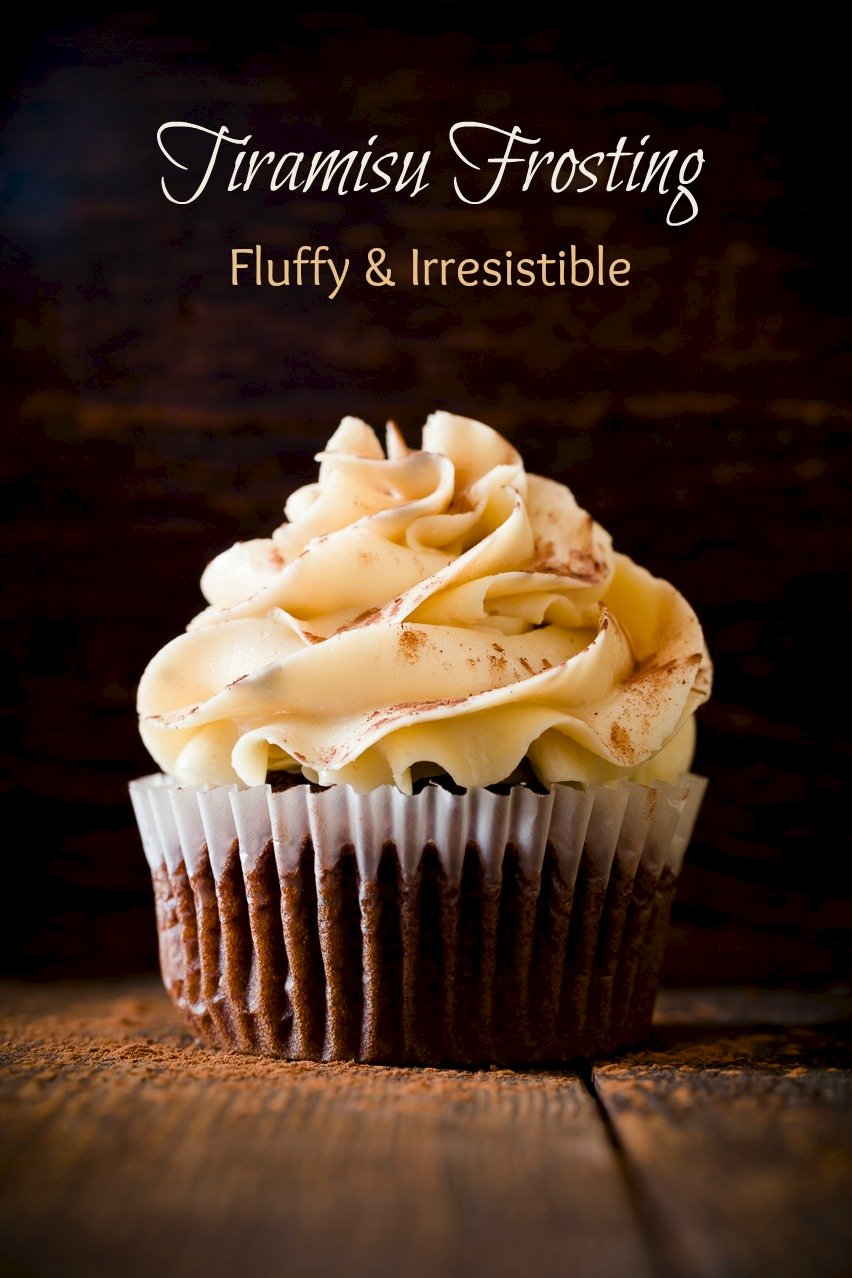 This tiramisu frosting could dress up even the most drab of cupcakes.  It's a Swiss meringue buttercream frosting recipe, which means that it's silky smooth and not overly sweet.  However, this tiramisu frosting trades some of the butter for mascarpone cheese and is finished with rum, espresso, vanilla, and a dusting of cocoa powder.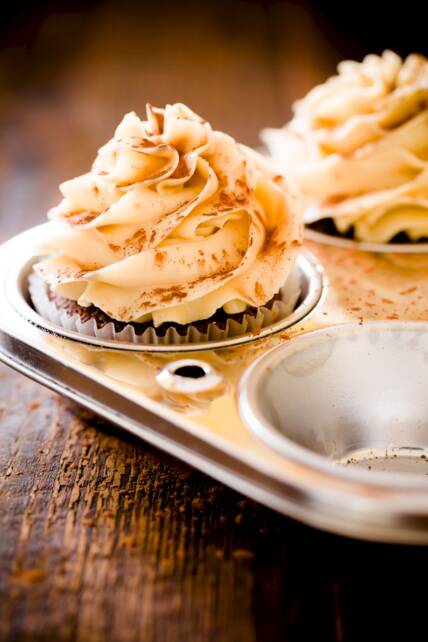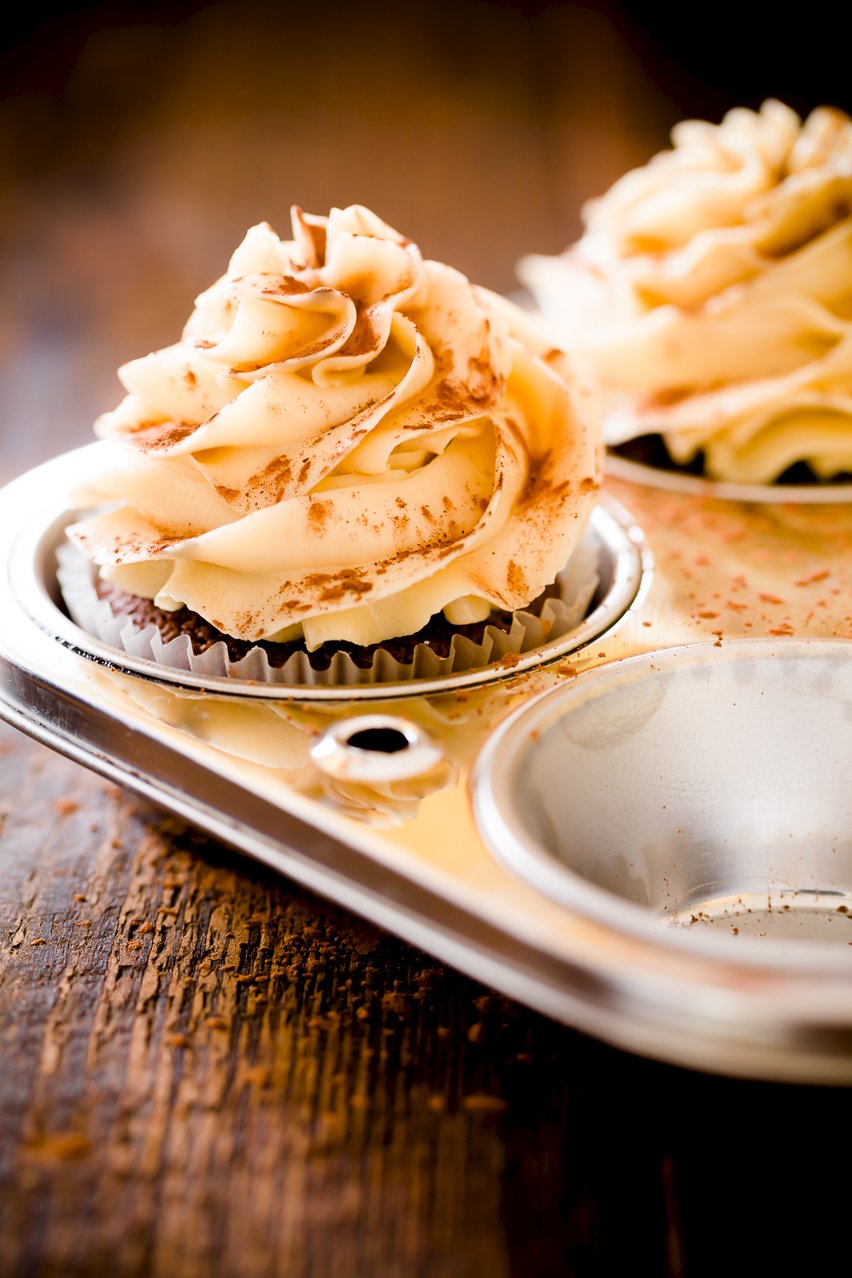 I created tiramisu cupcakes back in 2010.  As those of you who have baked and raved about them know, the cupcakes are time-consuming to make.  They begin with homemade ladyfingers and then they are layered with a marscapone topping, whipping cream, and chocolate shavings.  We don't always have the energy in our lives for major kitchen projects.  So, I wanted to create a tiramisu frosting that would bring the essence of  tiramisu to any cupcake.   This frosting does the job so well that the cake itself can almost be an afterthought.  You can even use a cake mix (shhh… you didn't hear that from me).  If you do have that extra bit of time, though, I suggest piling the tiramisu frosting high atop my ultimate chocolate cupcakes for a mind-blowing match.
If you've never made Swiss meringue buttercream frosting before, there a few tips and tricks to know that make the whole process go smoothly.  Rather than walk you through them here, I'm going to point you to the best tutorial on Swiss meringue buttercream that I know of, Joshua Russell's Modern Buttercream course on Craftsy.  The buttercream class is absolutely free and, even if you've never made Swiss meringue buttercream before, you'll come out of the course with confidence.  Should you still encounter problems along the way, the Craftsy community is fabulously supportive – there is a side panel on the course interface for questions and answers – just add yours to the mix and someone in the community is bound to get it answered for you.  As you can see below, no question is too basic.
If you are already a Swiss meringue buttercream expert, you still may get a tip or two about frosting preparation by taking the course.  I always learn something new every time I watch someone else bake.
As part of the Craftsy course, you can download the Swiss meringue buttercream frosting recipe (it's a PDF that you can easily print and reference).  You'll need that recipe to make this tiramisu frosting, so go get it and come on back!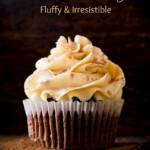 Tiramisu Frosting
Ingredients
Use all of the ingredients in Joshua Russell's buttercream recipe found in the materials section of the Craftsy Modern Buttercream course with the exceptions and additions noted below.
Butter: Replace 1/3 of the butter with room temperature mascarpone cheese. So

instead of using the full six sticks of butter, use four sticks of butter (2 cups) and 1 cup marscarpone cheese.

Vanilla: Instead of 2 tablespoons of vanilla extract

use 1 tablespoon dark rum, 1 1/2 teaspoons instant espresso powder, and 1 teaspoon vanilla extract.

Cocoa: After piping on cupcakes or cake

dust frosting with cocoa powder.
Instructions
Follow the instructions in Joshua Russell's buttercream recipe, making the changes noted above.
Note: This post was sponsored by Craftsy, however the words are all mine.  I truly adore this tiramisu frosting recipe and I can't wait to hear your comments after you try it!