Mom's Tzimmes (Tsimis) Recipe
Disclosure: As an Amazon Associate, I earn from qualifying purchases.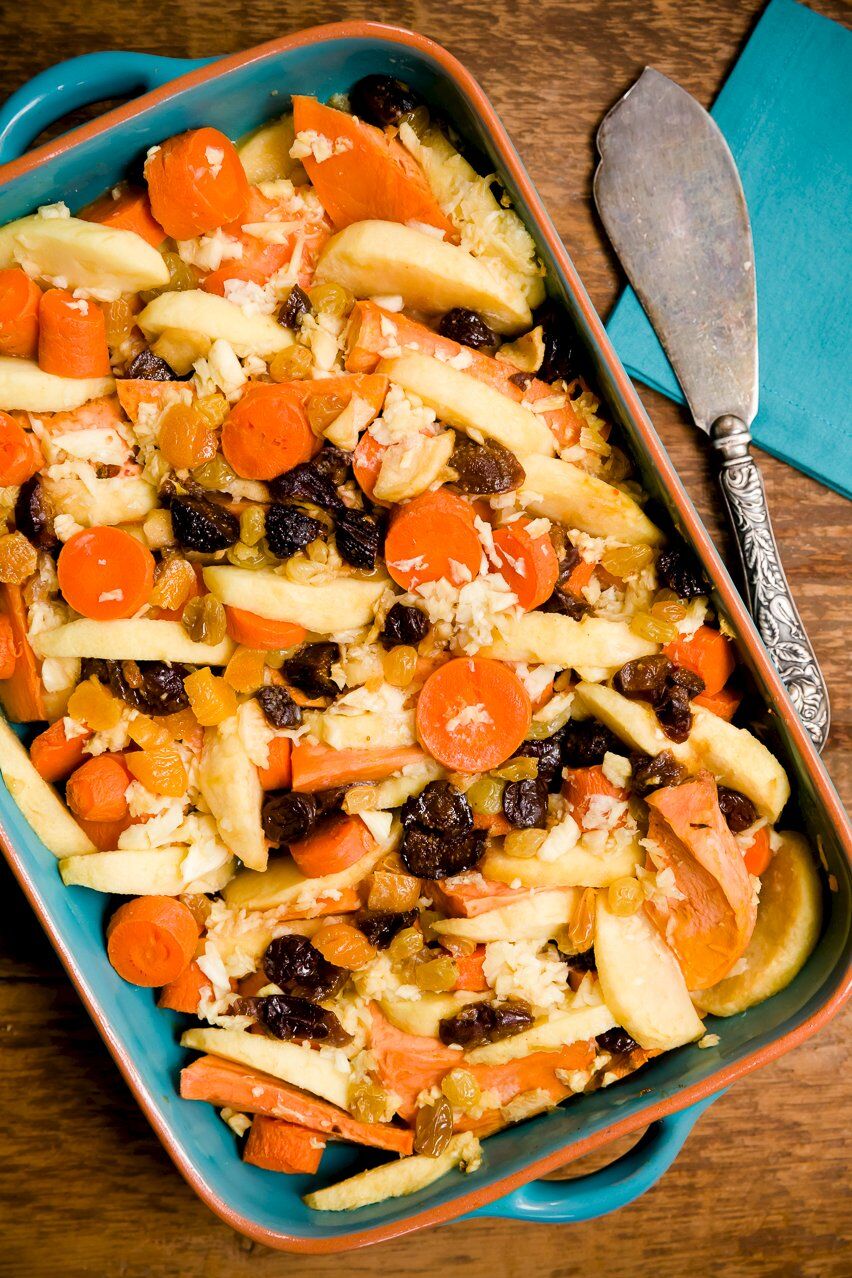 This Tzimmes recipe (Tsimis recipe) is the Jewish answer to green bean casserole.
We skip the greens and the creamy soup and instead spend our holidays eating a sweet stew made with root vegetables, apples and pineapple (if you're my mom), raisins, and other dried fruits.
My mom has perfected her tzimmes recipe over years of holiday dinners – down to the specific apple varieties that she has found to work best.
According to Wikipedia, the name tzimmes "may come from the Yiddish words tzim (for) and esn (eating).  'To make a big tzimmes over something' is a Yinglish expression that means to make a big fuss, perhaps because of all the slicing, mixing, and stirring that go into the preparation of the dish."
I'm sharing this tzimmes recipe because it's important that you understand what tzimmes is – and my particular tzimmes recipe – before I present you with my tzimmes pie recipe – think sweet potato pie plus apple pie plus carrot cake with a citrus kick and a raisin crumb topping.
Before I share mom's tzimmes recipe, I should pause and point out that my mom doesn't make a big tzimmes over her tzimmes.  She makes it easy by using canned yams and pineapple.
If you do things her way, you'll save yourself a ton of time.
When I made her recipe, I tweaked it and used fresh sweet potatoes and pineapple.  The end result tastes about the same, but looks a lot less mushy.
In her version, I sometimes can't tell the difference between the sweet potatoes and the carrots – it's all one big tasty orange mess.
When mom asked if she should switch to my way for the next holiday, I suggested she stick with her classic recipe.
As much as I prefer fresh veggies and fruits, the taste wasn't different enough to warrant a switch when there is always so much other holiday cooking and baking to be done.
The tzimmes recipe below is the fresh fruit and veggie version of mom's recipe.  I've also shared her way for those times that you need the shortcuts.
Mom's Tzimmes (Tsimis) Recipe
This Tzimmes recipe (Tsimis recipe) is the Jewish answer to green bean casserole.
Ingredients
2

large sweet potatoes

peeled, cut into 3" x 1" wedges, and baked until just soft (mom uses diced Royal Prince brand candied yams)

5

medium sized carrots

steamed and cut into 1/2" thick round slices

2

large apples

sliced (mom uses 3 small apples: 1 Golden Delicious, 1 Fuji or McIntosh, and 1 Granny Smith)

8

ounces

pineapple

cut into wedges and crushed in a food processor (mom uses a can of crushed pinapple that's been drained)

3/4

cup

assorted dried fruit cut into small pieces

golden raisins, apricots, prunes, and peaches are ideal

2

tablespoons

brown sugar

juice from 2 navel oranges

juice from 1 lemon

2 1/2

tablespoons

cold unsalted butter
Instructions
Preheat oven to 400 F.

Stagger sweet potatoes, carrots, and apples in a 8.5" x 13" x 2" baking dish.

Spread pineapple and dried fruits evenly over the top.

Sprinkle brown sugar over the top.

Cut butter into quarter-sized pieces and distribute evenly over the casserole, pressing the butter just a little bit into the topping.

Pour the navel orange juice and lemon juice over the top.

Bake covered for thirty minutes or until all the fruit and vegetables are very soft.
Nutrition
Calories:
179
kcal
|
Carbohydrates:
37
g
|
Protein:
1
g
|
Fat:
3
g
|
Saturated Fat:
2
g
|
Cholesterol:
9
mg
|
Sodium:
48
mg
|
Potassium:
461
mg
|
Fiber:
5
g
|
Sugar:
24
g
|
Vitamin A:
11130
IU
|
Vitamin C:
19
mg
|
Calcium:
67
mg
|
Iron:
0.9
mg