Kentucky Derby Pie Cupcakes: Place Your Bets on Bourbon Chocolate Cupcakes
Disclosure: As an Amazon Associate, I earn from qualifying purchases.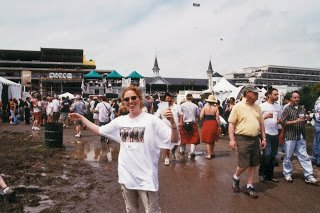 In 2004, I went to the Kentucky Derby for my birthday. There were no Kentucky Derby cupcakes there, just a lot of rain. It rained so hard that they had to shut down the betting systems due to flooding. Jonathan and I had to walk in puddles of floating cigarette butts, beer bottles, and other things I choose not to think about.
We were in the infield. For those not in the know, the infield is not the dressed up fancy hat Derby that you see on TV. In fact, you can't really see the races from the infield except on a big screen. However, it's a big party atmosphere and being there was a blast, especially since I won my bet!
This year's Derby is on Saturday! My Kentucky Derby pie cupcakes dreamed that they were in the Derby: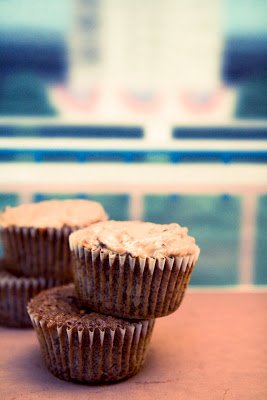 It was a photo finish!
What is Derby Pie?
As described on Wikipedia, "The pie is a chocolate and walnut tart in a pie shell usually with a pastry dough crust. It is also commonly made with pecans, chocolate chips and Kentucky Bourbon. Popular additions are butterscotch, caramel, and other types of nuts."
What is a Derby Pie Cupcake?
My derby pie cupcakes are chocolate cupcakes with derby pie filling mixed in. You could reasonably think of them as bourbon chocolate cupcakes.
They are topped with a bourbon buttercream mixed with more derby pie filling.
The Derby Pie Cupcake Recipe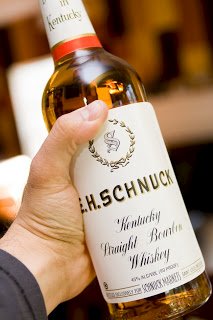 For the chocolate cake, I used Chockylit's recipe that I featured in my Better than Sex Chocolate Cupcakes.
The second part of the derby pie cupcake recipe is a derby pie filling recipe that I got from Allrecipes. I made it with walnuts instead of pecans. However, either nut would be good.
I add some of the uncooked filling to the cupcake batter – both inside and on top – to create the distinctive taste of derby pie as bourbon chocolate cupcakes. The rest of the derby pie filling goes into the frosting to make a bourbon buttercream frosting.
Kentucky Derby Pie Cupcakes
These are like derby pie, but in cupcake form!
Ingredients
Cupcake Ingredients
1/2

cup

butter

room temperature

1 1/4

cups

sugar

2

large eggs

room temperature

3/4

cup

flour

1/2

teaspoon

baking powder

1/4

teaspoon

baking soda

1/4

teaspoon

salt

1/2

cup

unsweetened cocoa powder

1/2

cup

milk

1

teaspoon

vanilla
Derby Pie Filling Ingredients
1

cup

white sugar

1

cup

light corn syrup

1/2

cup

unsalted butter

4

large eggs

beaten

1/4

cup

bourbon

I used a cheap - $6.95 - store brand bottle of Kentucky Bourbon. A higher quality bourbon might have been better, but I can't report back on that.

1

teaspoon

vanilla extract

1/4

teaspoon

salt

1

cup

semisweet chocolate chips

1

cup

chopped pecans

walnuts may also be used
Bourbon Buttercream Frosting Ingredients
1

cup

unsalted butter

room temperature

4

cups

powdered sugar

3

tablespoons

bourbon

1

teaspoon

vanilla

baked and cooled pie filling

see above
Instructions
Cupcake Instructions
Beat butter until softened.

Add sugar and beat until light and fluffy, about 3 minutes.

Add eggs, one at a time, beating until completely combined.

Add the flour, baking powder, baking soda, salt, and cocoa powder into a small bowl and whisk to combine.

In another small bowl, add milk and vanilla and stir to combine.

Add about a third of the dry ingredients to the butter/sugar mixture and beat to combine.

Add about a half of the milk/vanilla mixture and beat to combine.

Continue adding, alternating between dry and wet ingredients and finishing with the dry ingredients.
Derby Pie Filling and Baking Instructions
In a small saucepan, combine sugar, corn syrup, and butter.

Cook over medium heat, stirring constantly, until the butter melts and the sugar dissolves.

Cool slightly.

In a large bowl, combine eggs, bourbon, vanilla, and salt. Mix well.

Slowly pour the sugar mixture into the egg mixture, whisking constantly.

Stir in chocolate chips and pecans. The pie filling is now ready to bake.

Set aside half of the pie filling.

Fold 3/4 of one of the halves into the chocolate cupcake batter. You don't need to mix it well, just give it a nice stir.

Fill 24 cupcake liners about half full with the batter.

Use up the remaining 1/4 of the first half by putting an additional spoonful or two of the pie filling on top of each cupcake, being careful not to fill them more than 3/4.

Line a baking sheet with parchment paper and pour the second half of the pie filling onto the baking sheet. This is going to be used in the frosting.

Bake both the cupcakes and the filling on the baking sheet for 20-25 minutes at 350 degrees. I baked mine at the same time on different shelves.
Bourbon Buttercream Frosting Instructions
Cream butter and sugar.

Add bourbon and vanilla.

Stir in baked and cooled pie filling.
Notes
Because of the nuts, this is a spreadable frosting rather than a piped one. It won't look as pretty as some other frostings, however it is still sure to be a winner at your Kentucky Derby party!
Nutrition
Calories:
450
kcal
|
Carbohydrates:
59
g
|
Protein:
3
g
|
Fat:
23
g
|
Saturated Fat:
12
g
|
Cholesterol:
83
mg
|
Sodium:
124
mg
|
Potassium:
125
mg
|
Fiber:
2
g
|
Sugar:
53
g
|
Vitamin A:
547
IU
|
Vitamin C:
1
mg
|
Calcium:
33
mg
|
Iron:
1
mg