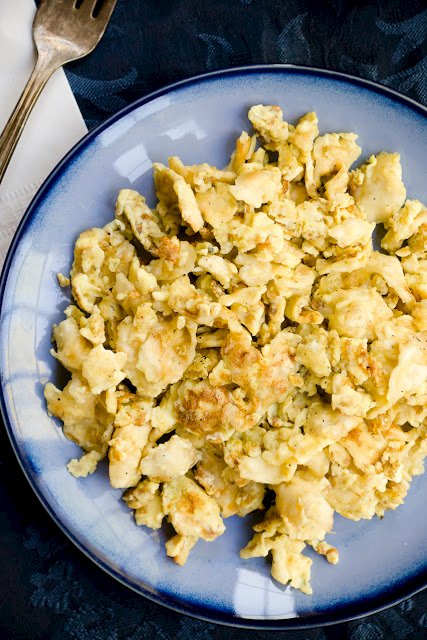 Every Jewish family has their own take on how to make matzoh brei – the classic Passover breakfast of eggs mixed with fried matzoh.  In this post, I share the matzoh brei recipe I've eaten every Passover since I could eat solid food.  Below the matzoh brei recipe, you'll find a barrage of variations.  If your family has a special way to make matzoh brei, I'd love to hear about it in the comments.  Also, be on the lookout for my matzoh brei cupcakes, coming soon!
How  to Make Matzah Brei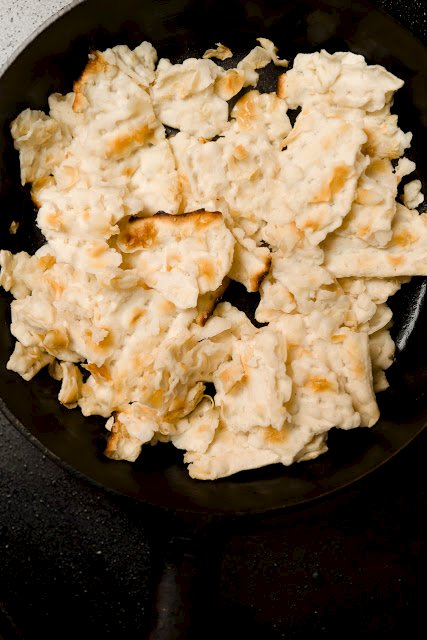 How To Make Matzoh Brei Like My Mom's
Every Jewish family has their own take on how to make matzoh brei - the classic Passover breakfast of eggs mixed with fried matzoh.
Servings
1
large serving of matzoh brei
Ingredients
1

piece

matzoh

small pat unsalted butter

2

eggs

1

tablespoon

milk

salt to taste

pepper to taste

syrup or jam for topping
Instructions
Heat small skillet on medium heat.

Break matzoh into small pieces (see photo above to get an idea of the size). The pieces definitely do not need to be uniform.

Place broken matzoh pieces into a colander and run water over them until they are soft but not soggy.

When skillet is hot (you'll know because water dropped into it will sizzle), add butter and swirl to coat the pan.

Add matzoh to the skillet and fry until the edges just begin to brown (this should only take a few minutes).

In a small bowl, beat eggs, milk, salt, and pepper until the mixture turns a pale yellow.

Add eggs to the matzoh and scramble until cooked.

Turn out to a plate, top with syrup or jam, and enjoy.
Nutrition
Nutrition Facts
How To Make Matzoh Brei Like My Mom's
Amount Per Serving
Calories 138
Calories from Fat 72
% Daily Value*
Total Fat 8g 12%
Cholesterol 328mg 109%
Sodium 131mg 5%
Potassium 121mg 3%
Total Carbohydrates 2g 1%
Protein 11g 22%
* Percent Daily Values are based on a 2000 calorie diet.
Matzoh Brei Variations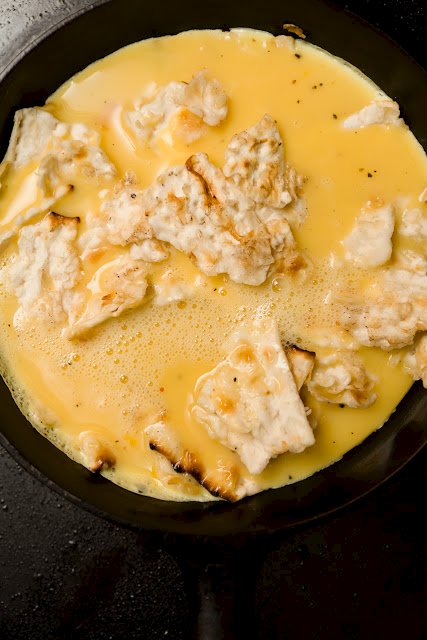 As I stated above, the matzoh brei my mama makes is the not the same recipe that every Jewish mother makes – each family has their own twist and each family knows that their way is the "right" way.
The first debate about how to make matzoh brei relates to preparation:
Some families make matzo brei frittata-style (sometimes called omelet-style).  In this method, there is a higher ratio of matzoh to egg. The matzoh and eggs are mixed prior to cooking, the two cook together into one solid mass, and the dish is served out onto the plate like a frittata – a frittata without any veggies or meat.  Who needs anything else when you can have starch?  Does any other culture mix a cracker with eggs and call it breakfast?
There's a variation on the frittata-style that I call cake-style.  In this case, a large skillet is used and a thick layer of matzoh and egg mixture is poured into the pan.  Rather than producing a single-serving frittata, this method yields a matzoh-brie "cake" that is served in slices.
Other families, like mine, make their matzoh brei scrambled-style.  As the name implies, this style is basically scrambled eggs fried up with matzoh.
Regardless of preparation style, different families prefer different levels of matzoh softness.  I like my matzoh hard enough that it doesn't fall apart, but soft enough so that I can easily cut it with a fork.  Jonathan thinks this a blasphemy and that the matzoh should be almost mushy (ironic since he prefers matzoh balls that are hard as rocks – an entirely different debate).
Then there's the issue of spices:
Some families spice their matzoh brei with garlic powder, onion powder, and other herbs.
Others opt for a more sweet taste with vanilla and cinnamon. My father first introduced me to this method when I was in my 20's.  He had never been the one to make my matzoh brei as kid so I had no idea that he was holding out on this great twist.
Still others (like the matzoh brei my mom made during my whole childhood) are seasoned with only salt and pepper and rely on toppings to provide most of the flavor.
Matzoh brei toppings are another divisive topic.  Some folks eat matzoh brei plain (like most people eat their scrambled eggs), while the masses tend to top their matzoh brei.  I've found that matzoh brei toppers fall into two camps::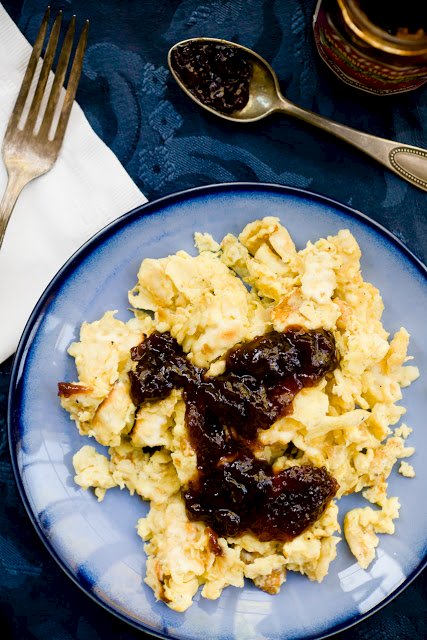 Syrup (the "right" way  – that's the way I like it)
Jam (Jonathan prefers the jam method.  Clearly, he won out for the post photo.  The jam definitely adds some color to the dish.)
If you've never made matzoh brei, you are at a distinct advantage.  You have a chance to create your own "right" way of doing things and begin your own family tradition.