Persimmon Cupcakes – How to Bake with Persimmons
Disclosure: As an Amazon Associate, I earn from qualifying purchases.
Persimmons don't hold to a traditional standard of beauty. When you think that your persimmons have gone bad – when they are ugly and smooshy and make people turn away in disgust – that's the perfect time to eat them. In fact, if you eat a persimmon when it's still "pretty", it can cause a weird numbing reaction in your mouth.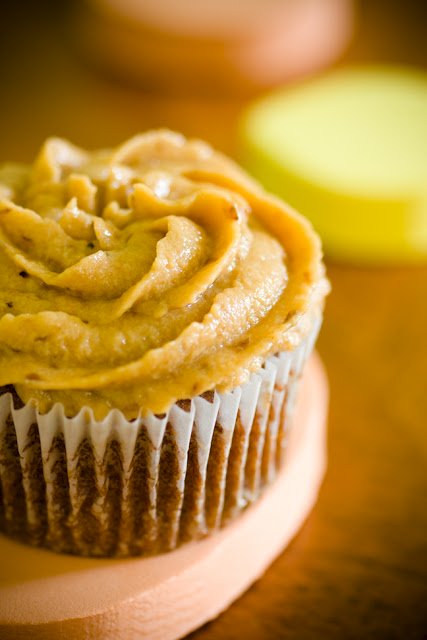 Persimmons are elusive. You have to be in the store during the correct couple of weeks of the year or be lucky enough to know someone with a persimmon tree. Once you find persimmons, you're never quite sure what to do with them. While there are millions of pumpkin recipes, persimmons are almost exclusively used to make pudding cake – a dark and heavy dessert.
Other Persimmon Uses
If you are looking for a unique flavor, use persimmons in place of pumpkin in any pumpkin recipe. You can make persimmon pie, persimmon cake, persimmon cookies, persimmon ice cream, and of course persimmon cupcakes!
Special Thanks
Special thanks to freelance writer Matt Sorrell. He was working on an article about persimmons for one of St. Louis's food magazines, Feast, and wanted to feature a persimmon cupcake. I checked my archives twice, but I found no persimmon cupcakes. I wrote Matt back and told him that I didn't have a persimmon cupcake, but that I would surely rectify the situation in time for his article to go to print. Here is the online version of the article in Feast.
Special thanks also to Chef Josh Galliano for giving me persimmon pulp from the fruit of his family's persimmon tree to use in these cupcakes.

Persimmon Cupcakes
Finding perfect persimmons can be tricky, but they make some amazing cupcakes.
Ingredients
Cupcake Ingredients
1½

cups

all-purpose flour

1

tsp

pumpkin pie spice

1

tsp

baking soda

½

cup

unsalted butter

at room temperature

1½

cups

sugar

2

large eggs

¾

cup

persimmon pulp

the insides of 1 to 2 seeded over-ripe persimmons

½

cup

orange juice
Persimmon Frosting Ingredients*
3/4

cup

sugar

½

tsp

ground ginger

2

large eggs

1½

cups

persimmon pulp

the inside of 2 to 3 over-ripe seeded persimmons

12

oz

evaporated milk
Instructions
Cupcake Instructions
Preheat oven to 350ºF.

In a medium-sized bowl, whisk together flour, pumpkin pie spice and baking soda.

In a large bowl, cream butter and sugar, then mix in eggs, persimmon pulp and orange juice until thoroughly combined.

Slowly add the flour mixture and mix until fully incorporated.

Fill cupcake liners ¾ full with batter.

Bake for 30 minutes or until a toothpick can be inserted and removed clean.
Persimmon Frosting Instructions
Place all ingredients in a medium-sized saucepan over medium heat.

Stir continuously until the mixture comes to a boil.

Allow to boil for approximately 1 minute.

Remove from heat and allow mixture to come to room temperature.

Refrigerate for at least 3 hours.

Pipe frosting onto cooled cupcakes using a pastry bag with a star tip.
Notes
*This frosting recipe can also be used to make persimmon pie: simply mix all of the ingredients and bake in a pie crust as you would pumpkin pie.
Nutrition
Calories:
334
kcal
|
Carbohydrates:
53
g
|
Protein:
5
g
|
Fat:
11
g
|
Saturated Fat:
6
g
|
Cholesterol:
83
mg
|
Sodium:
157
mg
|
Potassium:
143
mg
|
Sugar:
41
g
|
Vitamin A:
405
IU
|
Vitamin C:
5.7
mg
|
Calcium:
89
mg
|
Iron:
1.1
mg