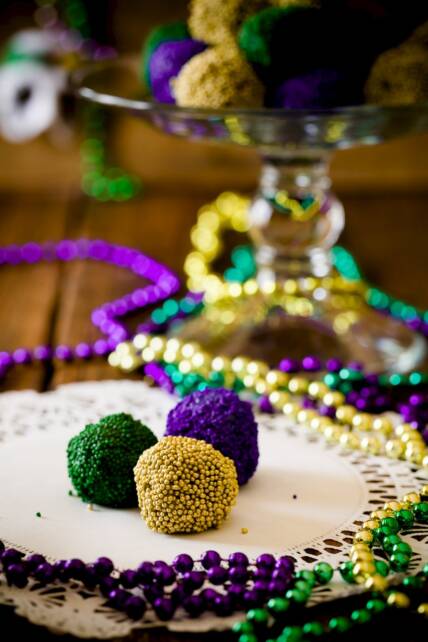 These hurricane rum balls are not like the rum balls that you find on Grandma's Christmas dessert spread.  They are meant to be taken with you on a Mardi Gras float, brought to a Mardi Gras parade, or served alongside King Cake (or King Cake cupcakes) at a Mardi Gras party.  These hurricane rum balls pack a serious rum punch and are decidedly NOT kid friendly.
The hurricane drink is ever-present during Mardi Gras and there are a variety of recipes for it.  I chose to base my hurricane rum balls on the more classic hurricane cocktail recipe.
Although I haven't personally tried it, fellow St. Louis blogger Kitchen Riffs (who has a fantastic post about hurricanes) strongly recommends the passion fruit syrup from Aunty Lilikoi.
Hurricane rum balls start with rum cake.  The cake is then balled up with powdered sugar, passion fruit syrup, agave nectar, and lemon zest.
Hurricane Rum Ball Recipe
To develop this recipe, I used the brown sugar-rum pound cake recipe from AllRecipes, the hurricane drink recipe from Kitchen Riffs, and the rum ball recipe from THK (originally adapted from The Joy of Baking).