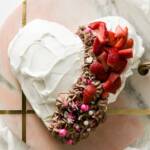 Print Recipe
Strawberry Pavlova
This strawberry pavlova is crispy on the outside and marshmallowy soft on the inside. Shape it into a heart for a beautiful presentation.
Pavlova Ingredients
2

large

egg whites

1/2

cup

sugar

1/4

teaspoon

cornstarch

1/2

teaspoon

white distilled vinegar
Macerated Strawberries Ingredients
Chocolate Whipped Cream Ingredients
1

cup

heavy whipping cream

2

tablespoons

powdered sugar

1

tablespoon

cocoa powder
Pavlova Instructions
Combine egg whites and sugar in a stand mixer fitted with a whisk attachment.

Whip on high until stiff peaks form.

In a small bowl, mix cornstarch and white distilled vinegar together to make a slurry.

With the mixer on low, drizzle the slurry into the whipped egg whites.

Mix on high to return whites to stiff peaks.

Transfer onto a parchment-lined cookie sheet and shape into a heart or any shape you desire.

Bake at 200 F until the outside and the bottom have a solid shell, about 1 hour.

Let cool and place on desired serving tray.
Macerated Strawberries Instructions
Combine the sugar and the strawberries.

Cover and keep in the refrigerator for at least 1 hour.
Chocolate Whipped Cream Instructions
Combine all ingredients in a stand mixer fitted with a whisk attachment.

Whip until medium peaks form (it should hold a peak well enough to be piped).

Dollop or pipe onto pavlova as desired and continue decorating using the macerated strawberries.
Make sure that the egg whites reach stiff peaks. If they aren't holding their shape, keep on whisking. 
Experiment with different shapes. I love the the look of the heart, but you can make circles, squares, or stars... whatever you can dream up!
Add as many berries as you like. While there aren't that many berries on my pavlova heart, you can load the pavlova up with as many berries as you like and even serve some on the side!
If needed, you can bake the pavlova a day in advance and decorate the next day. 
Calories:
266
kcal
|
Carbohydrates:
33
g
|
Protein:
2
g
|
Fat:
14
g
|
Saturated Fat:
9
g
|
Cholesterol:
54
mg
|
Sodium:
32
mg
|
Potassium:
132
mg
|
Fiber:
1
g
|
Sugar:
30
g
|
Vitamin A:
11.7
%
|
Vitamin C:
34.5
%
|
Calcium:
3.3
%
|
Iron:
1.7
%