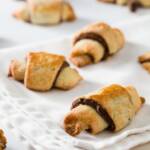 Print Recipe
Chocolate Rugelach
Flaky, buttery chocolate rugelach made with cream cheese dough and a chocolate cream cheese filling
Rugelach Ingredients
8

ounces

cream cheese

room temperature

1

cup

unsalted butter

room temperature

1/4

cup

sugar

1/4

teaspoon

salt

1

teaspoon

vanilla extract

2

cups

all-purpose flour
Chocolate Cheesecake Filling Ingredients
Topping Ingredients
1

large egg

3

tablespoons

sugar
Rugelach Instructions
In a medium-sized mixing bowl, mix the cream cheese and butter until light and fluffy (about three minutes on high speed).

Mix in the sugar, salt, and vanilla.

Mix in the flour until just combined.

Place the dough on a floured board and form it into a ball.

Divide into four roughly equal pieces, wrap each in plastic, and refrigerate for at least one hour.
Chocolate Cheesecake Instructions
In a small mixing bowl, mix cream cheese, sugar, flour, salt, and vanilla until thoroughly combined.

Mix in chocolate.

Mix in egg until just combined.
Assembly Instructions
Remove one of the wrapped sections of dough from the refrigerator.

Roll out to a roughly 9" circle. The dough is sticky, so be sure to flour your surface and your rolling pin really well. Also, don't worry if your circle isn't a perfect circle. Mine looked more like a map of the United States than a circle.

Spread 1/4 cup of the chocolate cheesecake filling over the dough, being sure to evenly distribute it. Leave just a little rim of uncovered dough around the edge of your circle.

Cut the circle into quarters. Then, cut the quarters into thirds as if you were cutting a pizza (I even used a pizza cutter). You will end up with 12 roughly even wedges.

Roll up each wedge, starting with the wider edge of the wedge.

Place the rugelach on a cookie sheet lined with parchment paper or a Silpat.

Repeat for the other 3 sections of dough.

Chill the formed rugelach for 30 minutes in the refrigerator (this helps them hold their shape). I didn't have space in my fridge, so I chilled one baking sheet at a time in my freezer for about 10 minutes. Either way is fine.
Topping and Baking Instructions
Preheat oven to 350 F.

Remove cookie sheets of rugelach from the refrigerator.

Beat egg in a small bowl and brush the rugelach with egg.

Sprinkle sugar on the rugelach.

Bake for 20 minutes or until the rugelach are golden brown. It may take longer than 20 minutes if your rugelach are particularly cold (mine took almost 35 when they came out of the freezer). Be careful not to under-cook them. Although you can eat them before they brown (you won't get sick), they are so much better when they have time to get a little crispy. You don't want them to burn, but they should achieve the golden brown color that you see in my photo.
Calories:
113
kcal
|
Carbohydrates:
8
g
|
Protein:
1
g
|
Fat:
8
g
|
Saturated Fat:
4
g
|
Cholesterol:
27
mg
|
Sodium:
58
mg
|
Potassium:
39
mg
|
Sugar:
3
g
|
Vitamin A:
5.1
%
|
Calcium:
1.4
%
|
Iron:
3.3
%