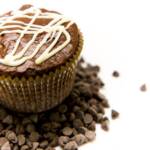 Print Recipe
Better Than Sex Cupcakes: Chocolate Times Five
These cupcakes have five different forms of chocolate in them.
Dark Chocolate Ganache Ingredients
White Chocolate Drizzle Ingredients
2

ounces

white chocolate.
Cupcake Instructions
Preheat oven to 350 F.

Beat butter until softened.

Add sugar and beat until light and fluffy, about 3 minutes.

Add eggs, one at a time, beating until well combined.

Measure the flour, baking powder, baking soda, salt, and cocoa powder into a small sized bowl and whisk to combine.

Measure out the milk and vanilla and stir to combine.

Add about a third of the dry ingredients to the butter/sugar and beat to combine. Add about a half of the milk/vanilla and beat to combine.

Continue adding, alternating between dry and wet and finishing with the dry.

Stir in chocolate chips.

Scoop batter into cupcake cups about 1/2 full.

Bake for 22-25 minutes or until a cake tester comes out clean.
Filling Instructions
To fill the cupcakes, use a small paring knife to cut a cone into the cupcake. Spoon or pipe (I found piping to be easier) chocolate mousse into the hole. Replace the top. Don't worry if the top of the cupcake doesn't look pretty any more, you are going to frost over it so no one will know the difference.
Dark Chocolate Ganache Instructions
Place the chocolate in a small glass bowl.

Heat the cream in a small saucepan until it just starts to boil.

Pour the cream over the chocolate and stir until all the chocolate is melted and integrated with the cream.

While it is still warm, spread a thin layer of it over the cupcakes. It will harden when it cools.
White Chocolate Drizzle Instructions
Melt white chocolate. You can do this on the stove, but I find it easier to do in the microwave. I do it for 20 seconds at a time. Stir after each round. When it is all melted, you are done. It should take about a minute.

Pour the melted chocolate into a plastic sandwich bag or a disposable pastry bag. Cut a very small hole at the tip of the bag and draw whatever kind of funky pattern you want onto your cupcakes!
Calories:
234
kcal
|
Carbohydrates:
19
g
|
Protein:
3
g
|
Fat:
16
g
|
Saturated Fat:
9
g
|
Cholesterol:
44
mg
|
Sodium:
73
mg
|
Potassium:
191
mg
|
Fiber:
2
g
|
Sugar:
10
g
|
Vitamin A:
5.9
%
|
Calcium:
4.4
%
|
Iron:
11.7
%