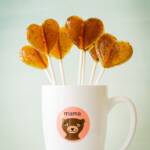 Print Recipe
Cinnamon Dusted Coffee Lollipops
The coffee lollipops are more along the lines of a sweet latte rather than black coffee; coffee lovers will adore them, but those who aren't hardcore coffee fanatics will love the lollipops, too.
Servings:
10
2" lollipops
Spray ten 2" lollipop mold cavities with a non-stick cooking spray.

Dust each cavity with cinnamon.

Place sticks in the molds.

Place sugar, coffee, and corn syrup in a large pot on medium-high heat. This mixture will easily fit into a small pot, but choose a large pot for this task because the mixture will start to bubble as it heats and it can bubble over and create a nightmare mess (I'm speaking from experience here).

Stir until the sugar dissolves.

Once dissolved, don't touch the mixture for the ten minutes or so it takes for it to reach 300 F (hard-crack stage).

As soon as the mixture reaches 300 F, remove the pot from the stove and, with an oven mitt for protection, pour the hot liquid into the lollipop molds.

While still hot, dust the lollipops with cinnamon.

Let the lollipops set until cool (about 15 minutes).

Remove from the molds and enjoy immediately or store in cellophane bags tied shut with a twist-tie or ribbon in a cool, dry place for up to one month.
Calories:
105
kcal
|
Carbohydrates:
27
g
|
Sodium:
5
mg
|
Potassium:
12
mg
|
Sugar:
26
g
|
Calcium:
1.6
%
|
Iron:
0.7
%