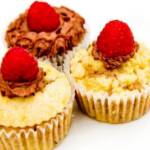 Print Recipe
Raspberry Cupcakes with Lemon and Chocolate
I could taste all three flavors at different times, but also the wonderful combination of them together. The cupcakes were extraordinarily moist, but not so much as to be messy.
Raspberry Cupcake Ingredients
1

C

almond flour

1

C

sugar

1/4

C

plain yogurt

1/4

C

sour cream

1/2

C

1 stick butter, room temperature

4

eggs

1/2

t

lemon extract

2/3

C

flour

1/2

t

baking powder

1

C

finely chopped dark chocolate or chocolate chips

1

C

raspberries
Lemon Cookie Dough Ingredients
Chocolate Whipped Cream Ingredients
1/2

C

heavy whipping cream

2

T

sugar

2

T

cocoa powder
Raspberry Cupcake Instructions
Mix almond flour and sugar.

Slowly add yogurt and sour cream.

Add butter, one tablespoon at a time.

Gradually add the eggs.

Add lemon extract.

In a separate bowl, combine flour and baking powder.

Fold in the flour mixture.

Fold in the chocolate and raspberries.

Fill cupcake liners about 3/4 full. These cupcakes will not rise very much. If you want them to be taller, you can fill them ever higher.

If you are not putting the lemon cookie topping on the cupcakes, bake at 350 F for 30 minutes or until the top bounces back when touched. If you are putting the lemon cookie topping on the cupcakes, don't put them in the oven yet! After you put the cookie topping on, follow the same baking instructions.
Lemon Cookie Dough Instructions
Put flour on a pastry board or any clean surface.

Make a well (basically a hole) in the center of the flour.

Put all the other ingredients in the well.

Use your hands to work all of the center ingredients into a paste.

Knead in the flour.

Keep working the dough until you can make it into one big ball.

Do with it whatever you want! I made little patties with some of it and laid them directly on the cupcakes before baking. I crumbled some of it over other cupcakes. I still had some left, so I rolled it into little balls and baked them on a cookie sheet at 350 F for 15 minutes.
Chocolate Whipped Cream Instructions
Calories:
294
kcal
|
Carbohydrates:
35
g
|
Protein:
5
g
|
Fat:
15
g
|
Saturated Fat:
7
g
|
Cholesterol:
84
mg
|
Sodium:
74
mg
|
Potassium:
77
mg
|
Fiber:
1
g
|
Sugar:
22
g
|
Vitamin A:
7.6
%
|
Vitamin C:
2.2
%
|
Calcium:
5.7
%
|
Iron:
7.5
%