I wanted to call my striped pumpkin pie a tiger-striped pumpkin pie, but it seems that zebra is the animal of choice for striped desserts. Whether you call it a zebra-striped pie or a tiger-striped pie, what you may be most surprised about is how easy it is to acheive this totally impressive look.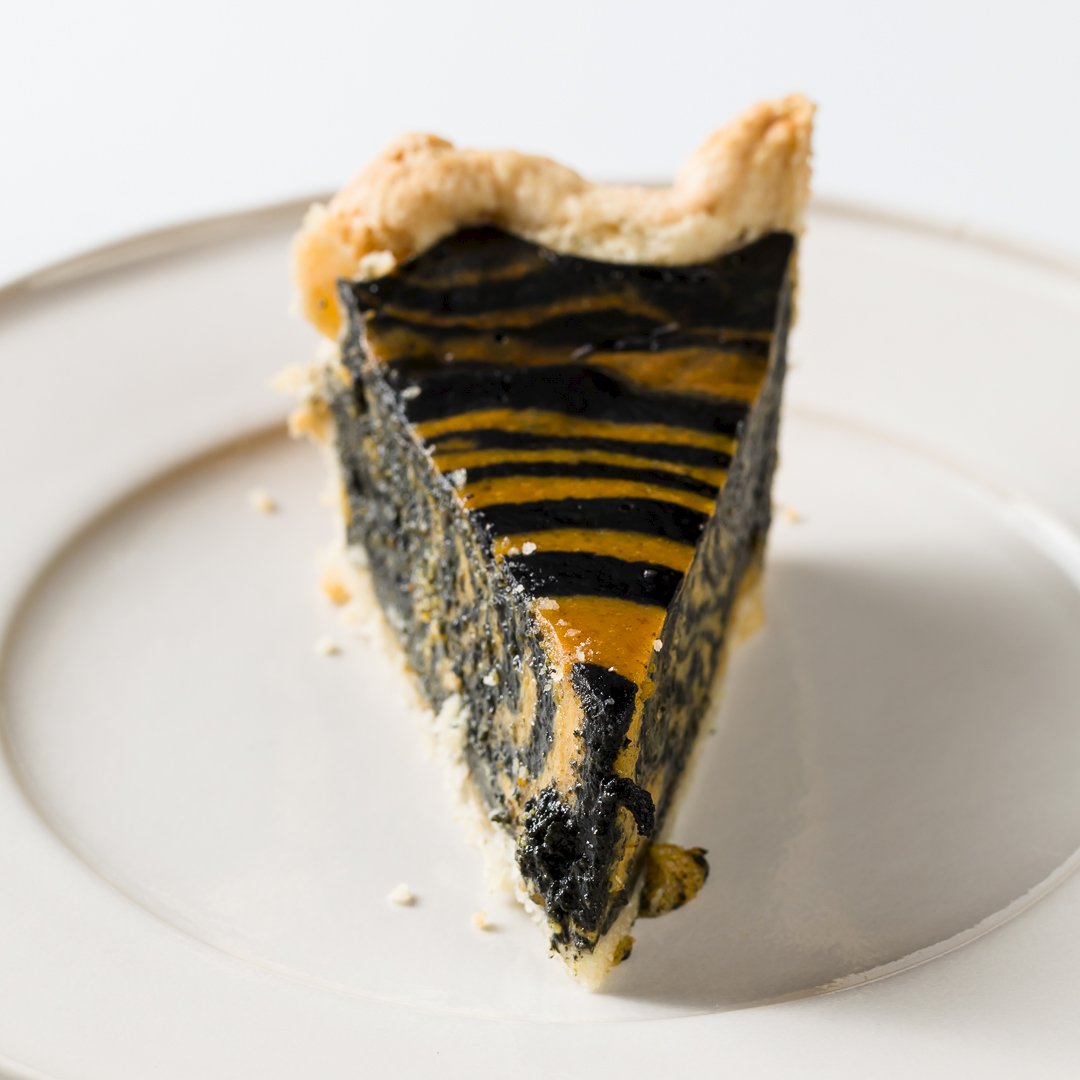 Activated Charcoal Desserts
The secret to the true black stripes in desserts is activated charcoal. Activated charcoal has recently been made popular in the dessert scene through pitch black ice cream cones with grey or black soft serve on top that have gone viral on social media.
As EATER explains, "While technically made of the same material as the charcoal briquettes in your barbecue, activated charcoal is a decidedly different thing. Food-grade activated charcoal is most frequently produced by heating coconut shells to extremely high temperatures until they are carbonized, or completely burned up. The resulting ash is then processed with steam or hot air at equally high temperatures to produce a 'microporous structure.'"
Activated charcoal has no particular flavor. Don't worry – it won't taste like the bottom of your BBQ pit. The only reason at all to use it in desserts is because it looks amazing. I see it as a natural food coloring.
If you want to dig further into the pros and cons of using activated charcoal, I suggest reading the entire EATER article on activated charcoal. It's quite thorough. But, just in case you don't want to take the time to read it, I will add that some people warn that you should wait two hours after taking prescription medicine – including birth control pills – before eating anything with activated charcoal. I am not a doctor, nor do I play one on my blog, but I don't want to be responsible for any unintended pregnancies.
I suggest using organic activated charcoal made from coconut shells. This is the one that I used. (View on Amazon)
How to Make Striped Pies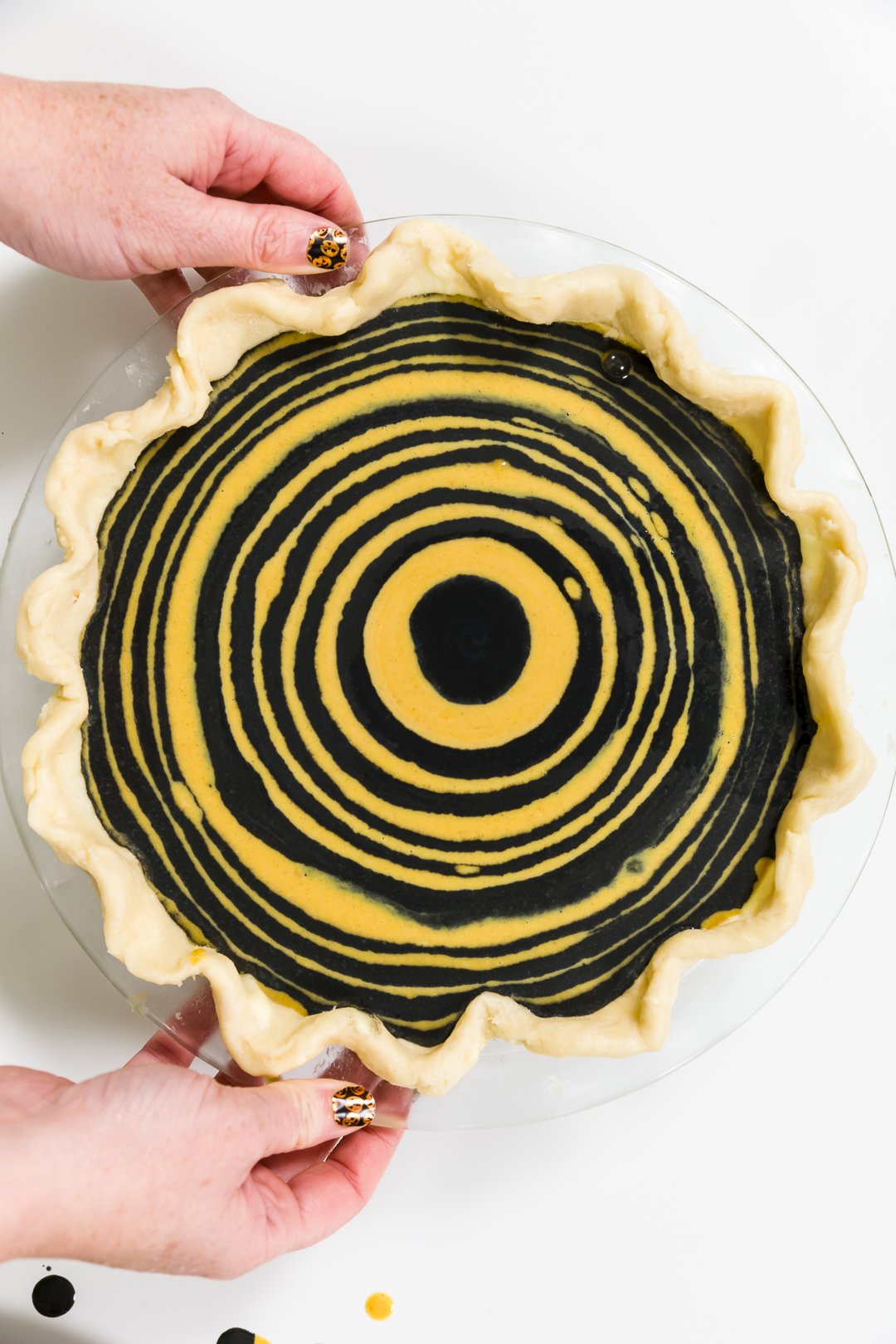 Now that we know how to acheive the true black color, let's talk about how to make stripes.
First, you divide the pumpkin pie batter (use whatever recipe you like or the one below) into two parts. Mix a slurry of activated charcoal and water into one half to make it black.
Then, start in the center of pie crust and add a little of the orange batter. Drop a little of the black batter in the center of the orange batter. When you put the black batter into the middle of the orange batter, the orange batter will spread out. Keep alternating colors to make as many stripes as you want.
You can see this technique clearly in my video below! If you don't get it totally perfect, don't sweat it. I think the little dots of the wrong color scattered around just give the pie character.
Zebra-Striped Pumpkin Pie
A totally unique and impressive pumpkin pie with black stripes made using activated charcoal.
Cook Time
1
hour
20
minutes
Total Time
1
hour
35
minutes
Ingredients
30

ounces

pumpkin puree

two 15 ounce cans, make sure to use pureed pumpkin rather than pumpkin pie filling

1

tablespoon

pumpkin pie spice

1

teaspoon

salt

28

ounces

sweetened condensed milk

two 14 ounce cans

4

large

large eggs

lightly beaten

2

tablespoons

activated charcoal

3

tablespoons

water

hot

1

pie crust

placed in a 9 1/2 inch, deep dish pie pan
Instructions
In a large mixing bowl, mix pumpkin puree, pumpkin pie spice, salt, sweetened condensed milk, and eggs until smooth.

In a small bowl, mix activated charcoal and water until fully combined. Wear an apron as activated charcoal is messy!

Divide pumpkin pie batter into two bowls with equal amounts of batter in each.

Mix the activated charcoal slurry into one of the batter bowls until the batter turns uniformly black.

Pour a little bit of the orange batter into the center of the pie crust. The amount you pour will determine how thin or thick your stripes are. I did very little at a time, hence my very thin stripes.

Pour some of the black batter into the center of the orange batter.

Keep alternating colors until all of the batter is used.

Lower oven temperature to 350 F and continue to bake for for another 65 minutes or until the pie is just barely jiggly in the very center.

Cool to room temperature and then refrigerate at least four hours before slicing.
Nutrition
Nutrition Facts
Zebra-Striped Pumpkin Pie
Amount Per Serving
Calories 323
Calories from Fat 99
% Daily Value*
Fat 11g17%
Cholesterol 77mg26%
Sodium 360mg15%
Potassium 428mg12%
Carbohydrates 49g16%
Protein 8g16%
Vitamin A 11285IU226%
Vitamin C 4.8mg6%
Calcium 221mg22%
Iron 1.8mg10%
* Percent Daily Values are based on a 2000 calorie diet.
If you like this idea and want to try it with a cake, I highly suggest checking out Rice & Flour's Zebra Ogura cake recipe. I learned this technique from their amazing post and video.