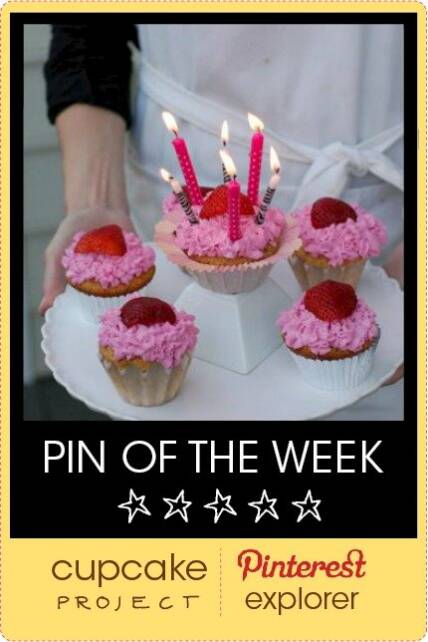 The Cupcake Project Pinterest Explorers have been working hard to find and share the best cupcake pins on the Internet.  If you haven't been to our Pinterest page, you should check it out and get ready to be lost in a cupcake wonderland.  If you want to play with us, read my page on how to join the Pinterest Explorers.
To showcase the Explorers' findings, Intern Jeanette and I have decided to each week give an Outstanding Explorer award to a star Explorer.  The Outstanding Explorer will get to select their favorite pin of the week to showcase here.  I'll also be sharing some details about our Explorers; you'll want to read Julie's story below – it's truly inspirational!
About the Pin of the Week
This week's pin comes from Lisa Leake's 100 Days of Real Food: a yellow cupcake with vanilla frosting colored with beet juice.  Like my Ultimate Vanilla Cupcakes, this yellow cupcake recipe would make for a good base recipe for all kinds of cupcake creations.  Beyond cupcakes, if you are looking for a way to get your diet in order, check out Lisa's Real Food Rules and perhaps even take her 10 Day Real Food Pledge (she gives a free gift to anyone who completes the challenge – fun!).
The pin is on our Cupcakes Galore! board.  Check it out and repin it!
About the Explorer of the Week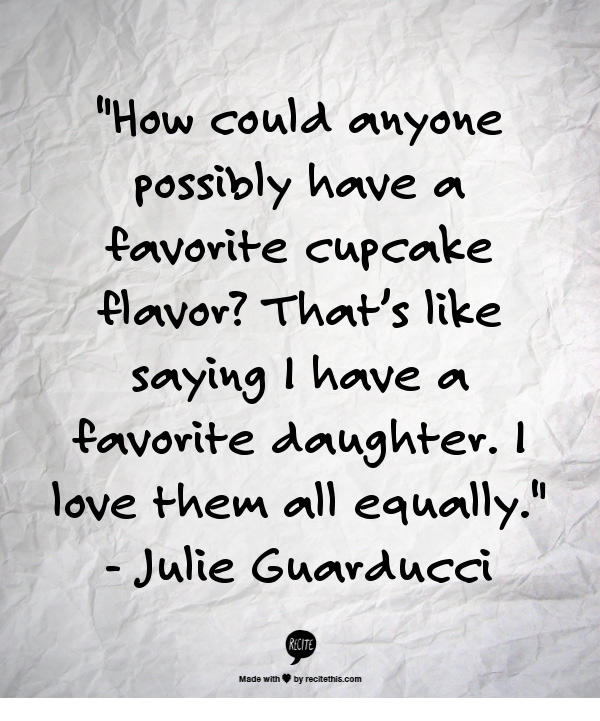 This week's Explorer of the week is Julie Guarducci (Jewelzz).  Julie has been an active Pinterest Explorer since the beginning of the program and is always working on fun new boards for us.  Check out her Pupcakes board for extreme dog and cupcake cuteness. Julie is originally from New Jersey and now resides in Dallas, Texas by way of Tucson, Arizona.
Of course, Julie loves cupcakes!  I have to agree completely with her stance on favorite cupcake flavors: "How could anyone possible have a favorite flavor?  That's like saying I have a favorite daughter.  I love them all equally!"  It's not surprising that her favorite Explorer pin board is Cupcakes Galore!, as "there is such a variety of cupcakes on that board, if you can't find a cupcake recipe on that board, it doesn't exist."
Julie is also passionate about running.  If you've ever psyched yourself out of running, read Julie's story now:
I was a 1.5 pack a day smoker for 30+ years so there really wasn't much surprise when I was diagnosed with lung cancer. I quit smoking in Jan 2009 thanks to Chantix and started exercising at the gym. In Oct 2009 I found a running club and laced up. Then in December 2009 I had this annoying, dry cough that wouldn't go away, several months and numerous tests later I was finally diagnosed with stage 3a non small cell lung cancer squamous cell carcinoma. After an unsuccessful thoracotomy (The affected section of my lung, the right upper lobe, was going to be removed. Unsuccessful because the cancer wrapped about my pulmonary artery), I went through 2 rounds of chemo and 41 sessions of radiation therapy.

While still receiving radiation treatment I gradually started walking/running, without my oncologist's knowledge but I think my strong will and determination is what got me through the tough times and back on my feet so quick. I was told in January 2010 that there were 'no signs of cancer at this time' and have been cancer-free since, 3 years now. I've run several races since, one being a 12 person 200 mile relay race from Austin TX to Houston TX. This is where I got my running nickname from my coach and friend, she calls me Wun-Lung Ho. My greatest accomplishment was when I ran my first marathon in Chicago on October 7,2012, it took me 6.5 hours to complete but I did it! My goal was to finish and I did! That was the first time I cried after being diagnosed and it still brings tears to my eyes when I think about it.

I tell everyone who says they can't run or they want to run … if I can do it, a lung cancer survivor with a collapsed right upper lobe, anyone can! God doesn't give you anything you can't handle and what he does give you makes you a stronger, more rounded person.
Congrats to Julie on being the first Outstanding Explorer, and I hope that all of you enjoy this new Cupcake Project feature.