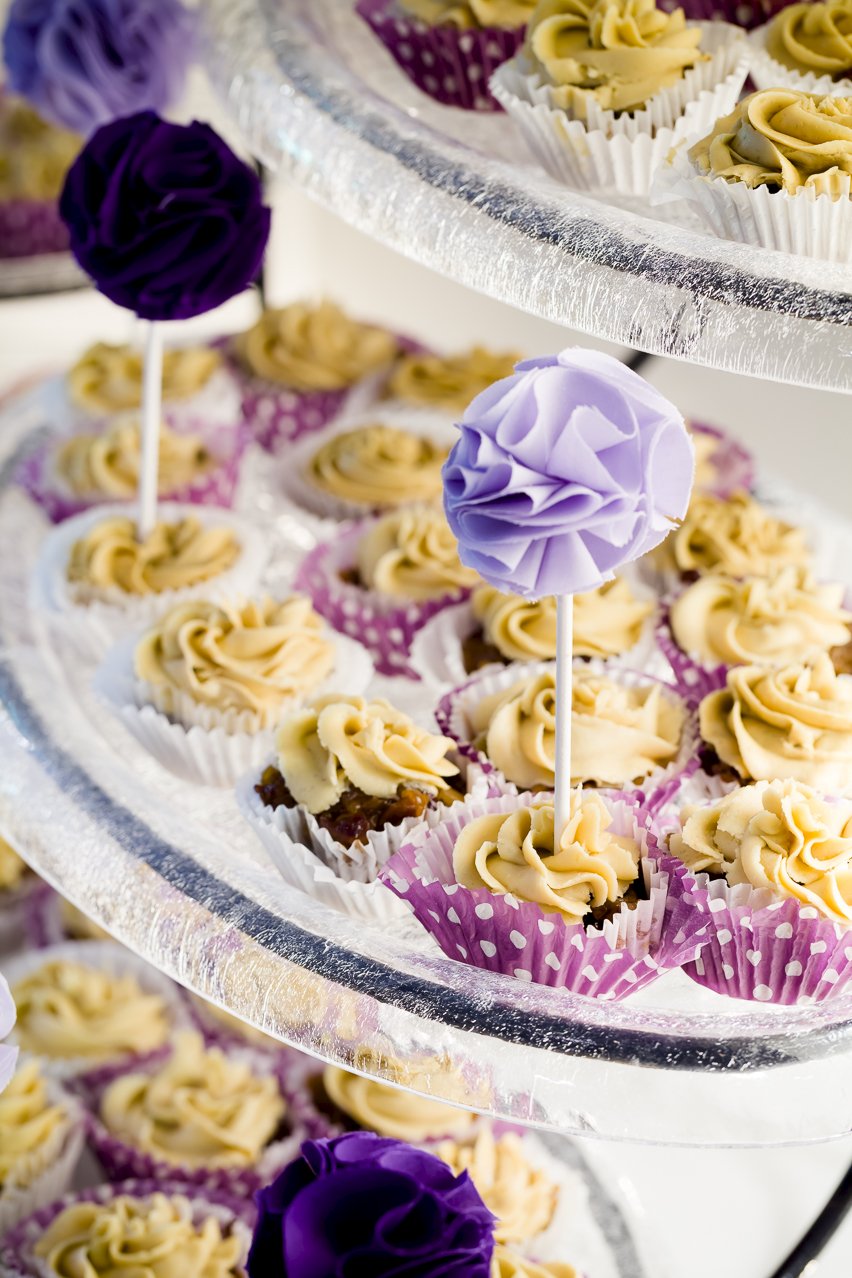 It's been years since I baked cupcakes for a wedding and I had no plans to do it again. However, when my friend Andrew buttered me up by reminding me how much he loved the green tea cupcakes that I baked for his taiko group and then asked if I could bake cupcakes for his upcoming nuptials, I gave an easy yes. His bride-to-be Soonjeon is Korean and, while he left the flavor choice entirely up to me, Andrew suggested that I might try a Korean-inspired cupcake in her honor. I get super excited about baking challenges so I immediately (as in, as soon as I finished reading his email) started researching Korean desserts. I discovered yaksik, learned that it is often served at Korean weddings, and knew that I had to make it happen in cupcake form for Andrew and Soonjeon's wedding.
What is Yaksik?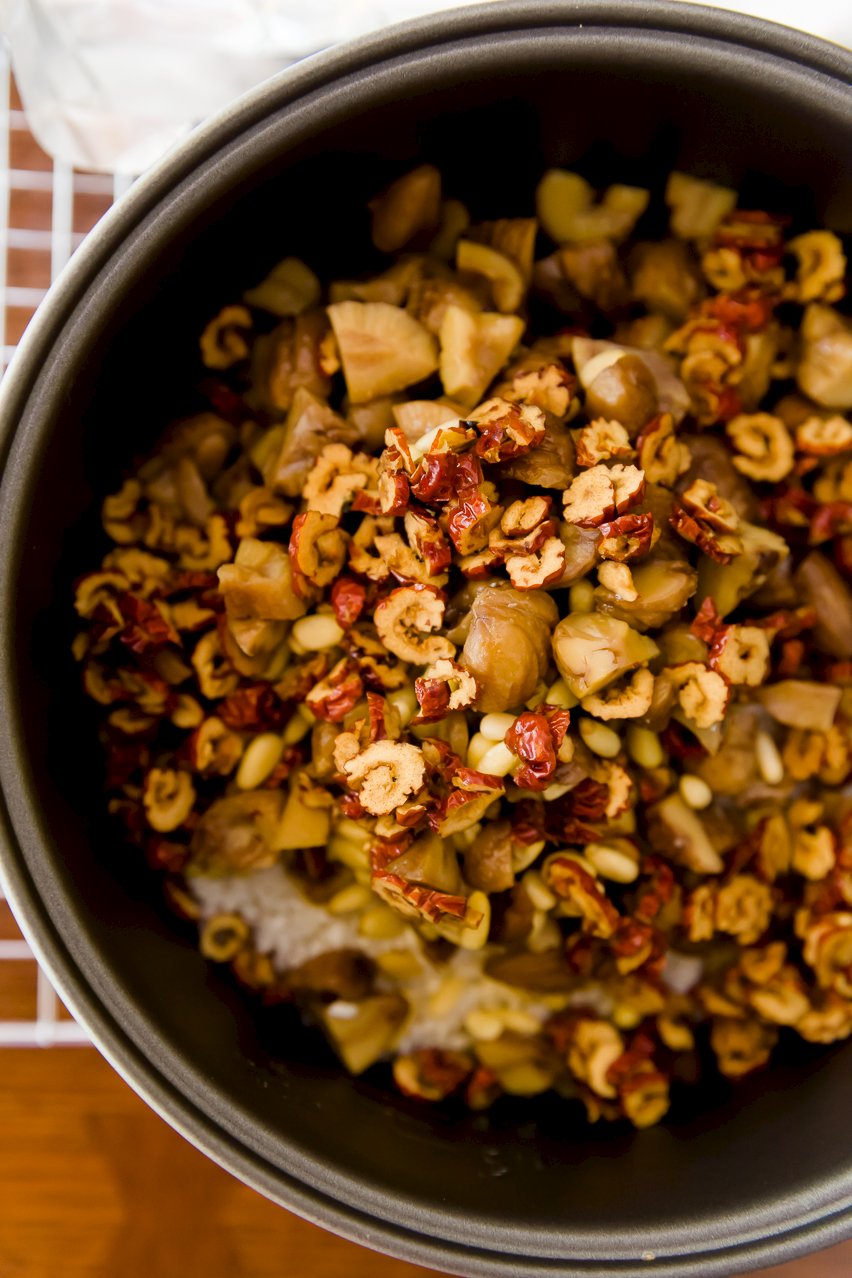 Yaksik is the first dessert I've ever made in a rice cooker. (View on Amazon)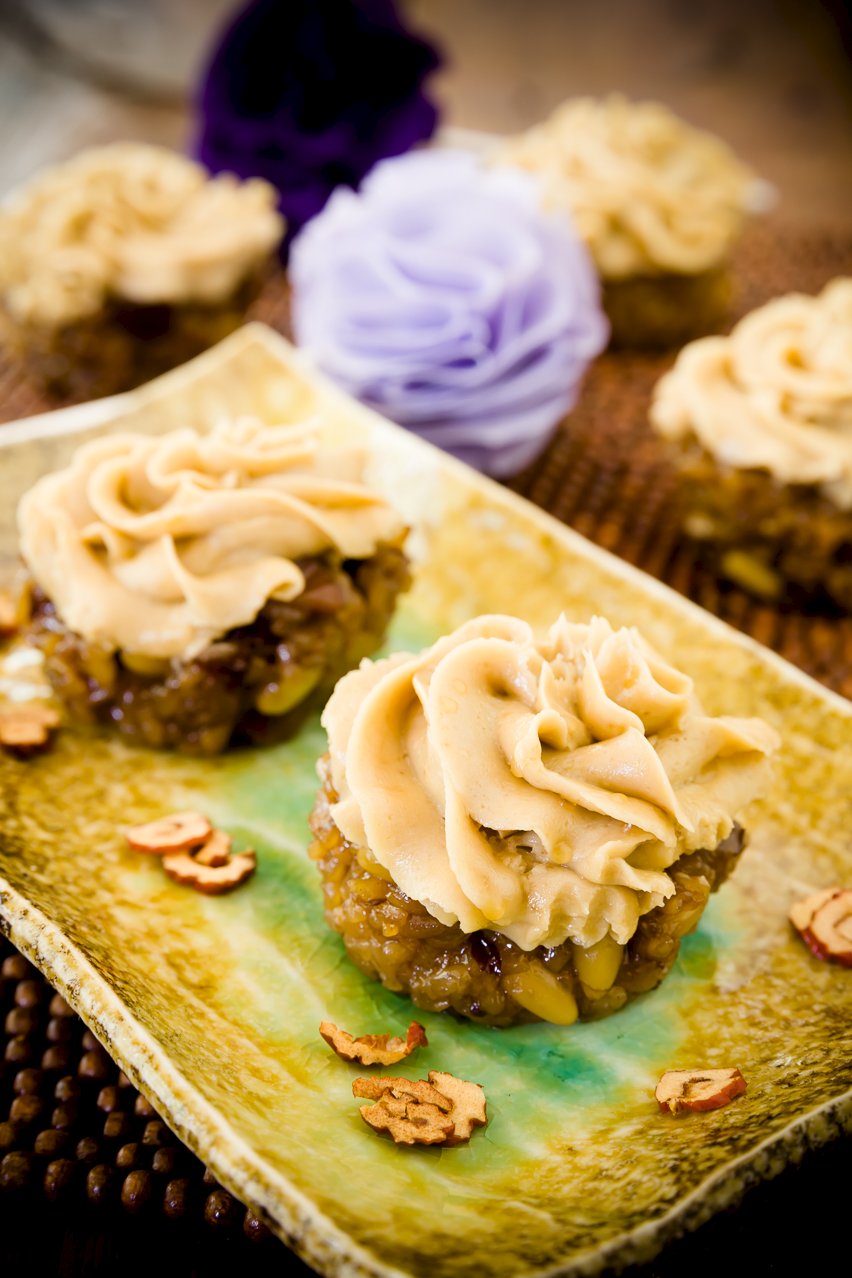 When you peel the wrapper back, yaksik looks nothing like a cupcake as we know it. That's because it's not really a cake. It's sticky rice! Americans are used to rice as a dessert in pudding format, but sticky rice desserts are new to many of us. Just think of the rice as your starch (instead of flour) and go with it.
I'd enjoyed sticky rice in numerous Asian dishes, but had never attempted making it at home. I learned that it is just as easy to prepare as white rice, the main difference being that you need to soak sticky rice overnight before cooking it. (View on Amazon)
Here are some of the ingredients added to the sticky rice that make yaksik special:
You don't have to wait until Christmas to eat roasted chestnuts. (View on Amazon)
If you don't want to spend the money on pine nuts, you could use a cheaper nut like walnuts. (View on Amazon)
Korean red dates (jujubes) are an essential yaksik ingredient. They are used to make a sweet tea that, alongside brown sugar, gives yaksik its sweetness. There are also chopped up jujubes mixed in the rice. I was able to find mine at a local Korean grocer. The ones that I bought were already seeded, which saved me some time. (View on Amazon)
Yaksik contains soy sauce and sesame oil, which threw me for a total loop. The soy sauce balances the sweetness with a touch of salt and umami and the sesame oil plays well with the other nutty ingredients.
Although yaksik would never traditionally be served with frosting, my yaksik cupcakes needed pretty tops. I covered them with a molasses buttercream and garnished them with flower toppers from EllaJane Crafts on Etsy.
I'll admit that the non-Korean guests at the wedding didn't quite know what to make of the yaksik cupcakes, but they all finished them and some even went back for seconds. These are cupcakes for those with adventurous palates looking to try the flavors of the world.
Yaksik Cupcake Recipe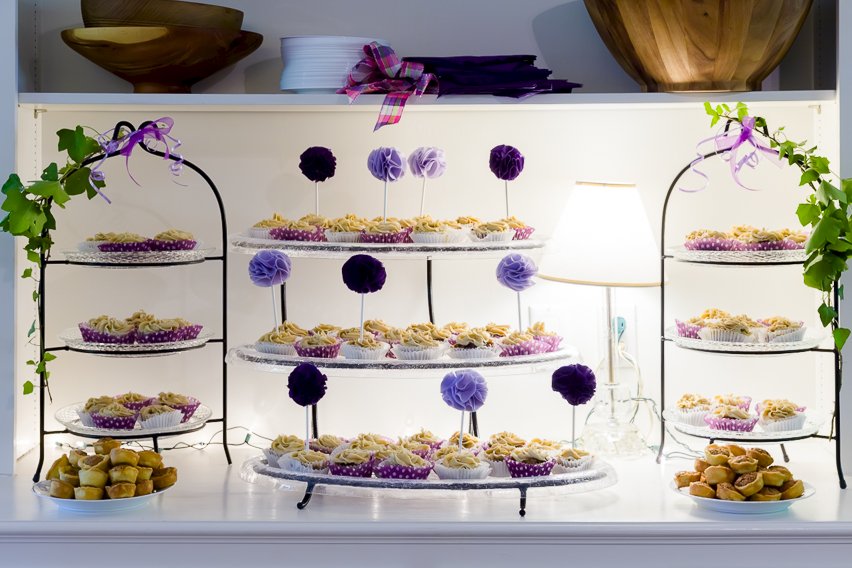 I used a Yaksik recipe from Crazy Korean Cooking for my cupcakes. I made some slight modifications including the way I used the jujube tea. My instructions for jujube tea came from shinshine.
Yaksik Cupcakes
When you peel the wrapper back, yaksik looks nothing like a cupcake as we know it. That's because it's not really a cake. It's sticky rice!

Prep Time
1
hour
30
minutes
Cook Time
1
hour
30
minutes
Ingredients
Jujube Tea Ingredients
4 1/2

cups

water

about 1 cup jujubes

dried red dates, washed
Yaksik Ingredients
2

cups

jujube tea

from above

2

cups

water

1 1/2

cups

brown sugar

1/4

cup

plus 2 tablespoons soy sauce

1/4

cup

plus 2 tablespoons sesame oil

2

teaspoons

cinnamon

4 1/2

cups

sweet glutinous rice

soaked in water overnight

30

roasted chestnuts

quartered

40

jujubes

dried red dates, seeded and thinly sliced

2

ounces

pine nuts
Molasses Buttercream Ingredients
1

cup

unsalted butter

room temperature

2

cups

powdered sugar

2

teaspoons

blackstrap molasses

1/2

teaspoon

salt
Instructions
Jujube Tea Instructions
Fill a 1 1/2 quart pot about 80% full of water (If you use a larger pot, you'll just need more jujubes and you'll end up with more tea that you can then drink).

Float the jujubes on top of the water. They should cover the whole surface of the water in a single layer.

Bring to a boil over high heat.

Once boiling, turn down heat to medium-low and simmer, slightly covered, until most of the jujubes are plump (about one hour).

With an wooden spoon, press jujubes gently against the side of the pot and pop the flesh out. Simmer for another 30 minutes.

Strain the jujubes out of the jujube tea and discard.
Yaksik Instructions
In a small sauce pan, bring tea, water, brown sugar, soy sauce, sesame oil, and cinnamon to a boil, stirring until brown sugar is fully dissolved - just a few minutes.

Remove from heat.

Drain soaked sweet rice and put in the bowl of a rice cooker.

Top with chestnuts, jujubes, and pine nuts.

Pour sauce on top and turn on white rice setting. My rice cooker required two full white rice cycles to cook the yaksik - this may differ with different models of rice cookers. You'll know the yaksik is done when the rice is sticky and there isn't much liquid.

Stir thoroughly, transfer to greased cupcake liners in cupcake tins. Putting the liners in cupcake tins helps the "cupcakes" hold their shape. You may want to double wrap the liners or use silicone liners to prevent the liners from looking too oily and deformed.

Cool to room temperature.
Molasses Buttercream Instructions
In a medium-sized mixing bowl, beat butter until light and fluffy (about 3 minutes on high speed).

Mix in powdered sugar a little bit at a time.

Mix in molasses and salt.

Pipe on cooled cupcakes.
Nutrition
Nutrition Facts
Yaksik Cupcakes
Amount Per Serving
Calories 276
Calories from Fat 90
% Daily Value*
Fat 10g15%
Cholesterol 16mg5%
Sodium 159mg7%
Potassium 108mg3%
Carbohydrates 45g15%
Protein 2g4%
Vitamin A 200IU4%
Vitamin C 3.7mg4%
Calcium 21mg2%
Iron 0.5mg3%
* Percent Daily Values are based on a 2000 calorie diet.