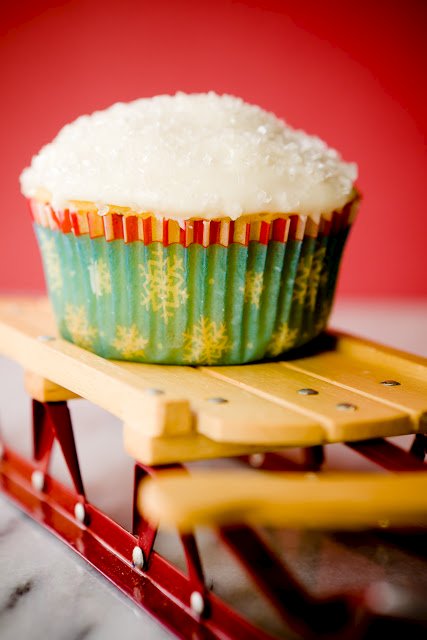 It's nearly midnight and you are ready to move in for that New Year's kiss.  Your palms start to sweat as you realize that you've eaten one too many Cool Ranch Doritos.  You need to do something about your breath, pronto. Sure, there's always a breath mint, but why not solve your breath debacle with a cupcake?! You reach for a winterfresh cupcake made with mastic and lime and enjoy every bite (see What Is Mastic if you you have no idea what mastic is). You mouth feels fresh and tingly, but you want to be sure.  You cup your palm over your mouth and exhale.  Phew, you smell like a pine forest. 5… 4… 3… 2… 1… Happy New Year!!  You lean in with no fear.

One of my life's small pleasures is making my friends guess cupcake flavors.  I had a group of people do just that with these winterfresh cupcakes.  Of course, none of them had ever heard of or tried mastic, so there was no way they could guess right (mean extra-fun). Most tasters pointed out the intense flavor (a few thought it was too intense) and how different and indescribable the taste was.  As my friend Andrew (amveats) put it, the winterfresh cupcake was the "stealth bomber of cupcakes".  He really liked them, but had no clue what the flavor was.  A few tasters came close to getting it right – describing them as refreshing and pine-y (mastic does taste a lot like pine, so that's the closest anyone could get without knowing about mastic).
I had originally planned on putting mastic in both the cake and the frosting, but the cake had such a powerful mastic punch that, to avoid mastic overload, I opted for a sweetened condensed milk buttercream frosting.  That frosting just added a sweetness to the cupcakes without increasing the mastic flavor or introducing a competing flavor.  I couldn't have been happier with my choice.
Cupcake Roulette
Before I get to the recipe, I wanted to let you know that there are still available slots on the Cupcake Roulette wheel.  If you've got a food blog, stop by the Cupcake Project Facebook page for the details and to grab a spot before they all fill up.
Winterfresh Cupcakes Recipe
If you've tried this recipe, please RATE THE RECIPE and leave a comment below!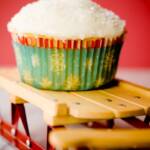 Winterfresh Cupcakes Made with Mastic and Lime
Ingredients
Cupcake Ingredients

1 3/4

cups

cake flour

not self-rising

1 1/2

teaspoons

baking powder

1/2

teaspoon

baking soda

1/2

teaspoon

salt

1

tablespoon

lime zest

about 3 limes

1

tablespoon

mastic powder

finely crushed mastic tears

1

cup

granulated sugar

1/4

cup

unsalted butter

room temperature

2

large eggs

room temperature

1/3

cup

ricotta cheese

1/4

cup

canola oil or vegetable oil

1/2

cup

whole milk
Sweetened Condensed Milk Buttercream Frosting Ingredients
1/2

cup

unsalted butter

room temperature

7

ounces

sweetened condensed milk

1

cup

powdered sugar

Decorative sugar

optional
Instructions
Cupcake Instructions
Preheat oven to 350 F.

In a medium-sized mixing bowl or bowl of a stand mixer, mix together cake flour, baking powder, baking soda, salt, lime zest, mastic powder, and sugar.

Add butter and mix on medium-low speed for three minutes. Because there is so little butter, you'll end up with a very fine crumb texture.

Mix in the eggs, ricotta, and oil until smooth.

Slowly add milk and mix on low speed until just combined

Fill cupcake liners just over 1/2 full.

Bake for 14 minutes and then test to see if they are done. They are done when a toothpick comes out without wet batter stuck to it. If they are not done, test again in two minutes. If they are still not done, test again in another two minutes.

When the cupcakes are done, remove them immediately from the tins and leave them on a cooling rack (or just on your counter if you don't own a cooling rack) to cool.
Sweetened Condensed Milk Buttercream Frosting Instructions
Whip butter until light and fluffy (about 3 minutes on high speed).

Mix in sweetened condensed milk and powdered sugar.

Spread on cooled cupcakes. Note: The frosting will not be thick enough to pipe.

Optionally, top the cupcakes with decorative sugar to give them some bling.
Mastic Cookies
In learning how to work with mastic, I made two different mastic cookies that I found on food blogs:
I'm still enjoying Linden Tea's little butter cookies made with mastic.  The only thing that I would change about the recipe would be to up the amount of mastic just slightly from the original recipe.  You can barely tell that it's in there.  Leave the amount alone if you prefer a very subtle flavor.
The mastic sesame cookies from Yogurt Land are dry, but in a good way (like biscotti).  They are really good with coffee or hot chocolate.  I would also suggest increasing the amount of mastic in that recipe if you want to be able to really taste it.