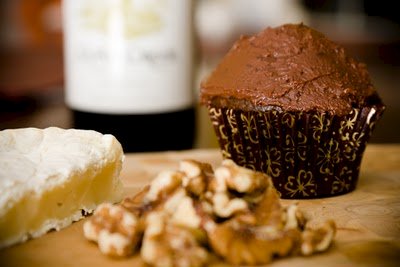 Shiraz wine, walnuts, Camembert cheese, and dark chocolate could be wine bar fare at its best. In my cupcake-centric world, however, they are the ingredients in wine and cheese cupcakes.
Serve these wine and cheese cupcakes at your next wine party.  In fact, plan a wine party around them.  These wine and cheese cupcakes are worth it!  Don't be scared by the Camembert.  It's a stinky cheese, for sure, but once it's baked into the cupcakes, your guests won't detect it; they will only note a that these chocolate cupcakes have a sublime sophistication. They are chocolate cupcakes all grown up.
Note:  While it's a common practice to nose wine before drinking it, be careful about nosing the cupcakes.  You may end up with a frosting-covered schnoz.
About the Camembert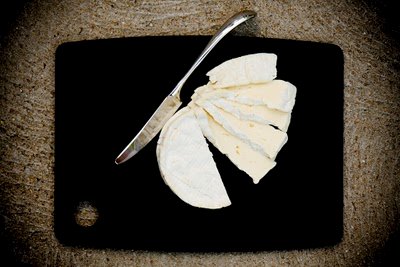 I received the Camembert cheese as a gift from Ile de France.  I have had the good fortune to get to sample quite a few of their cheeses and I am never disappointed.  Here are some of the other Ile de France cupcakes that I have made:
Wine and Cheese Cupcake Recipe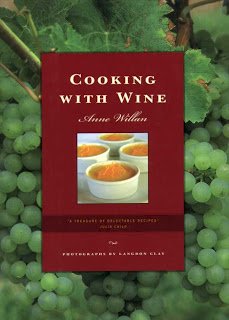 Cooking With Wine inspired these cupcakes in a roundabout way.
I created this recipe by modifying a chocolate red wine cake recipe that I found on Eric Hazzard's Wine Hazard.  It's worth heading over there just to read the way Eric writes the recipe. It's different and fun.  The recipe originally came from Food and Wine magazine and was inspired by Anne Willan's Cooking with Wine
.
Here is my adaptation of the recipe:
If you've tried this recipe, please RATE THE RECIPE and leave a comment below!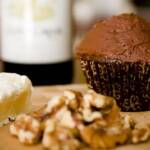 Wine and Cheese Cupcakes – Try Them At Your Next Wine Party
Ingredients
2

C

all-purpose flour

3/4

C

unsweetened cocoa powder

1 1/4

tsp

baking soda

1/2

tsp

salt

1/2

C

unsalted butter

room temperature

4

oz

Camembert cheese

1 3/4

C

sugar

2

large eggs

1

tsp

vanilla extract

1 1/4

C

dry red wine

I was looking for a wine that would pair well with Camembert and ended up using a Shiraz, thanks to Miranda McElhiney's suggestion on my Facebook page. Feel free to experiment with other wines.

1

C

walnut halves
Instructions
In a medium-sized bowl, whisk the flour, cocoa powder, baking soda and salt.

In another medium-sized bowl, beat the butter, cheese, and sugar until light and fluffy.

Mix in the eggs one at a time and beat until incorporated.

Mix in the vanilla.

Alternately mix the dry ingredients and the red wine into the butter mixture until just combined.

Fold in the walnuts. (You can chop them if you prefer, but I liked the nice big chunks.)

Fill cupcake liners 3/4 full.

Bake at 350 F for 20 minutes or until cupcakes bounce back when lightly touched.