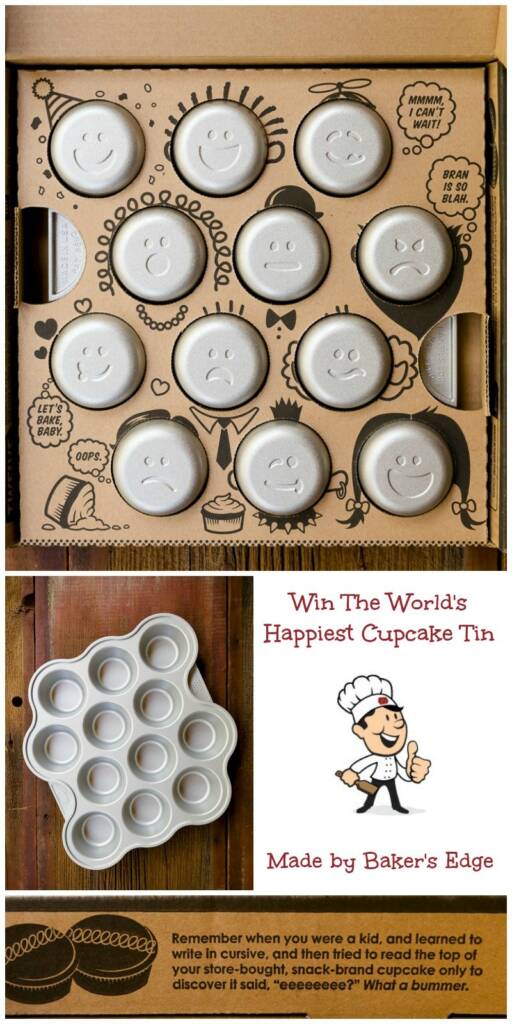 I had to try the Baker's Edge pan myself to see.  Here are my findings:
Baker's Edge makes cupcake pans fun!  Why has no one else thought of putting faces on the back of a cupcake tin?  You can't help but smile when you open the Baker's Edge box.
Baker's Edge has a pan that's a different shape than every other pan out there.  Way to think out of the box, Baker's Edge!  Is the shape better?  Baker's Edge says that the shape "eliminates the areas where batter is spilled most often."  It's true: I have had fewer drips on my Baker's Edge pan than I typically do.  The handles built into the pan are also helpful.  Plus, the curves are aesthetically pleasing.
I wish you could see from the photo how heavy-duty the Baker's Edge's cupcake tin is.  I weighed my past favorite cupcake tin and it came in at 1 pound 7 ounces.  The Baker's Edge cupcake tin weighs 2 pounds 15 ounces!  The box says that it "won't warp, bend, or rust" and, although I'm typically skeptical of such claims, I'm strongly inclined to believe it.
In the end, my adoration for a cupcake tin comes down to how well cupcakes bake in it.  I have been thrilled with the results from this pan.  The cupcakes bake up evenly and slightly faster than in my other pans.
How to Win a Baker's Edge Cupcake Tin
Baker's Edge is giving away a cupcake tin each to five lucky Cupcake Project readers.  To enter, fill out the Rafflecopter form below.
Super Product for the Super Bowl
Wouldn't it be cool to see a Super Bowl ad that doesn't have to do with insurance, stocks, action movies, cars, beer, or getting a job?  Baker's Edge entered to win a free Super Bowl commercial.  You can learn more about the company and vote for them on Intuit.
One Last Thing
This post was sponsored by Baker's Edge.  However, the opinions expressed within the post are all mine.