In case you haven't yet heard, a cupcake book made The New York Times Best Seller list.  It's called What's New, Cupcake?
and I'm giving away a copy of it – plus a giant toolbox filled with cupcake supplies!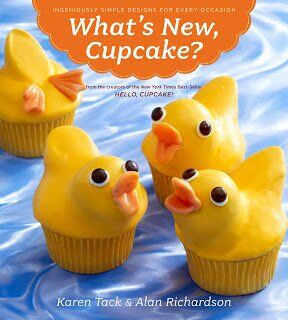 A couple of weeks ago, I had the pleasure of meeting What's New, Cupcake? authors Karen Tack and Alan Richardson at L'Ecole Culiniare in St. Louis (no, I'm not in culinary school – I was the only one there other than Karen and Allen without a uniform).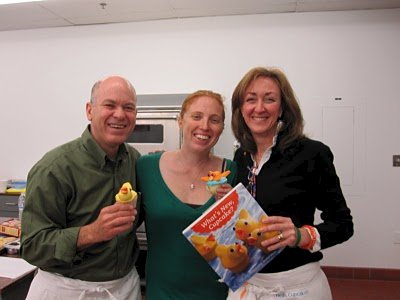 During their demo, Karen laughed about bringing cake mixes and canned frosting into a culinary school.  You see, What's New, Cupcake? is a book that you should judge by its cover.  It's all about appearances rather than what's inside. While my blog focuses on recipes that challenge your taste buds, What's New, Cupcake? challenges your eyes.
Karen and Allen are GENIUSES!  I admire creativity wherever it is found, and their creativity is unbounded.  One thing that Karen said during their talk really stuck with me.  She suggested that you try to look at ordinary objects (in their world, candies) in different ways; cut that jolly rancher in half and turn it into broccoli, or take a circus peanut, cut it, and make it into feet.
Even if I never make a cupcake from What's New, Cupcake?, I can still learn from it.  I could make homemade cookies in different shapes (the book gives an awesome tip on how to make your own cookie cutters) and use them to top cupcakes; or, I could cut fruit or organic snacks (instead of junk candy) to make my cupcakes extra cute.
Whether you are passionate about organics or laugh it up as you lick your spoonful of yellow canned frosting (I won't hold it against you), everyone can learn from What's New, Cupcake? to expand their cupcake toolbox.  This brings me to the giveaway part of this post.
The Giveaway Part
McCormick (the makers of spices, seasonings, and food colors) sent me a literal cupcake decorating toolkit.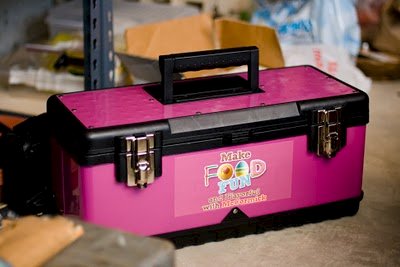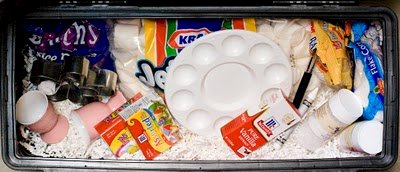 Although I have talked on this blog about how I don't like food coloring, I admit to liking colored sugars and sprinkles (can you say hypocrite?), and I'm excited to try out the method in What's New, Cupcake? to make my own vibrantly colored sugars and sprinkles using some of the tools that they sent.
Here's the Part Where I Tell You How to Enter
Of course, I couldn't accept this incredible toolkit without scoring one for you guys as well.  Leave a comment with the answer to the following question for a chance to win the toolkit and a copy of What's New, Cupcake?:
If you were to send someone a toolkit of cupcake decorating supplies, what three items would you definitely include?  (They can be items in the toolkit shown above or anything that you love to decorate with.)
I will randomly select a winner on Saturday night (5/15) at 11:59 PM CDT to enter.  Don't forget to leave an email address so that I can contact you!
Sorry, prizes may only be shipped to a United States address.