Wearing joyful Mark Poulin Jewelry could change your life.  When someone sees you wearing it, they may smile (because it's so stinkin' cute) and strike up a conversation.  You may continue the conversation and perhaps discover that you both love chocolate cupcakes.  The next thing that you know, you might be making plans with your new BFF to meet up for coffee and cupcakes.  This new friend may become a lifelong gal pal and you will never be without a bestie again.  Hey, it could happen!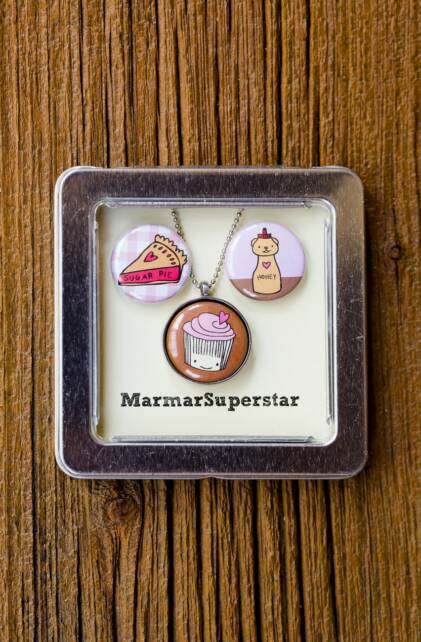 I love the mama and baby cupcake set shown at the top of this post.  The two are sold together as a cupcake family!  However, I think that this sweetie pie magnetic set  (directly above) may be my favorite Mark Poulin product.  It has magnets for three of my favorite sweets and you can pop them in and out of the necklace.  When you aren't wearing the necklace, you could stick the magnets on a memo board or even on your refrigerator.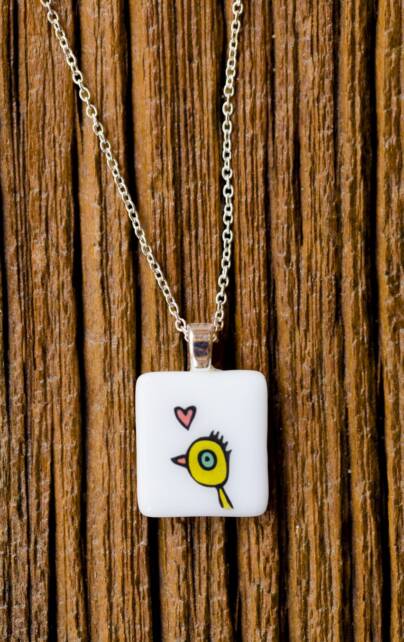 When Mark Poulin offered to send me some jewelry, I absolutely couldn't resist requesting this chicken.  There is something that I've been meaning to tell you guys.  Our family now has chickens!
I bet you can guess which one of us named them and where we do most of our shopping. :)  Anyway, I adore the chicken necklace.  It makes me think of my little friends.  If you have a more normal pet like a dog or cat, Mark Poulin has you covered too.
If cutesy isn't your thing, there some more serious Mark Poulin pieces available, including some simple and beautiful floral earnings and necklaces.  I'll stop talking now so you can go and check it all out and decide what you want to win (yes, you can win something!).  Then, come back and enter below!
Enter to Win Joyful Jewelry from Mark Poulin
a Rafflecopter giveaway

This post was sponsored by Mark Poulin, but all opinions are my own.