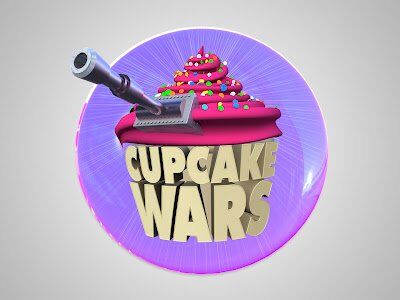 People often ask me if I would want to be a contestant on the show Cupcake Wars.  The answer is no.  Because I don't own a bakery, the thought of baking on such a large scale, making every cupcake look perfect, and having to race against the clock is not something that appeals to me.  If you asked me whether I would want to be a judge on Cupcake Wars, I'd have a different answer: "Heck, yeah!" Who wouldn't want to sample all of those different cupcakes?!
Omaze is offering 10 Cupcake Project readers a ticket.  With those tickets, you'll be able to enter Omaze's contest to come as close as any of us are going to get to being a Cupcake Wars judge: "You and a guest will hang out backstage with host Justin Willman during a taping of the hit show, taste all the cupcakes and compare your choices to the judges."  They'll also throw in airfare and lodging!
Even if you don't win a ticket, I encourage you to buy contest tickets for yourself and your friends through Omaze.  The proceeds from the contest go to Team Rubicon, a charity that helps returning veterans find a renewed sense of purpose by getting them involved – and using their hard-earned skills – in disaster relief efforts.
How to Win a Ticket for a Chance to Go Backstage on Cupcake Wars
This contest is going to be simple and fast.  You've got just over 24 hours to enter from the time I post this.
Disclosure: Omaze also gave me 5 tickets for myself.  I am cheering for all of you, but obviously, I want to win! :)