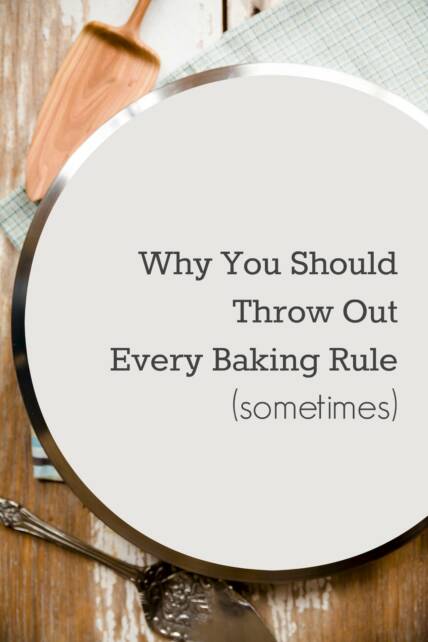 As bakers, we hold exact measuring, ingredient ratios, and established flavor profiles as gospel.  We pride ourselves on being kitchen rule followers.  We never go loose and wild with ingredients like cooks do – adding a bit of this and a bit of that to their saucepans and tasting along the way.  Some people fear the precision of baking so much that they never stray from a cake mix.  "I can't bake," they sadly proclaim.
Our lives are filled with far too much stress to let baking sweet treats cause us angst.  Would your family really care if you made them a cake that was too dense or too light (by traditional standards) or had a few unexpected flavors thrown into the mix?  What would happen if you threw out every single baking rule you knew?  To test this out, I let my 6 year old son, Myles, write a pie recipe.
Myles wanted to make a chocolate pie.  I only interfered twice in the whole process.  I told him that a cup of baking powder was too much and I encouraged him to add a little flour to the pie filling so that it wasn't just soup.  Other than that, he was on his own.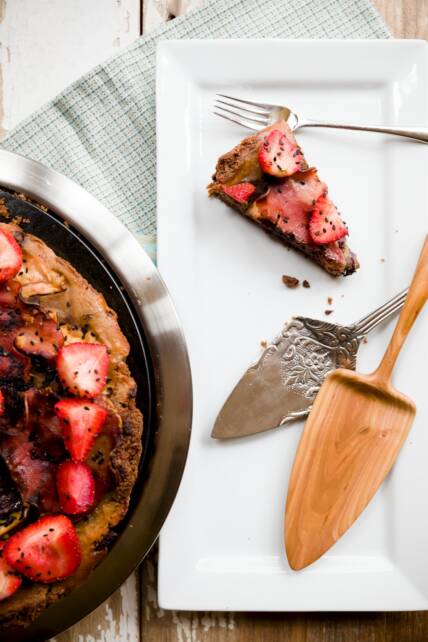 His pie had some unique ingredients (chicken broth, ham, and black sesame seeds come to mind).  I just let him run with it!  Here's what happened when people tried the pie:
You might think that everyone was just being nice because a kid made it.  But, I can tell you that I have been sneaking bites of this pie all week long.  It's a little chewy, but really not bad at all.  Sometimes you want something sweet, and most of us are just not as picky as food competition judges would have us think.  The second little boy in the video who said that the pie tasted "good" sat at the table for a full 10 minutes finishing every last crumb of his pie slice.  In fact, no one tossed their whole slice in the trash.
Here's Why You Should Throw Out Every Baking Rule (sometimes)
Shouldn't we teach kids the "right" way to do things?  Shouldn't we, as adults, strive to make the most conventionally delicious baked goods that we can by learning and following baking rules?  Yes, most of the time.  However, sometimes we need to break free, to combine our favorite flavors and see what happens, if for no other reason than experimentation is FUN.
Why don't we do more things in life simply because they are FUN?
Your original dessert recipe might taste terrible. Do you know what you should do if it does?  Laugh!  Laughing is much healthier than dessert, so I don't see that as a loss at all. :)
Your dessert might taste amazing and then you can smile hugely and be proud of your unique creation.
The most likely outcome is that your dessert will be like Myles's: not great, but still satisfying.  You'll have a story to tell and, with a few tweaks, you could have the beginning of something spectacular!
Myles's Chocolate Pie Recipe (Just for Fun)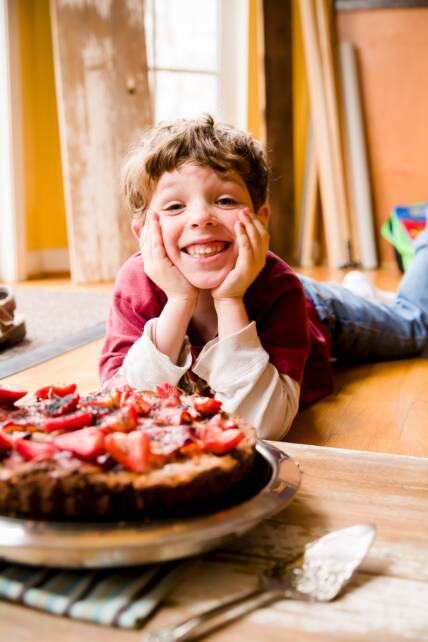 I don't suggest that you bake this as written, but I hope you use it as inspiration to get creative in the kitchen!
If you've tried this recipe, please RATE THE RECIPE and leave a comment below!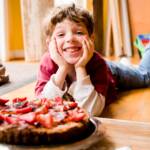 Myles's Chocolate Pie
Servings
1
pie and lots of smiles
Ingredients
Crust Ingredients
10 1/2

teaspoons

cocoa powder

simply because then you get to measure and add cocoa powder to the bowl more times than if you had used cups

1

teaspoon

baking powder

25

freeze-dried strawberries

2

teaspoons

vanilla

2

cups

all-purpose flour

2

cups

brown sugar

I thought that this was going to be way too much, but the crust actually tasted great.

1

teaspoon

salt

1/2

teaspoon

pepper

because it's always a good idea to season with salt AND pepper

2

sticks

cold unsalted butter

cut into small pieces
Filling Ingredients
1

cup

chicken broth

to make it nice and moist!

1

cup

almond milk

obviously not because the pie is vegetarian

2

cups

chocolate chips

2

apples

cored and thinly sliced

2

cups

all-purpose flour

3/4

cup

brown sugar

4

slices

ham
Topping
9

sliced strawberries

big handful black sesame seeds
Instructions
Crust Instructions
In a large bowl, mix all ingredients together using your hands.

Grease a large tart pan and press crust into the pan and up the sides.
Filling Instructions
Preheat oven to 375 F.

Mix all ingredients except ham in a large bowl.

Pour onto crust until it reaches the top. There will be too much filling and you can cook the rest in ramekins or just toss it.

Top the filling with ham slices.

Bake for one hour.

When cool, top with sliced strawberries and sesame seeds.
Here's one last picture because you really need an up close and personal view of how ham looks on a chocolate pie before it goes in the oven: