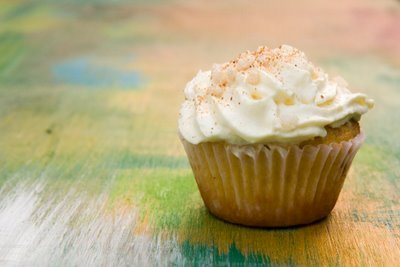 "Thanks for the corn muffins!"
"These are awesome corn muffins!"
I'd be flattered if these were comments made after I served people corn muffins. In this case, I served cantaloupe cupcakes containing zero corn. I would be offended, only I had to agree that they tasted just like corn muffins! (My other recent cupcake, which also tasted like a corn muffin, at least contained corn meal.)
I happen to have two friends who are allergic to corn. This cupcake would be perfect for them or anyone else reading this who likes the taste of corn but suffers from corn allergies.
I can't begin to tell you why cantaloupe tastes like corn. Maybe it's the gritty texture and the mild sweetness? If you've got an idea, please let me know in the comments.
Cantaloupe Cupcake Recipe (AKA Fake Corn Muffins)
If you've tried this recipe, please RATE THE RECIPE and leave a comment below!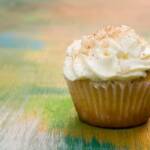 Why Does Cantaloupe Taste Like Corn?
Ingredients
Cupcake Ingredients
2

C

flour

1 1/2

t

baking powder

1/2

t

baking soda

3/4

C

unsalted butter

softened

2/3

C

sugar

2

eggs

2/3

C

sour cream or Greek yogurt

2/3

C

cantaloupe soup

see my post on cantaloupe soup or pureed cantaloupe with 1/2 t ground ginger and 1 t lemon juice
Lemon ginger whipped cream frosting* ingredients
1

C

heavy whipping cream

1/4

C

powdered sugar

1/2

t

ground ginger

1/2

t

lemon extract
Instructions
Cupcake Instructions
Whisk flour, baking powder and baking soda in a bowl.

Beat butter and sugar in a large bowl for 1 minute, until light and fluffy.

Beat eggs and sour cream into the butter/sugar mixture until blended.

Alternately fold in flour mixture and 2/3 cup cantaloupe soup in three additions, beginning and ending with flour.

Fill cupcake liners 3/4 full.

Bake at 350 F for about 20 minutes or until toothpick comes out of cupcake clean.
Lemon ginger whipped cream frosting instructions
Whip heavy whipping cream until it looks like whipped cream.

Mix in everything else.
Recipe Notes
*Everyone's favorite part of these cupcakes was the lemon ginger whipped cream that I frosted them with. I used the cream whipper to make the whipped cream, but you could also make it with a regular mixer.
For extra fun, I topped some of the cupcakes with ginger-flavored pearl sugar. See bottom of this post for details.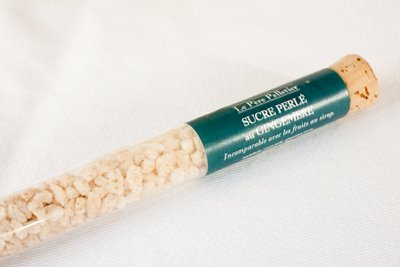 For extra fun, I topped some of the cupcakes with ginger-flavored pearl sugar. Flavored pearl sugars are a great alternative to sprinkles. Sadly, these gems are hard to come by. I found them at a local store that no longer sells them. The only place I've been able to find them online is a French site (it looks like they do ship to the US, but it's pretty pricey – lucky European readers).