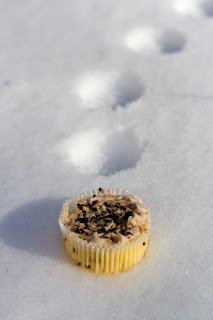 I made this week's cupcakes as part of the blog event "They Go Really Well Together," hosted this month by Chadzilla.
Each month, participants are asked to create a dish featuring two different flavors that you might not have thought of combining. The two flavors, however, are not chosen randomly. According to the creator of the event at blog.khymos.com, "If two (or more) foods have one or more volatile compounds in common, chances are good that they might taste well together." You see, it's all based on a science called molecular gastronomy. "The molecule shown in the logo is of 2-methylfuran-3-thiol, a very potent aroma chemical found in coffee, chicken, meat, fish and popcorn – to mention a few."
While I am no scientist, I do enjoy reading about what these cutting-edge science based chefs come up with. I was excited and a bit nervous to participate in this month's event: white chocolate and caviar.
At first, I was thinking of making normal vanilla cupcakes and just adding caviar to the frosting, but somehow that felt like cheating. The caviar needed to be throughout the cupcake for it to count. A normal cakey cupcake just didn't seem like it would work. I, of course, did not do a molecular analysis. I went with my gut. My gut told me to go for a white chocolate caviar cheesecake cupcake.
Disclaimer
I know some of you think cheesecakes in cupcake wrappers are not cupcakes. We've been through this before. However, I figure white chocolate is clearly not chocolate and people have been letting that slide forever, so just work with me here.
The Tasters
My first taster, as always, was my husband: "There is nothing I like about this cupcake." He has never had such a strong negative reaction to a cupcake before.
I was worried, but I thought it was tasty. The flavors did, in fact, go well together. I love sweet and salty and this was no exception. The only thing that wasn't so pleasing was the slightly fishy aftertaste.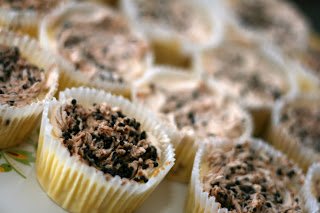 I decided to brave it and bring the cupcakes to a family event. The first taster there was my mother-in-law. "Mmmm," she said with a smile. "Yes!" I thought, she didn't spit it out. It turns out that she loves caviar and loves white chocolate and consequently loved these cupcakes. I won't tell you how many she ended up eating (to protect the innocent).
I proceeded to nonchalantly observe (I tried not to stare people down) as others tried the cupcakes. "Not bad." "Pretty good." "Really good." People actually liked them. Only one person complained about the fishy aftertaste. One guest commented on how the sweet and salty combo made her think of the salted caramels that are so popular now.
Will I Be Making Them Again?
I don't plan on making them again. They were good but not "wow" good. However, if you like white chocolate and caviar, give them a try or try some of the other white chocolate and caviar combinations once the TGRWT #8 is complete.
The Recipe
I used a white chocolate cheesecake recipe from allrecipes, and simply mixed in some caviar. I topped the cupcakes with a white chocolate caviar butter cream frosting. I adapted the recipe from Food and Wine.
White Chocolate Caviar Cheesecake Cupcakes
Molecular gastronomy means combining two flavors that connect on a molecular level, hence white chocolate and caviar.
Ingredients
Cupcake Ingredients
4

1 ounce squares white chocolate

3

8 ounce packages cream cheese

3/4

cup

white sugar

1/4

cup

all-purpose flour

3

large eggs

1/2

cup

heavy whipping cream

1/2

teaspoon

vanilla extract

1

tsp

caviar
Frosting Ingredients
2

sticks

1/2 pound unsalted butter, softened

12

ounces

white chocolate

melted and cooled slightly

1

cup

confectioners' sugar

1

teaspoon

pure vanilla extract

2

t

caviar
Instructions
Cupcake Instructions
Preheat oven to 300 degrees F (150 degrees C). Place the cream cheese, sugar, and flour in a mixing bowl and cream until light and fluffy. Beat in eggs one at a time, mixing well after each addition. Scrape bowl.

Melt 4 ounces of the white chocolate. With an electric mixer on low speed, mix melted white chocolate into cream cheese mixture. Keeping electric mixer on low, slowly beat in the vanilla and 1/2 cup of heavy cream. Blend well. Mix in caviar. Pour in cupcake wrapper.

Bake at 300 degrees F (150 degrees C) for about 20 minutes, or until center of the cheesecake is just firm. Cool at room temperature for 30 min. Refrigerate until set prior to frosting.
Frosting Instructions
In a large bowl, using a handheld electric mixer, beat the butter at medium speed until creamy. Beat in the melted white chocolate. Add the confectioners' sugar and vanilla and beat at low speed, scraping the sides and bottom of the bowl, until light and fluffy. Mix in caviar.
Notes
I had trouble piping this frosting because the white chocolate either a) solidified really quickly and gunked up the tip or b) was not fully melted in the first place. I ended up just spreading it and using a toothpick to swirl the caviar around.
Nutrition
Nutrition Facts
White Chocolate Caviar Cheesecake Cupcakes
Amount Per Serving
Calories 399
Calories from Fat 234
% Daily Value*
Fat 26g40%
Cholesterol 104mg35%
Sodium 196mg8%
Potassium 145mg4%
Carbohydrates 35g12%
Protein 5g10%
Vitamin A 785IU16%
Vitamin C 0.1mg0%
Calcium 102mg10%
Iron 0.6mg3%
* Percent Daily Values are based on a 2000 calorie diet.
Additional Reading
This article from The Guardian about white chocolate and caviar is definitely worth reading.
Also check out this new site on Food Pairings. It doesn't include white chocolate and caviar, but it may give you some really interesting ideas on how to combine flavors which you may not have thought of.