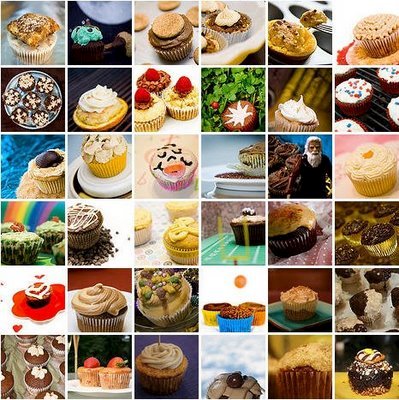 A small selection of the wedding cupcake possibilities Couple 2.o chose from
After over a year of sampling Cupcake Project cupcakes, Bride and Groom 2.0 have selected their wedding cupcakes.
The three wedding cupcakes will be:
Oatmeal raisin cupcakes with maple buttercream frosting*
I'm really excited about all of their picks! Their wedding is one week from tomorrow!! I will begin baking the almost 300 cupcakes on Thursday night – assuming I'm up for baking after fasting all day. Thursday is the Jewish holiday Yom Kippur, and we don't eat or drink from Wednesday night to sundown on Thursday. Baking cupcakes after fasting sounds like a recipe for lots and lots of cupcake batter eating.
I'll be posting regularly on Twitter about my baking progress and will be sure to update the blog periodically as well.
*A Note About the Maple Buttercream Frosting
Despite the many, many frostings I've made, the maple buttercream frosting is actually one that Couple 2.0 has never tried. It's hard to believe. It's a frosting recipe I got from a cupcake class I took at Kitchen Conservatory. I took the class because I am going to be teaching my first cupcake class ever there next month (there are still some slots left if you are interested and promise to be easy on me) and I wanted to see how things there worked. The frosting was super yummy and the couple agreed that a maple buttercream would go well with the oatmeal raisin cupcakes.
Maple Buttercream Frosting Recipe from Kitchen Conservatory
1/2 C butter, room temperature
1/4 C pure maple syrup
1 T whole milk or heavy cream
1/2 t vanilla
1/8 t salt
1 1/2 C powdered sugar
Beat the butter, maple syrup, milk,vanilla, and salt for 1 minute.
Gradually beat in the powdered sugar until smooth.