Bride and Groom 4.0 have traded wedding cupcakes for gelato. They departed for Venice (in what I can only imagine was a dazed stupor) at 7:30 on the morning after their wedding – what a whirlwind! As for me, I'm looking through photos from the big day (in addition to the photos here, Jonathan has posted a few sneak peaks on his Facebook page), reliving the joy, taking a few deep breaths, patting myself on the back for a job well done (it's important to do that periodically), and debating what cupcake I'm going to make next.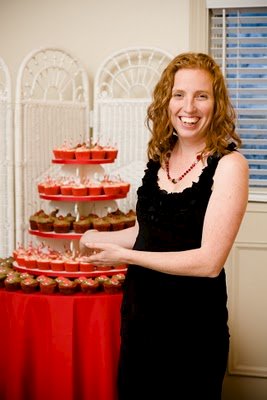 I swear that I put on makeup for this photo.
Where is it?
Remember how I joked about it snowing in my kitchen? Never did I imagine that it was actually going to snow on the wedding day! Bride 4.0 was a real trooper about it. It may not have been the Spring wedding that she dreamed of, but it was gorgeous!
Speaking of gorgeous, let's get back to the cupcakes.
Bride 4.0 purchased a wedding cupcake stand from The Cupcake Tower. The stand comes with a choice of ribbon so she was able to get red ribbon to go with her red and white theme.
She ordered red cupcake wrappers from Fancy Flours. I like the quality of their wrappers. As you can see, they hold their color after baking (unlike other wrappers that get all greasy, making me wonder why I paid extra for a pretty pattern that I can no longer see).
As you may recall, I made two kinds of wedding cupcakes, Piña Colada cupcakes and cherry Coke cupcakes. I dressed the Piña Colada cupcakes up with red and white paper straws from Bake It Pretty. I cut the straws into thirds and just stuck them into the frosting.
I decorated half of the cherry Coke cupcakes with maraschino cherries and the other half with my favorite decorating touch…
…custom bottle caps! The custom bottle caps were a gift from the folks at Crafty Caps. I told them the text that I wanted and that I was looking for something in a Coke font. They quickly got back to me with a bunch of creative design ideas and, after I selected one, they rushed the bottle caps my way. I'd recommend custom bottle caps as a party decorating idea for anyone who is a big beer or soda fan. You can use them to decorate cupcakes or just to throw on a table to make it look festive (we did some of that, too)!
To say that Bride and Groom 4.0 were excited about these cupcakes would be an understatement. Check them out as they attempt to tackle and devour the entire stand!
It was tough to get them to pause their wedding cupcake eating to take a photo, but we got them to do it.
Don't worry, I ate a wedding cupcake, too. It's just not in the photo. Besides, I'd been snacking on batter, frosting, and crumbs for three days.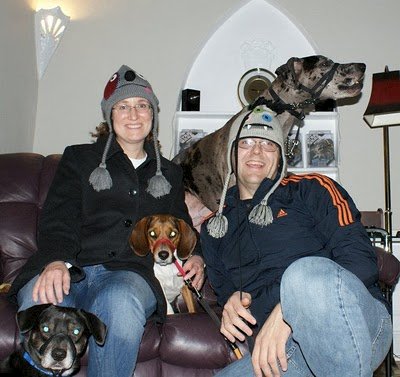 Photo stolen from Bride 4.0's Facebook page.
The dogs didn't get any cupcakes, but George and Julia (the little ones) now officially have a BIG brother (Titan). I'm so happy for Family 4.0 and wish them a sweet lifetime together!