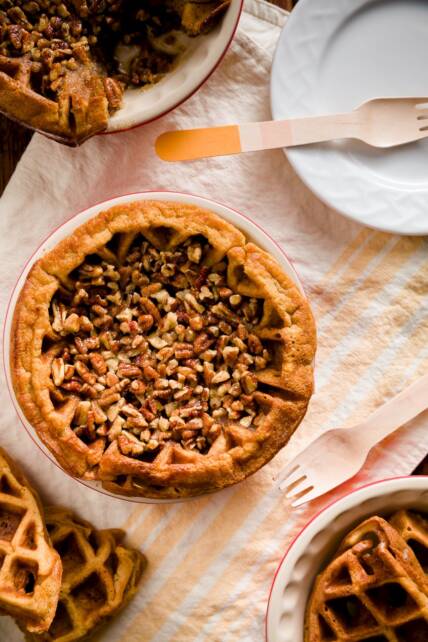 If you love loading down your waffles with toppings, piling on nuts, syrup, fruit, and whatever else you can find, waffle pie crust is for you.  Waffle pie crust is made with a regular buttermilk waffle that is turned out onto a mini pie pan and then treated like any other pie crust!
When I first made waffle pie crust, I worried that the crust would quickly become soggy.  It turns out that waffle pie crust bakes up nice and crisp – allowing for clean pie slices (if you don't eat the whole pie out of the pan with a fork).  Keep reading for the basics of waffle pie crust making and my recipe for pecan pie in a brown sugar waffle crust.
How to Make Waffle Pie Crust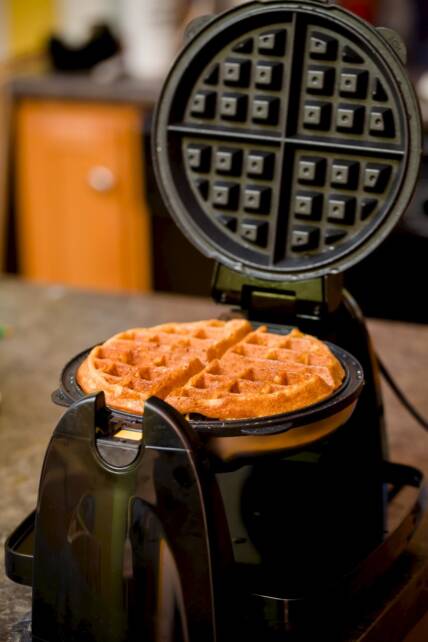 To make waffle pie crust, you'll first need a round waffle iron.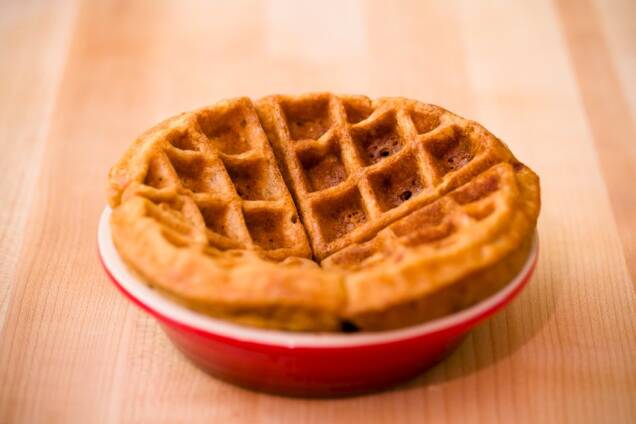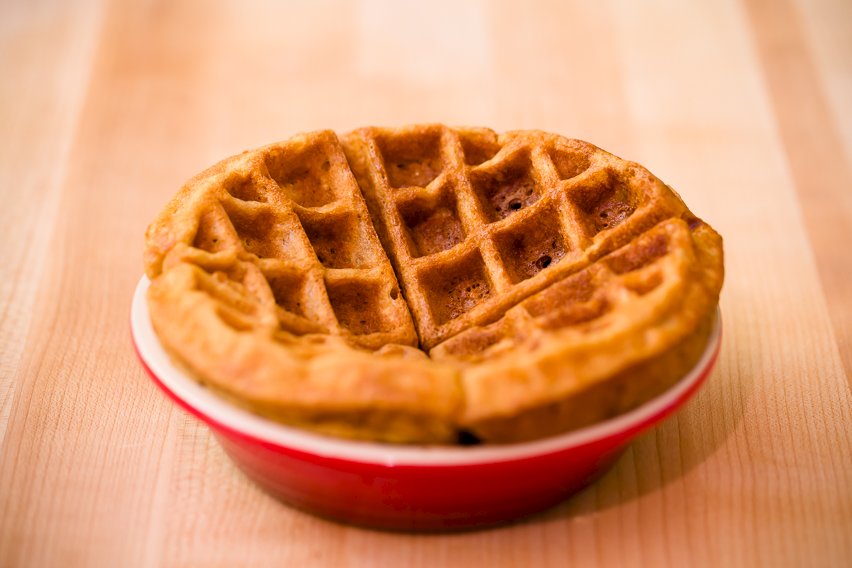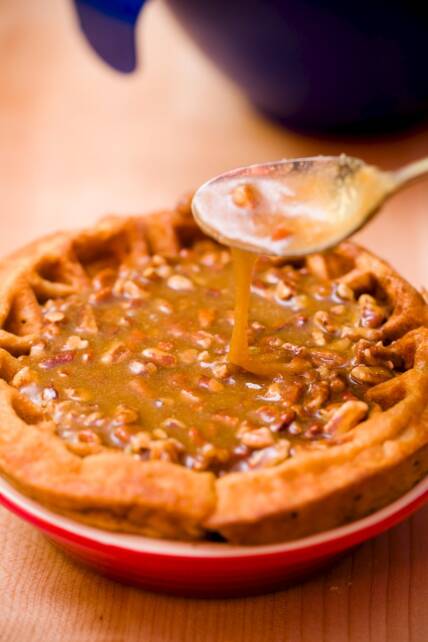 Once your cooked waffle is placed into the pie pan, add pie filling as you would with any other pie crust.  Waffle pie crust works wonderfully with pecan pie and fruit pies!  I haven't experimented with custard pies; I'll update this post if I do, and please let me know in the comments if you try that variation.
Bake as you would any mini pie (use shorter baking times than a full pie).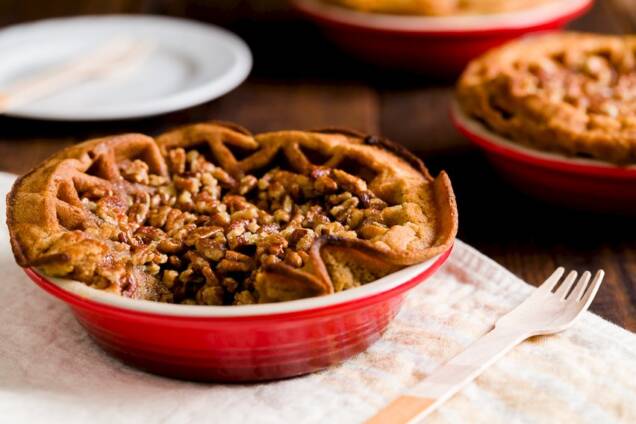 I like to slice and serve waffle crust pies hot and sometimes with a scoop of ice cream.  However, as with any pie, you'll get a cleaner slice if you serve it at room temperature or colder.
If you've tried this recipe, please RATE THE RECIPE and leave a comment below!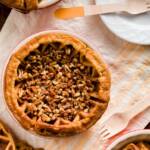 Pecan Pie with Brown Sugar Waffle Crust
Servings
5
waffles and 4 pies (Treat the extra waffle as an insurance policy in case you mess one up or as a snack while the pies are in the oven.)
Ingredients
Brown Sugar Waffles
2

large eggs

1 3/4

cups

buttermilk

1/2

cup

unsalted butter

melted and cooled to room temperature

1/2

teaspoon

vanilla

1 3/4

cups

all-purpose flour

1/4

cup

+ 2 tablespoons brown sugar

1

tablespoon

baking powder

1

teaspoon

baking soda

1/2

teaspoon

salt
Pecan Pie Filling
1

cup

sugar

3

tablespoons

brown sugar

1/2

teaspoon

salt

1

cup

golden syrup or light corn syrup

1

teaspoon

vanilla extract

5

tablespoons

unsalted butter

melted and cooled to room temperature

2

large eggs

2

cups

chopped pecans
Instructions
Brown Sugar Waffle Instructions
Preheat waffle iron.

In a large mixing bowl, whisk together eggs, buttermilk, melted butter, and vanilla.

In a second bowl, whisk together flour, brown sugar, baking powder, baking soda, and salt.

Fold dry ingredients into wet ingredients a little bit at a time until just combined.

Cook round 7" Belgian waffles according to waffle iron instructions.
Pecan Pie Filling Instructions
Mix all ingredients in a bowl. Easy!
Pecan Pie Assembly Instructions
Preheat oven to 400 F.

Place 4 of the waffles into 5" pie pans, pressing in the center of each waffle and letting the edges run up the pan like a pie crust. (You get to eat the fifth waffle while your pies are baking.)

Divide the filling evenly between the four pies (about 3/4 cup of filling per pie).

Cover the edges of the pies with foil or a pie guard to prevent burning.

Place pies onto a cookie sheet and bake for 10 minutes or until the filling is set on the edges of the pies but still a little jiggly in the centers.

Refrigerate before slicing if you want clean slices or just dig on in!