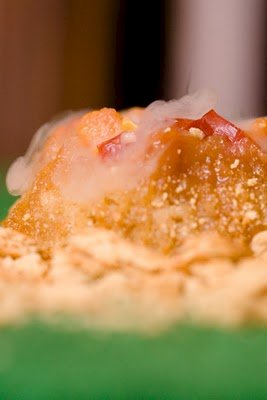 My quest to take volcano cake and turn it into volcano cupcakes began when my Twitter (and real life) friend Linda from Free Range Cookies (home of some of the best gluten-free baked goods in St. Louis) asked the following: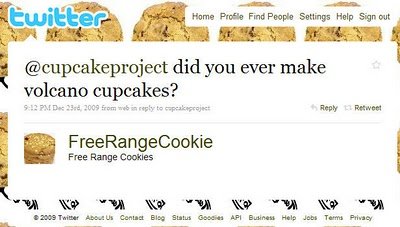 Truth be told, I had never heard of volcano cake or volcano cupcakes. But, I got excited about the idea!

I found the video below about volcano cake on YouTube and thought that volcano cupcakes would make the most awesome party cupcakes ever!!

But, being me, I decided to do things a bit differently. I saw a recipe for plum upside down cake on Simply Recipes and it occurred to me that the plums strongly resembled molten lava (if you use your imagination). So, instead of a plain white cake with chocolate frosting, I decided that I would use plum upside down cupcakes as my volcano cupcakes. I was happy with this choice. Not only did the upside down cupcakes look like little volcanoes, but they also tasted better than your average volcano.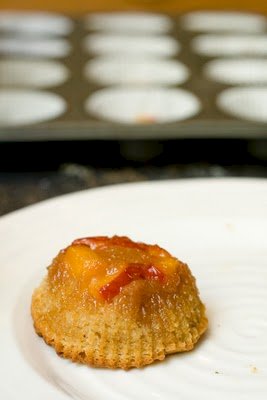 Unfortunately, I was not thrilled with the eruption part of my volcano cupcakes. There were two problems that I faced:
When you make a volcano cake, as shown in the video above, you embed a glass in the cake to contain the dry ice and liquid. I did not have any glass small enough to embed in a cupcake. I tried lining the hollowed out cupcake center with foil and plastic wrap, but I was not able to keep the liquid from being absorbed into the cake.
I was unable to get a really big and dramatic eruption. I could only achieve small puffs of smoke. Lots of dry ice = big eruption. Tiny pieces of dry ice = tiny eruption.
Please share in the comments any suggestions that you have for how to solve these quandaries. I'd love to hear your thoughts and successes.
In the meantime, I will share with you the method that worked best for me. Even though I wasn't thrilled with the results, I still think it could be fun for a party. But, really, I think anything involving dry ice is fun (except for touching it!).
How to Make Volcano Cupcakes
1. Make the upside down cupcakes: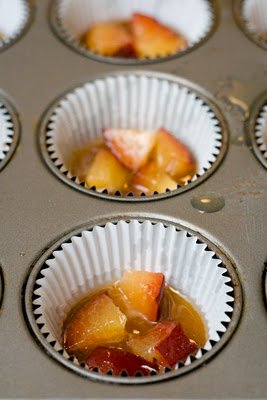 As I mentioned above, I used Simply Recipe's plum upside down cake recipe for the cupcakes. I have reprinted the recipe below (I modified it slightly to turn it into cupcakes).
Makes 24 cupcakes
1 1/2 C unsalted butter (3 sticks), room temperature
3/4 C brown sugar, firmly packed
4 plums, pitted and sliced
1 C buttermilk
2 1/4 C cake flour
1 1/2 t baking powder
1/2 t baking soda
1 t cinnamon
pinch salt
1 1/2 C granulated sugar
Zest of 1 orange
3 eggs
3 t vanilla extract
Melt 3/4 cup of the butter in a medium saucepan over medium heat.
Add brown sugar and whisk until smooth.
Line two cupcake tins with cupcake liners. Pour the mixture into the liners, dividing the sugar/butter sauce evenly among them.
Arrange a layer of plum slices on top of the mixture as shown in the photo above.
In a medium-sized bowl, sift together the cake flour, baking powder, baking soda, cinnamon and salt.
Use an electric mixer to beat together the remaining 3/4 cup butter with the granulated sugar and orange zest.
Add the eggs and vanilla, mix to combine.
Alternately add the dry flour mixture and the buttermilk to the batter.
Divide the batter among the cupcake liners.
Bake at 350 F for 25 minutes, until cupcakes are firm to the touch, and a toothpick or skewer inserted in the center does not come out with raw batter on it. (Might be wet from plum juice.)
Remove from oven and let cool on a rack until no longer hot to the touch.
Unwrap the cupcakes and turn them upside down.
2. Acquire dry ice: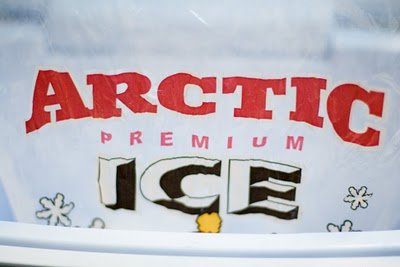 The difficult part about this step is finding dry ice. Some ice cream shops keep dry ice on hand and may be willing to sell it to you with or without the purchase of ice cream. I was able to find (after my husband made a bunch of phone calls) a local dry ice supplier, Arctic Ice. They were super nice and even chopped the ice for me so I wouldn't need a hammer (like the folks in the video).
Store your dry ice in a cooler, not in the freezer (the guy at Arctic Ice said the freezer is the worst place for dry ice) and use it within 24 hours.
3. Prepare the cupcakes:
I chose to put my cupcakes on that cheesy fake grass stuff that you find on patios. You can buy a few feet of it really cheaply at Home Depot or Lowes. If you are having a party, you might consider using the fake grass as your tablecloth!
I put some graham crackers around the volcanoes to act as rocks. You can buy them or make homemade graham crackers.
Make a hole in the middle of each cupcake that goes almost all the way to the bottom.
Line the holes with something that will keep the liquid from getting into the cake. As I mentioned above, I tried foil and plastic wrap and neither worked very well; maybe you have a better idea.
4. Drop in a small piece of dry ice: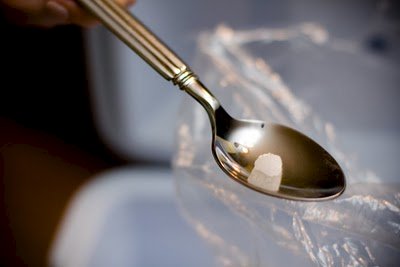 Drop a small piece of dry ice into each of the holes. Make sure that you press it down to the bottom of the hole. Be careful not to touch the dry ice!
5. Create the poof: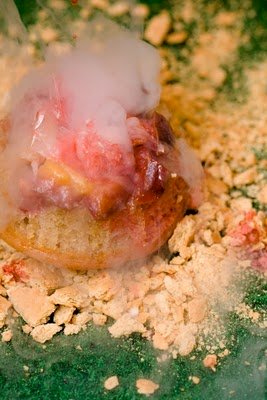 Mix a little bit of red food coloring in with some boiling water and drop a few spoonfuls of the mixture onto the dry ice. Poof – eruption! Again, I warn you, it's not the most dramatic Hollywood effect. But, you guys are smart. I bet you can play with it and make these the most awesome party cupcakes ever!
Parting Photo
I leave you with a photo of Jonathan and me in front of the only active volcano I've ever seen, Tungurahua. It's one of my favorite photos from our honeymoon in Ecuador.