No Vere Chocolate
In March, I wrote about my free gift from Chocolate.com. I talked about how I knew they were going to send me chocolate, but I wondered which chocolate they would send. One of the chocolates I'd hoped they would send was an organic single-origin bar by Vere. That is not what they sent.
Vere Chocolate Situation Rectified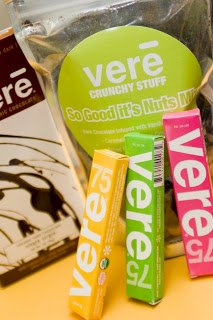 In April, I got the following email:
"Stef . Vere is my baby and I'd love to send you some things to taste Where to?
Best Kathy Moskal founder/owner VERE"
Vere sent me 5 different samples! After the break, I've got comments on each one, plus which Vere product inspired my next cupcakes.
Nut Butter Lessons Learned
Vere Ultimo Organic Dark Chocolate Bar
How was it?
Yummy! This was some tasty chocolate with the benefit of being organic and single-origin. It's worth a try.
Would I make my cupcake based on this chocolate?
Vere Flavored Chocolate Bars
When I saw the three mini chocolate bars Vere sent, I at first thought they were sticks of gum. Gum is something else I don't like. It has never come up before because no one has asked me to make gum cupcakes. Thank goodness!
Anyway, I was glad they weren't gum.
I'm sure Vere wanted the chocolate flavor to come through the most since they have every reason to be proud of their chocolate. Yet, why bother with a flavored bar when you can't taste the flavors.
Raspberry and lemon lovers would be disappointed.
The raspberry lemon chocolate combo would make for a great cupcake, but it's too Springy for a Fall wedding. Raspberries won't be in season.
The problem: Bride and Groom 2.0 don't like coffee so I couldn't make this into a cupcake for them. Someday, though, I may try it. It would be great!
It had no banana flavor. Jonathan and I (yes, I shared) couldn't taste any banana flavor or any macadamia nut flavor for that matter. It's a shame because the combo sounded so great. Again, I still enjoyed the bar because their chocolate is "vere" good (I had to use "vere" like that at least one time in this post, it's a wonder I made it this far). I just wished that as a flavored bar the other flavors would make more of an appearance.