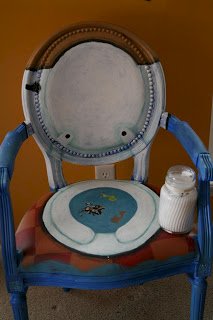 Last night was the St. Louis Blogger Holiday Meetup arranged by Melody at News-Bitch. It was a great opportunity to get to meet some other bloggers in the area and talk some blogger geek talk. I didn't get to talk to everyone, but as far as I could tell, I was the only food blogger there. Am I wrong? Where were my fellow foodies?
As I was walking out the door, Raquita from
WOBL in Training
told me she had a gift for me in her car. I was in complete shock! I'd met Raquita only once before because our husbands took a chair painting class together (check out the toilet chair to the left that now sits in our living room). Raquita put on her coat and headed outside to present the gift. What could it be?
It turns out that she had made me vanilla sugar. Notice that I placed it on the side of the chair in the picture. I didn't want to in any way imply that it should be flushed down the toilet. A while back, I had read
Vanilla Garlic's post on vanilla sugar
and I was intrigued. However, I'd never taken the time to make it and certainly no one had ever given it to me before. It smells heavenly. I can't wait to use it in a future cupcake!
"Next time I see you, I'll give you some vanilla beans and teach you how to make vanilla extract," Raquita said as we were saying our goodbyes. I am in awe of her thoughtfulness.
Thanks, Raquita, for making my week. The next time I see you, you are definitely getting some cupcakes!
Check out Raquita's pictures of the meetup
here
. I'm not in any of them. I was there though, really I was.