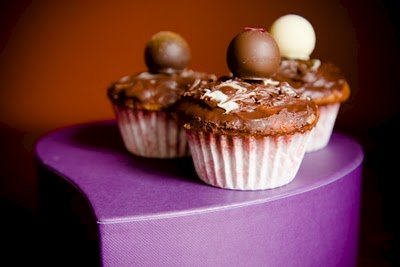 The Ultimate Truffle Cupcake experience begins with the smell – as the cupcake comes close to your sniffer, a waft of truffle – the fungi kind – hits you hard (Yes, I called it a sniffer; I have a five month old.). You begin to wonder, "Is this a dessert or an Italian entree?" As you take a bite, you reach the rich dark chocolate first. The truffle flavor isn't quite as strong as you would have guessed. Then, the cake itself makes you pause. You realize that while it's a chocolate cake, it's clearly sweetened with honey. It starts to feel like comfort food. But, wait… there is that truffle flavor making it different than anything you've ever tasted before. Did you save the chocolate truffle on top as a chaser? It's not in a box, so you don't know what the flavor is. Here goes nothing… oh yeah!!
The Ultimate Chocolate Truffle Cupcake Recipe
The Ultimate Truffle Cupcake
The Ultimate Truffle Cupcake experience begins with the smell - as the cupcake comes close to your sniffer, a waft of truffle - the fungi kind - hits you hard.
Ingredients
Cake Ingredients
1

T

apple cider vinegar

1 1/2

C

milk

any kind will work - I used soy

2

C

flour

1 1/4

C

sugar

1/2

t

baking soda

1/2

t

salt

1/4

C

white truffle oil

1/4

C

vegetable oil

1/4

C

truffle honey
Ganache Ingredients
5

oz

dark chocolate

1/2

C

heavy whipping cream

1/4

C

truffle honey
Optional Toppers
2

oz

white chocolate

Chocolate truffles

I used Vosges truffles
Instructions
Preheat oven to 350 F.

Mix apple cider vinegar and milk in a medium-sized bowl. Let sit for five minutes. (This causes it to act like buttermilk.)

Whisk together flour, sugar, baking powder, baking soda, and salt in a large bowl.

Add the truffle oil, vegetable oil, and honey to the apple cider vinegar/milk mixture.

Pour the wet ingredients into the dry ingredients and stir well.

For the ganache, mix the truffle honey and heavy whipping cream in a small bowl.

Melt the chocolate on the stove or in the microwave.

Pour the melted chocolate over the truffle honey/heavy whipping cream and mix well.

Mix 1/4 cup of the ganche into the cupcake batter.

Fill cupcake liners 3/4 full.

Bake for 20 minutes or until the cupcakes bounce back when touched lightly.

When the cupcakes are cool, frost with the remaining ganache. The easiest technique for this is to dunk the top of the cupcake into the bowl of ganache and to twist your wrist slightly as you pull the cupcake out of the bowl. If necessary, microwave the ganache for about 20 seconds to make it easier to work with.

Optionally, drizzle some melted white chocolate on top of the dark chocolate and top with a chocolate truffle.
Nutrition
Nutrition Facts
The Ultimate Truffle Cupcake
Amount Per Serving
Calories 320
Calories from Fat 135
% Daily Value*
Fat 15g23%
Cholesterol 13mg4%
Sodium 130mg5%
Potassium 131mg4%
Carbohydrates 43g14%
Protein 3g6%
Vitamin A 150IU3%
Calcium 47mg5%
Iron 1.8mg10%
* Percent Daily Values are based on a 2000 calorie diet.
More Photos
Sometimes it's too hard to pick a favorite photo, so here are some more!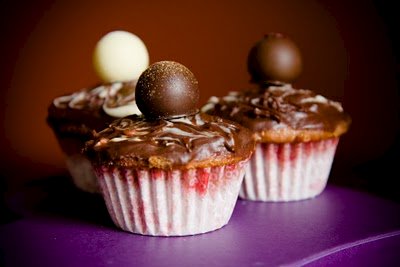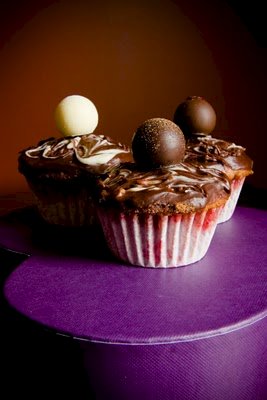 Cupcake Project newbies may not realize that all of the photos here are taken by my Valentine, Jonathan. To see more of his work and/or find out about booking him for your wedding photos (he is willing to travel), family photos (for those in St. Louis), corporate photos, or to take artistic photos of your dinner, become a fan of J. Pollack Photography on Facebook. Be sure to tell him I sent you!